best indie rock 2010
So far, 2010 is looking like a great year for indie and alternative rock.
best indie rock 2009
Browse playlist mixes with hundreds of free, legal MP3s.
New Posts and Playlists
Beck, Wilco, BSS, Andrew Bird and Devendra Banhart...
Fall Out Boy's Pete Wentz Admits Suicide Attempt, ...
Portishead's New Video MP3 "Machine Gun" To Hype F...
Six-Pack MP3 Stack: New Songs from Band of Horses,...
South by Southwest Favorite 'Other' Performances, ...
Vampire Weekend's Free 40 Minute Studio Session on...
Lollapalooza's 2008 Line-up Rumors, Fakes and Spec...
Grand Ole Party Touring With Rogue Wave Throughout...
Wank You For Coming, Here's Your Festival Tickets
Mark Kozelek and Sun Kil Moon's New Album, Book an...
best indie albums 2008
popular indie songs 2008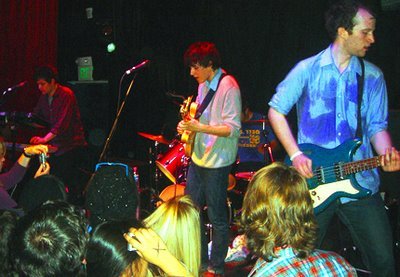 It was another sold out, packed-to-capacity venue show at the Rickshaw Stop in San Francisco Easter Sunday as the sensation over the New York City indie pop band Vampire Weekend continues to grow unabated.
The following is a short video clip of the band jamming to the yet-unreleased song "Little Giant, with Rostam on guitar (by the way, Rostam is not Latino or 'Mexican'; he's Persian. Plus, I met him on Sunday and he doesn't look like that David kid on American Idol, ok?! I'm sure Rostam is sick of hearing that comparison.)

Vampire Weekend's signature brand of indie pop mixes reggae and hip hop sounds with songs about Cape Cod, garbage in New Jersey, mysterious people ("Blake"and "Walcott") and that damn "Oxford Comma". They are one of the few 'buzz bands' that demonstrates a genuine interest in their fans, as they made clear throughout their performance at the Rickshaw Stop.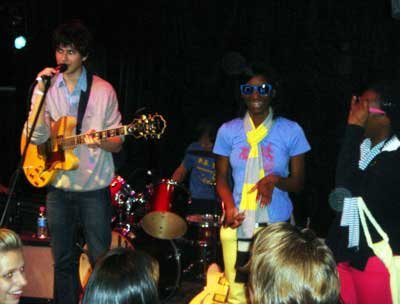 Watch this
fun video from the Vampire Weekend video
(which the photo above was taken from) to see evidence of musical genius, but also more evidence that they are not letting their unprecedented success get to them too much.
Streaming Video Session:
Vampire Weekend live on KCRW
Live MP3:
Vampire Weekend
performing M79 at SxSW 2008
Webs:
Vampire Weekend's
official website
and
MySpace page
.
P.S. Did anyone else at the Vampire Weekend show at the Rickshaw Stop take photographs that have orbs in them? I don't know if it's a lighting or camera issue, but I have orbs on all my photos, but they did not appear at any other recent indoor, darken venue except here. Looking at some of these pictures you can see what clearly look to be one or more orbs moving around, so to me I just call it "Dancing with Orbs" (a new band name?).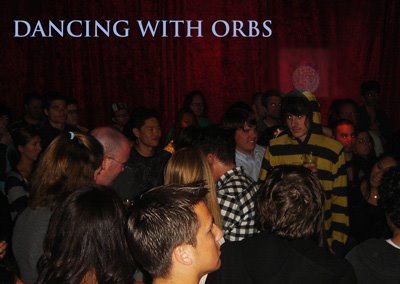 Vampire Weekend Concert Tour Schedule through August 2008
Mar 19 2008 - 8:00P The Casbah (SOLD OUT) San Diego, California
Mar 20 2008 - 8:00P El Rey (SOLD OUT) Los Angeles, California
Mar 22 2008 - 8:00P The Independent (SOLD OUT) San Francisco, California
Mar 23 2008 - 8:00P Rickshaw Shop (SOLD OUT) San Francisco, California
Mar 25 2008 - 8:00P Doug Fir Lounge (SOLD OUT) Portland, Oregon
Mar 26 2008 - 8:00P Neumos (SOLD OUT) Seattle, Washington
Mar 27 2008 - 8:00P Richards on Richards (SOLD OUT) Vancouver, British Columbia
Mar 29 2008 - 8:00P The Badlander Missoula, Montana
Mar 30 2008 - 8:00P Neurolux Boise, Idaho
Mar 31 2008 - 8:00P In the Venue Salt Lake City, Utah
Apr 1 2008 - 8:00P Bluebird Theater Denver, Colorado
Apr 3 2008 - 8:00P The Triple Rock Social Club Minneapolis, Minnesota
Apr 4 2008 - 8:00P The High Noon Madison, Wisconsin
Apr 5 2008 - 8:00P Turner Hall Milwaukee, Wisconsin
Apr 6 2008 - 8:00P Metro (SOLD OUT) Chicago, Illinois
Apr 11 2008 - 8:00P Brown University Campus Green Providence, Rhode Island
Apr 25 2008 - 1:00P Coachella Indio, California
May 1 2008 - 8:00P Bistol Bierkeller Bristol, UK
May 2 2008 - 8:00P Birmingham Academy 2 (SOLD OUT) Birmingham, UK
May 3 2008 - 8:00P The Liquid Rooms Edinburgh, UK
May 4 2008 - 8:00P Oran Mor Glasgow, UK
May 6 2008 - 8:00P Northumbria University Newcastle, UK
May 7 2008 - 8:00P The Cockpit (SOLD OUT) Leeds, UK
May 8 2008 - 8:00P Manchester Academy 2 (SOLD OUT) Manchester, UK
May 9 2008 - 8:00P Camber Sands Minehead, UK
May 12 2008 - 8:00P Wedgewood Rooms Portsmouth, UK
May 13 2008 - 8:00P Electric Ballroom (SOLD OUT) London, UK
May 15 2008 - 1:00P http://www.blogger.com/ Brighton, UK
May 20 2008 MelkwegAmsterdam, Holland
Jun 7 2008 - 8:00P The SocialOrlando, Florida
Jun 8 2008 - 8:00P Cafe ElevenSt. Augustine, Florida
Jun 12 2008 - 1:00P BonnarooManchester, Tennessee
Aug 10 2008 Summer Sonic - OsakaOsaka, Japan
Labels: 2008 Indie Rock, Vampire Weekend
eMusic's FREE Daily Download!
Older Posts