In Dee Mail Special Edition Vol. VII – Essex Chanel, Scares The Daylights and The Binary Marketing Show
It is still early in the new year, new decade, and so much fantastic music from 2009 that has spilled over that we would be remiss not to share it with all of you. Plus, our site stats show a lot of you are still looking for

music from 2009

that you might have missed. In this on-going special edition of our popular

In Dee Mail

series, we are now on Volume Seven, with at least four to five more installments to publish in the coming weeks, not to mention 2010 releases as they come in, and the

12-part Favorite Songs of 2009

series.
Travis Lee Wiggins started Essex Chanel in Chicago in 2005 as an effort to go in different musical directions than his first band, Fetla. After Fetla imposed a two-year hiatus in the fall of 2005, Essex Chanel became Wiggins's primary focus. Since then, in addition to creating the Sweet Goodness record label, Wiggins collaborated with a collective of local musicians to perform his songs, all of which – nearly 250 tracks – are now available for free – a remarkable and charitable gift, especially considering the caliber of the music.
We first heard Essex Chanel's 2009 album, Love is Proximity, last fall, and they immediately went up on our radar. Love is Proximity Sessions, Disk 2, will be available on January 26th.
"Skinny Dippin" – Essex Chanel from Love is Proximity (2009)
"She Cuts His Hair" – Essex Chanel from Love is Proximity Sessions, Disk 1 (2009)
"It Was All Because of the Icy Stairs" – Essex Channel from January 2007 (2007)

Essex Channel on MySpace
Download hundreds of their songs for free

Brooklyn-based musical project Scares The Daylights released a folk-pop drenched, prog-rock heavy LP, Burn The Bed, late in 2009 that went largely unnoticed by most music blogs, to the detriment of indie music fans. The musical project is the brainchild of White Shoe Records' founder Neil Lipuma. The label has spawned indie artists such as The City and Horses, The Exeter Popes and Twice As Bright, all of whom contributed to Burn The Bed.
Lipuma's project is largely influenced by the break-up with his long-term girlfriend, and leaving his day job to work as an assistant engineer with Sear Sound, where he contributed to releases from The Killers, Richie Havens and Lykka Li & Bjorn Yttling. Burn The Bed is the product of an introspective man whose adolescence was dominated by the music of R.E.M. and The Smiths, and whose adult life coincided with the onset of the indie rock explosion. Lipuma's songs are quirky, fun, mellow, and colored by his distinctive vocals, arrangements and poetic, even silly, lyrics, with an underlying ode to Americana.
"Divorces" – Scares The Daylights from Burn The Bed (2009)
"Lion Chair" – Scares The Daylights from Burn The Bed (2009)
Scares The Daylights on MySpace
White Shoe Records official site
Here are some other free MP3s from White Shoe Records' recording artists:
"You Are The Sun" – Water Fai from Girls In the White Dream (2008)
"I Love The Girls" – The City and Horses from I Don't Want to Dream (2009)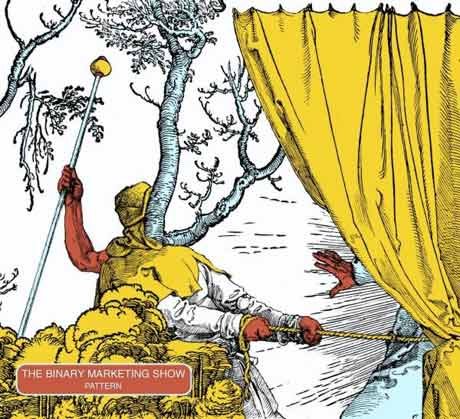 Another Brooklyn band, The Binary Marketing Show, have made ripples in the huge indie music pond of the NYC borough in the past year or so, especially thanks to their new LP and opening gigs for Animal Collective, Explosions in the Sky, MGMT and Miccachu and the Shapes.
BMS's music is dense, experimental, minimalistic pop, full of African-influenced drum beats, nasaly vocals, ambient loops and sound effects. TBMS started as the musical project of Abram Morphew and Jason Meeks in 2000 in Conway, Arkansas.
By the time they moved to Brooklyn in 2007, Meeks and Morphew were playing shows as a duo that eventually involved into a full quartet. Last summer, they released their third full-length record, Pattern, with the stand-out track, "Shape of Your Head."
"Shape of Your Head" – The Binary Marketing Show from Pattern (2009)
"Tesseract" – The Binary Marketing Show from Pattern (2009)
The Binary Marketing Show on MySpace
Previous Installment of the In Dee Mail Special Edition series:
(oodles of fab music you've probably never heard; sent to IRC in the mail)
In Dee Mail Special Edition, Vol. VI – Sore Eros, The Melloncollies, Himalaya and Matias Aguayo
In Dee Mail Special Edition, Vol. V: Army of Me, Threes and Nines, Trees and Trashcans and Lefse Records' Artists
In Dee Mail Special Edition, Vol. IV: Tiny Tin Hearts, Flotation Walls, Twilight Revival, Oryan, The Sidewalk Driver and Rolf Lislevand
In Dee Mail Special Edition, Vol. III: Elephant Stone, Clock Hands Strangle, The Sun, Six Simple Songs, Aeroplane Pageant, Lemonwilde & More
In Dee Mail Special Edition, Vol. II: Dylan in the Movies, The Fling, East Hundred, Maklak, Said The Whale & Nheap
In Dee Mail Special Edition, Vol. I: Sean Walsh & The National Reserve, Devries, Jupiter One, Julian Plenti and Parlour Steps
Like what we do? Please donate to IRC to help us maintain and grow!
Leave a Response