S-25 Mix: Songs About Cars, Vol. II – Arcade Fire, T. Rex, The Ramones, Radiohead, Atlas Sound, Bright Eyes, Depeche Mode
Last week, we revved up the engines and put the pedal to the metal to set out on a road trip to gather up great songs about cars. Thanks to the help from our readers along the way, the S-25 mix Songs About Cars (Vol. I), is perhaps the most extensive and diverse collection of songs about cars to be found on the web. And if one mix didn't achieve that goal, it's a good thing that there were plenty of left-over, relevant songs to in fact put together another well tuned, all engines go mix of car songs for this week's S-25 Mix.
Many of the songs in this second mix of Songs About Cars came from our own combined playlists, and of course the recommendations of visitors to the cafe. The songs are not in any particular order of importance, release date, artist, or any other categorization, other than they all have something to do with cars, and of course are songs we really like. Also, as with all of the Sunday mixtapes on IRC, the featured songs are from various genres, and time periods, of music as long as they fit whatever happens to be the theme on any given Sunday.
As you can easily imagine, there are thousands of songs that span six decades of music in which cars are the central theme. Therefore, choosing which 'car songs' would be included in the mix, and which would not be, was accomplished through an evolution that relied heavily on a process of elimination, wherein a number of people rated the songs in iTunes from one to five stars (only songs with at least three stars are kept).  Because there are so many fantastic songs about cars, we broke up the mix into two volumes, with the first installment published last Sunday. Click on the album title to purchase an album directly from Amazon, many are on sale, including Neon Bible for only $5.99! Others, like Radiohead's Pablo Honey, and T. Rex's Electric Warrior are exclusive, remastered, expanded and collectors' editions.
"Keep The Car Running" – Arcade Fire from Neon Bible (2006)
"Getaway Car" – Grouplove from Grouplove EP (2009)
"Asleep At The Wheel" – Working For A Nuclear Free City from Businessmen & Ghosts (2008)
"Stupid Car" (Demo) – Radiohead from Pablo Honey (Collector's Edition)
"Jeepster" – T-Rex from Electric Warrior – Remastered & Expanded U.S. version (1971)
"My Car" – Atlas Sound from The Free Things That I'll Miss EP (2008) – free download
"Wheels" – Pete Yorn from Pete Yorn (2010)
"Car" – Atlas Strategic from Rapture, Ye Minions! (2001)
"Autocade" – Prolapse from Autocade (2003)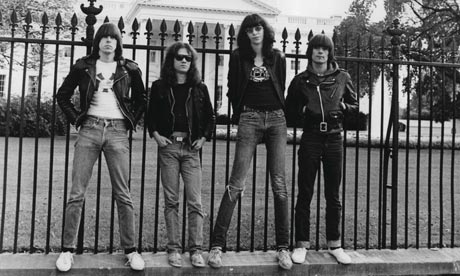 "Go Lil' Camaro Go" – The Ramones from Halfway to Santiy (1987)
"Crazy Car" – Olof Arnalds from Crazy Car (2010)
"Radar Love" – Golden Earring from Continuing Story of Radar Love (1974)
"After The Car Crash" – Aeroplane Pageant from Even The Kids Don't Believe Me (2008)
"Get Away Car" – Audioslave from Audioslave (2002)
"Company Car" (Switchfoot) – The Gregs from Historical Doubt (2005)
"Trees Get Wheeled Away" – Bright Eyes from Noise Floor (2006)
"Ridin' In My Car" (NRQB) – She and Him from Volume Two (2008)
"Trampled Underfoot" – Led Zeppelin from Physical Graffiti (1975)
Lines from "Trampled Underfoot": Greasy, slicked down body, groovy leather trim/I like the way you hold the road, mama, it ain't no sin
"Drive My Car" (The Beatles) – The Donnas
"One Piece At A Time"– Johnny Cash from One Piece at a Time (1976)
"Asleep At The Wheel" – New Amsterdamns from Worse for the Wear (2003)
"Calling All Cars" – Dashdown from Rock N Roll Vacation (2010)
"Motor Away" – Guided By Voices from Alien Lanes (1995) Special: $5.99
"Cars And Calories" – Saves The Day from Stay What You Are (2001)
Double-shot: "Take Our Cars Now" (Acoustic) – Saves The Day from I'm Sorry, I'm Leaving (2001)
"Old 55" – The Eagles from On The Border (1974)
Double-shot: "Take It Easy" – The Eagles from Eagles (1975)
"If I Could Drive Forever" – Smog from Knock Knock (1999)
"Let Me Drive" – Winter Gloves from About A Girl (2008)
"The Distance" – Cake from Fashion Nugget (1996)
Double-shot: "Stickshifts and Safety Belts" – Cake from Fashion Nugget (1996)
"Thunder Road" – Bruce Springsteen from Born To Run (1976)
"She Loves My Automobile" – ZZ Top from Deguello (1978)

Double-shot: "Arrested for Driving While Blind" – ZZ Top
"Hollywood Nights" – Bob Seger from Stranger in Town (1978)
"Paradise By The Dashboard Light" – Meat Loaf from Bat Out of Hell (1977)
"Red Barchetta" – Rush from Moving Pictures (1981)
"Helen Wheels" – Paul McCartney & Wings (1973)
"Falling Asleep at the Wheel" – Sea Legs from Ghost of Alabama (2008)
"Rockin' Down The Highway" – Doobie Brothers from Doobie Brothers (1972)
"Survival Car" – Fountains Of Wayne from Fountains of Wayne (1996)
"409" – The Beach Boys from from Made in the U.S.A. (1962)

"Behind The Wheel" – Depeche Mode from Music For The Masses (1988)
"Bitchin' Camero" – Dead Milkmen from Death Rides A Pale Cow (1985)
"Stolen Car" (Take Me Dancing) – Sting from Sacred Love (2003)
Like what we do? Please donate to IRC to help us maintain and grow!
14 Comments
Trackbacks
ZZ Top "She Loves My Automobile" & Led Zeppelin-"Trampled Underfoot"…Plus The Eagles, Radiohead, The Ramones, Bob Seger, Meatloaf, Bruce Springsteen, Golden Earring, and The Donnas! « Rock God Cred
Leave a Response