Best New Releases – The Walls, BacknBloom, We Were Promised Jetpacks, Feist, Zola Jesus, Siskiyou, Bonnie Prince Billy, Big Tree
One of the best new releases of the week comes from a band that sent their music submission directly to us, but who we don't see really being covered on other indie sites in the U.S. The Walls are a popular rock band from Ireland that was formed in 1998 by brothers Steve and Joe Wall (previously of The Stunning) . This week they released their new album, Stop The Lights, and earlier this spring, the EP, Bird In A Cage. The Walls have been featured on the BBC and have performed as openers for heavy weights like U2, Bob Dylan, Crowded House, and Red Hot Chilli Peppers.
While the band is essentially unknown in the States, that is not the case at all in Ireland. In fact, their first album Hi-Lo went gold in Ireland in 2000 thanks to the brothers indisputable talent, regular radio airplay and constant touring. Their second album, New Dawn Breaking, entered the Top 5 in 2005 and won the praise of music bloggers and the mainstream press as well, with The Sunday Times calling it The Walls' "best work to date." Among the band's biggest influences include Wilco, The Band, The Black Keys, MGMT, The Beatles, Captain Beefheart, Howling Wolf, and Steve Earle.
"Bird In A Cage" – The Walls from Stop The Lights
The next artist, electro-pop band, BacknBloom, from Venice, California, also have a new album out this week, Music For The Modern Monkey.  Describing their sound as "Efficacious Poetic Fervor," Los Angeles's Backnbloom flaunts a sleek mix of nostalgic, well-read indie rock with harmonious, complex sonic layers, grooving rhythms and a sprinkling of electric violin.
It all started in a cramped Hollywood apartment where Lori Steele and Alberto Beka penciled ideas, programmed drums and keyboards while waiting for a break in traffic and… yells from the alley to cease so that the emotionally charged vocals could be recorded. Unplugging the fridge also helped.  Backnbloom's newest single, "Heed the Flashes," was mixed by Mark Needham (The Killers). Listen to that, and other tracks from the album via BacknBloom's Tumblr page.
"The Feel" – BlacknBloom from Music for the Modern Monkey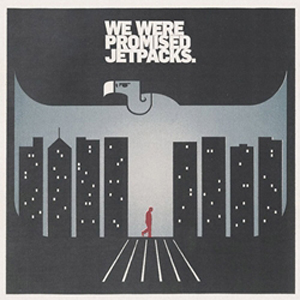 There are other anticipated releases out this week from bands like We Were Promised Jet Packs, Siskiyou, Loney Dear, Bonnie Prince Billy, Big Tree, and Jessie Payne, among others.

"Act on Impulse" – We Were Promised Jet Packs from In The Pit Of The Stomach
"How Come You Never Go There" – Feist from Metals
"Vessel" – Zola Jesus from Conatus
Twigs and Stones – Siskiyou from Keep Away the Dead
"This Fall" – Big Tree from This New Year (self-released)
"Quail And Dumplings (remix)" – Bonnie Prince Billy from Wolfroy Goes to Town
"My Heart" – Loney Dear from Hall Music
"State of a Dream" – Dreamers of the Ghetto from Enemy/Lover
"Cupid" – Craig Wedren from Wand
"The Sea" – Exitmusic from From Silence EP
"Horizon" – The Drift from Blue Hour
"Take Me" – Jesse Payne from Buffalo

"I Am the Lion King" – PAPA from A Good Woman Is Hard to Find
"Rest in Peace" – Prince Rama from Trust Now
Singles from Albums Coming Out Later This Month
Extra Arms: "Race to Sleep" [mp3] from In Parallel (out October 11th)
John Wesley Harding: "Sing Your Own Song" [mp3] from The Sound of His Own Voice (out October 11th)
*Brown Shoe: "Colt Rider" [mp3] from The Gift Horse (out October 18th)
Like what we do? Please donate to IRC to help us maintain and grow!
6 Comments
Leave a Response