Best New Music Releases, Week of Sept. 25th – Frightened Rabbit, Mumford & Sons, Sera Cahoone, Dum Dum Girls
[zbplayer]
While this is not as big of a week for new and anticipated album releases from a gaggle of stellar artists and bands as were the first three weeks of September, there are still plenty of new albums we're excited about, along with the lead singles from those LPs. One theme that is consistent with the singles from this week is that many can be described as dark, sad and gloomy – it's interesting how it worked out that way. To purchase fast and easy via Amazon just about any album or EP out this week, see the album list at the end of this post.
From Selkirk, Scotland, Frightened Rabbit tops of our list of new singles this week with "State Hospital," a melancholic, slow, heartfelt song with a story to tell. As the story unwinds, so does the intensity of the music. The band is really tight and in sync while also standing out individually. By the three-minute mark of "State Hospital," the tempo builds, and the void fills with a sprawling swirl of airy guitar riffs, epic synth notes, and Scott Hutchinson's superb, anguished, vocals.
Recently, Hutchinson told the Herald Scotland about the direction of his songwriting: "I've gone in depth with the lyrics and it has, as a result, been quite intense. It's more interesting imagery when you're being dark, it's more difficult to be cheesy when you're writing dark lyrics. It's hard to write a happy song without coming across as a total cheese ball." Do you think he was talking about the band Fun and their smash hit "We Are Young"?
"State Hospital" is the title track for the band's new EP officially out this week, and also the first single from the band's upcoming fourth LP, set to drop early in 2013. The EP contains outtakes from the band's recording session for their upcoming album, and only "State Hospital" is slated to appear on the new album.
"State Hospital" – Frightened Rabbit from State Hospital EP on Canvasback / Atlantic
Mumford & Son's Release Sophomore Album, Babel, Amid Mixed Reviews
England's Mumford & Sons' new sophomore LP, Babel, is the follow-up to their award-winning debut, Sigh No More, released in 2009. Even though the band is not well-liked by many indie rockers, and even indie folk fans, the band's debut album not only made them famous, it spawned a flurry of prestigious awards and nominations, including the Top Rock Album, Top Alternative Album, and Top Alternative Artist of the 2011 Billboard Music Awards, as well as The Brit Award for the British Album of the Year. The band also received four other nominations last year from Billboard, a nomination from the American Music Awards, two Grammy nominations in 2011 as Best New Artist and Best Rock Song ("Little Lion Man"), and earlier this year, four nominations stemming from the song, "The Cave," which appears on Sigh No More. Other nominations over the past three years include MTV Video Music Awards, NME Awards and the Q Awards.
As of today, Babel is #1 on Amazon's CD Albums chart (the CD version features three exclusive bonus tracks – get it here) and #1 in MP3 album downloads (for the deluxe edition; #3 for the regular MP3 download. Only the deluxe edition of the MP3 download version of Babel includes the three bonus tracks, one of which is a cover song of Simon & Garfunkel's "The Boxer," featuring ironically enough, Paul Simon and Jerry Douglas. Babel is a manifestation of the band's continued growth as one of the best good 'ole folk indie rock bands around. Who knew that Londoners could sound so convincingly American? The band's latest new single, "I Will Wait," is an uptempo, foot-stomping romp with wild banjo playing, folksy harmonies and a driving beat.
"I Will Wait" – Mumford & Sons from Babel on Glassnote
Babel has received mixed reviews – it was slammed by The Los Angeles Times, Slant, Spin, The UK Observer, Q Magazine, and only given lukewarm receptions by the All Music Guide, The UK Guardian, NME, PopMatters, as well as plenty of thumbs up from Rolling Stone, Mojo, Clash Music, Paste, The Boston Globe and Billboard magazine. We're not really interested in hearing the album, but we like some of the band's songs – but still, considering the number of fantastic indie folk rock bands, Mumford & Sons have received more than their fair share of love and recognition.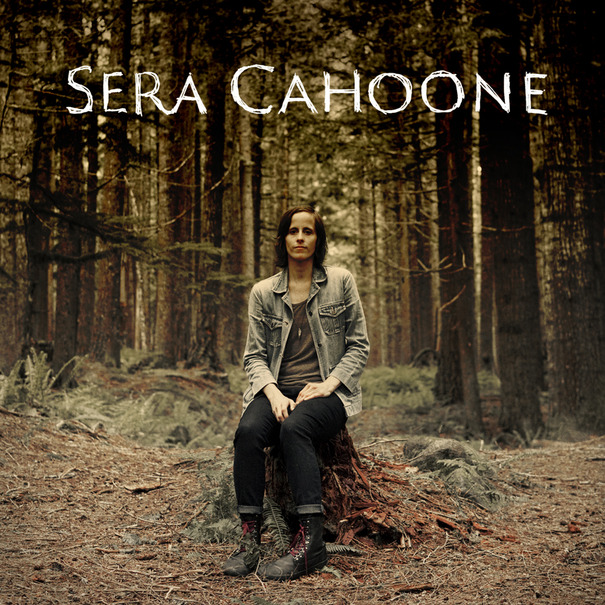 Sera Cahoone's Angelic, Aching Vocals, and Dum Dum Girls Hot New Single
Sera Cahoone, with her part angelic, part heart-aching vocals that are evident on the title track of her new album, Deer Creek Canyon, is one of the most talented female folk singer/songwriters that we've heard this year. Next, the new Dum Dum Girls' single, "Lord Knows," is a grower – the more we listen to it, the more we like it. Isn't it weird how some songs can do that? Like throw a monkey wrench into your head and make you doubt something that you eventually turn out liking, or even loving. "Lord Knows" is a drab, throbbing track that breaks out into a chorus while maintaining a gloomy sonic appeal. This is what we meant before about a dark theme in the singles this week.
"Deer Creek Canyon" – Sera Cahoone from Deer Creek Canyon on Sub Pop
"Lord Knows" – Dum Dum Girls from End of Daze EP on Sub Pop
Mysterious Singles from New LPs by Efterklang and Machine Birds
Efterklang's new single, "Apples," is not light or cheerful as the title may suggest, but rather, the song has a mysterious, even mischievous, essence about it, like it could be on a soundtrack of a crime show on cable. We placed the lead single, "If I" from Norwegian duo Machine Birds new album right after the Efterklang track because they seem perfectly compatible, sequential tracks. Plus, the duo's vocalist, Maria Skranes, is, like Sera Cahoone, yet another amazing female vocalist among this week's new albums that we'd never heard of before, but are sure glad we have.
"Apples" – Efterklang from Piramida on 4AD
"If I" – Machine Birds from Save Yourself EP on Nabovarsel
Singles From New Albums by The Soft Pack, Danjo Danjo, Unnatural Helpers
By way of San Diego, the LA located indie rock band The Soft Pack rock it out on "Tallboy," as does the Unnatural Helpers, both bands we've featured in the past, and both beneficiaries of the indie rock wave of popularity over the past five-plus years. The Soft Pack changed their name from The Muslims in 2009 after what they said were "ignorant and racist comments." Plus, Ringo Deathstarr – that's a great band name – bring it on the single, "Rip."
"Tallboy" – The Soft Pack from Strapped on Mexican Summer

Danjo, Danjo draw on 60's psychedelic rock and new wave influences on their foot-tapping, highly rhythmic new single, "Deleted," featuring a mean bass line and the Talking Heads-vs-Devo vocals and chorus. It feels like a driving song, but then again, so do many of the songs we choose for our posts. Maybe it's because it's like a metaphor for driving, busing or railroading across the country (done them all and throughout the west coast – our favorite region of the U.S.; if you can, do it – it's an amazing country) through the many wonderful and different landscapes, meeting all kinds of interesting and almost always friendly people, experiencing all kinds of weather and cultures, from small Midwest towns to the big cities of the east coast, from the swamps of Florida to the redwoods of California, from the mind-boggling views of the Grand Canyon to the lighthouses of Maine. One of the best part of road tripping is having a bunch of cool playlists – many of which you can create from songs downloaded for free on Indie Rock Cafe (shameless plug or just the truth?). Wow, look how this song manifested into a meandering tangent.
"Default" – Django Django from Django Django on Ribbon Music
"Rip" – Ringo Deathstarr from Mauve on Club AC30
"Lost River" – Murder By Death from Bitter Drink, Bitter Moon on Bloodshot Records
"Toil" – Unnatural Helpers from Land Grab on Hardly Art
"Where Things Go Wrong" – Jason Collett from Reckon on Arts & Crafts

"Nolchi" – Eight Belles from Girls Underground (self-released)

"Facemask" – Ungdomskulen from Secrecy on YAP Records
"I Have The Gun" – Crime and The City Solution from An Introduction To….Crime & The City Solution A History Of Crime – Berlin 1987-1991 on Mute
Amazon Links to Quickly Purchase This Week's New Album Releases
You can purchase MP3, CD and Vinyl copies of this week's releases at the end of this post. We've coded it so that you just click the version you want to purchase, and it takes you right to the Amazon (better and less expensive than iTunes; plus all Amazon MP3s are compatible with iTunes and all MP3 players). Plus, each time you make a purchase via IRC links, we get a few cents for each one, which if can make a difference over time in helping us pay our server costs so that we can keep bringing you the best new music out today. If you're planning to buy an album, please remember we have them all organized and make it easy in a couple of clicks to do so.
Apollo Run – Here Be Dragons, Vol. III | MP3
As I Lay Dying – Awakened | CD Deluxe CD MP3
The Bad Plus – Made Possible | CD MP3
Rafiq Bhatia – Strata [EP] | MP3
Joe Bonamassa – Beacon Theatre: Live from New York [Live] | DVD Blue-ray CD MP3
Sera Cahoone – Deer Creek Canyon | CD Vinyl MP3
Jonas Carping – All the Time in the World | MP3
Caspian – Waking Season | CD Vinyl MP3
The Casualties – Resistance | CD Deluxe CD Vinyl MP3
Cave Painting – Votive Life | MP3
The Chevin – Borderland | CD MP3
Chris Cohen – Overgrown Path | CD Vinyl MP3
Jason Collett – Reckon | CD Vinyl MP3
The Crane Wives – The Fool in Her Wedding Gown [EP] | CD MP3
Deadmau5 – > Album Title Goes Here < | CD MP3
Dokken – Broken Bones | CD/DVD MP3
Dragonette – Bodyparts | CD Vinyl MP3
Dum Dum Girls – End of Daze [EP] | CD Vinyl MP3
Efterklang – Piramida | CD Vinyl MP3
Engel – Blood of Saints | CD MP3
Lupe Fiasco – Food & Liquor 2: The Great American Rap Album Pt. 1 | CD MP3 Deluxe MP3
Fighting with Wire – Colonel Blood | CD MP3 Deluxe MP3
Frightened Rabbit – State Hospital | Vinyl MP3
John Frusciante – PBX Funicular Intaglio Zone | CD Vinyl
Gatekeeper – Exo | CD Vinyl MP3
Larry Graham & Graham Central Station – Raise Up | CD MP3
Green Day – Uno | CD Deluxe CD Vinyl MP3 Deluxe MP3
Steve Harris – British Lion | CD MP3
John Hiatt – Mystic Pinball | CD Vinyl MP3
Waylon Jennings – Goin' Down Rockin': The Last Recordings | CD MP3
Lucy Kaplansky – Reunion | CD MP3
The Kick – Tonight Changes Everything | MP3
Kid Ink – Up & Away | CD MP3 Instrumental MP3
Kingsfoil – A Beating Heart is a Bleeding Heart | MP3
The Late Call – Pale Morning Light | CD Vinyl MP3
Jim Lauderdale – Carolina Moonrise | CD MP3
Lavender Diamond – Incorruptible Heart | CD Vinyl MP3
Bettye LaVette – Thankful N' Thoughtful | CD Vinyl MP3 Deluxe MP3
Levek – Look a Little Closer | CD Vinyl MP3
Machine Birds – Save Yourself [EP] | MP3
Rhys Marsh and the Autumn Ghost – The Blue Hour | MP3
Simon McBride – Crossing the Line | CD MP3
Michael McDermott – Hit Me Back | CD MP3
Medeski Martin & Wood – Free Magic | CD MP3
Melody's Echo Chamber – Melody's Echo Chamber | CD Vinyl MP3
Metronomy – Late Night Tales | CD Vinyl MP3
Cara Mitchell – Have You Ever Wondered [EP] | MP3
Jason Molina – Autumn Bird Songs | MP3
Gary Moore – Blues for Jimi [Live] | DVD Blu-ray CD Vinyl MP3
Murder By Death – Bitter Drink, Bitter Moon | CD Vinyl MP3
Murs & Fashawn – This Generation | CD
Mumford & Sons – Babel | CD Deluxe CD Vinyl MP3 Deluxe MP3
No Doubt – Push and Shove | CD Vinyl MP3 Deluxe MP3
Yoko Ono, Kim Gordon, and Thurston Moore – YokoKimThurston | CD
Outlaws – It's About Pride | CD MP3
The Preservation Hall Jazz Band – St. Peter and 57th Street [Live] | CD MP3
The Preservation Hall Jazz Band – The Preservation Hall 50th Anniversary Box Set | CD MP3
Tarrus Riley – Mecoustic | CD MP3
Ringo Deathstarr – Mauve | CD Vinyl MP3
Reptile Youth – Reptile Youth | CD Vinyl
Rosco Bandana – Time to Begin | MP3
Richie Sambora – Aftermath of the Lowdown | CD MP3
Satellite Stories – Phrases to Break the Ice | MP3
Sillyboy – Nature of Things | MP3
Ricky Skaggs – Music to My Ears | CD
Sofa Surfers – Superluminal | CD Vinyl MP3
The Soft Pack – Strapped | CD Vinyl MP3
Ben Sollee – Half Made Man | CD Vinyl MP3
Angie Stone – Rich Girl | CD MP3 Deluxe MP3
Trouble Lights – The Endless Prom | MP3
Ungdomskulen – Secrecy | MP3
Unnatural Helpers – Land Grab | CD Vinyl MP3
Marry Waterson & Oliver Knight – Hidden | CD MP3
Wickerbird – The Crow Mother | MP3
Witchcraft – Legend | CD Vinyl MP3
Zucchini Drive – No Foods But Lots of Weapons | MP3
Like what we do? Please donate to IRC to help us maintain and grow!
8 Comments
Trackbacks
Top DIY Releases of the Week, Sept. 25th – Dizzy Bats, Slunq, Defy The Ocean, High Pines, Arioc, Faithless Town, The Shallows | Best indie rock songs, popular bands, top rock music, top ten songs, indie videos
Leave a Response