IRC has been covering the best indie rock artists and bands since 2008 and is well-known in the states and around the world for featuring new, talented, and often, under-the-radar indie rock music from promising artists and bands.
You can submit your music via IRC's Submission Page.
Follow Indie Rock Cafe on Facebook, Instagram and Soundcloud.
---
2016 Indie Rock Artists and Bands
– Fresh Indie Rock Songs, Nov. 2016 – Featuring Teleskopes, The Penthouse, Gabriel Lynch Band, Pete Lord, Lovelast, Blisss
– Fresh Indie Rock Songs, Oct. 2016 – Featuring Corusco, Jack Kotz, Joseph Eid, Aux House, Kingsley Flood, Pacific Radio
– Best New Indie & DIY Rock of 2016 – Featuring Maps of Suburbia, Cheops' Cave, Empire of Gold, The Modern Savage, La Historia
– Artist To Watch – Way Zen – Featuring the terrific music of Ann Arbor musician Tim Knowlton
New Indie Rock Premieres – Featuring Cloud Safari, PomonaSounds, Norwood, Alx Kawakami,David Jacobson and The Space Wizards, Mr. Thunnder
Last modified on 2016-11-23 23:50:12 GMT. 0 comments. Top.
This is the second installment of the Best DIY Music of 2016, with many more to come. Don't miss recent posts and playlist with oodles of amazing artists and bands you've probably never before. From London to Phoenix and Ontario to New York, and from Denver to Fort Wayne.
HYMNS – London, England
Cesar Maria – New York via San Francisco
shy kids – Toronto, Ontario
Huckleberry – Phoenix, Arizona
March On, Comrade – Fort Wayne, Indiana
A-Mac DZ – Denver, Colorado
Rikashay – Markham, Ontario
HYMNS – The London EP
HYMNS is a London alternative rock band formed by guitarist and vocalist Oliver Hooper, Giorgio Compagnone on bass guitar and backing vocals, Matthew Ash on guitar and Ben Edwards on drums. The band's driving dark rock sound on tracks like "London" and "Masquerade" draw influences from bands such as Depeche Mode, Radiohead, Interpol and Queens of the Stone Age, and genres such as alternative, indie rock and hints of post rock. They remind us a little of Editors. The band's new release, out now, is titled The London EP.
"The new EP explores themes of isolation, desperation and hope in modern day city living," Hooper says. "It is a collection of songs that offer an honest commentary on the way we live and attempts to offer a pragmatic way forward."
The band recorded their just released EP at Smokehouse Studios at the Tobacco Docks in London. Most of the songs were recorded live with additional vocal, guitar and synth overdubs added during mixing. The songs were tracked through a Classic 66 channel Cadac E type console, produced by Rohan Budd, and mixed in ProTools.
MP3: "London" – HYMNS from The London EP
Via Soundcloud: "Masquerade" – HYMNS from The London EP
Cesar Maria – Cesar Maria
Cesar Maria (aka Sayzar Mareuh) is a New York City indie rock artist who is heavily influenced by a variety of genres including classic rock and post punk. A multi-instrumentalist, singer/songwriter, and producer, Maria has narrowed his sound into a splashy psychedelic blend of folk, glam rock and garage rock.
His talents as an artist set him apart from many of his DIY contemporaries. Take the lead single from his new release. The rebel-rousing, addictive, "Let It On," from his new self-titled EP, reminds us of something like Bowie, T. Rex and Violent Femmes all together for one nerdy, rocking glam jam. Maria's biggest musical influences also include Neil Young and Gram Parsons, also which are evident in his not-always-easy-to-pin-down sound.
MP3: "Let It On" – Cesar Maria from Cesar Maria
Via Soundcloud: "The Answer" – Cesar Maria from Cesar Maria
shy kids – Lofty
Quirky indie chamber pop with sweeping and triumphant swells of ringing guitars, crunchy synths, booming percussions, joyous choruses dripping with melodic hooks are the hallmarks of Toronto indie band shy kids' indelibly catchy single, "Rockets."
There is a twist though; towards the end of the track, things get a bit chaotic and psychedelic – like in The Beatles' "No.9" kind of way – with backwards tape winding, sound effects, random voice clips and more before suddenly it stops without warning. The video for "Rockets" is also a trip.
Another track, "Terminally In Love With You," also from the album, Lofty, is beautifully melancholic, a total juxtaposition to "Rockets," yet more evidence of the band's collective talents. The members are Walter Woodman (singer/bass); Patrick Cederberg (guitar, piano), and Matthew Hornick (guitar, piano).
MP3: "Rockets" – shy kids from Lofty
MP3: "Terminally In Love With You" – shy kids from Lofty
The band members are influenced by the following bands and artists: Broken Social Scene, Animal Collective, Queen, Pink Floyd, Paul Simon, Fiona Apple, and The Beatles.
Huckleberry – Shasta City, Bad News Ricky
Phoenix indie rockers Huckleberry have managed to drop one of the best DIY singles we've heard so far this year – the inspiring and infectious, "Wild Ricky," off of the band's new EP, Shasta City, Bad News Ricky. It's just got that certain spunk and energy to it.
Another track, "Shasta," an ode to the beautiful majesty of Mt. Shasta in California, is a much different track, a folkish alt. country song that highlights the band's diverse influences including The Avett Brothers, The Oh Hellos, Bird Dog, Grateful Dead, and Wilco.
MP3: "Wild Ricky" – Huckleberry from Shasta City, Bad News Ricky
Via Bandcamp: "Shasta" – Huckleberry from Shasta City, Bad News Ricky
March On, Comrade – March On, Comrade
In 2015, Fort Wayne DIY band March On, Comrade formed "out of the smoldering ashes" of the talented, disbanded Ordinary Van, and have been playing to sold out audiences ever since.
"Our live show contains programmed industrial lighting, extensive guitar effects, percussion, and layered reverbs," says guitarist Ryan Holquist.
The band's new self-titled debut EP features the band's piano-driven, epic, and sprawling sounds, oozing with melodies and harmonies of indie rock with post rock influences on songs like "Shade," and the awesome vocal work of bassist John Ptak, who has a mighty vocal range that enhances, not dilutes, the song itself.
The other accomplished band members of March On, Comrade include guitarist Charlie Davis, drummer Chris Leonard, and Ben Robinson on keys and. percussion. The band has opened for bands like Metavari and Heaven's Gateway Drugs, and are majorly influenced by Sigur Rós and Radiohead.
MP3: "Shade" – March On, Comrade from March On, Comrade
Bonus Track via Bandcamp: "Prism" – March On, Comrade from March On, Comrade
A-Mac DZ – The Gift of Music
From Denver comes the DIY band A-Mac DZ, fusing upbeat folk rock with reggae grooves, hip-hop flavor and jam band influences. The band just dropped their new album, The Gift of Music, comprising memorable tracks like the title track and the captivating, "Balance and Purpose."
The band includes vocalist and guitarist Alex Mackenzie-Low; drummer Matt McElwain; keyboardist Karl Rivers; guitarist Billy Farmer; percussionist Jake Heym, and bassist Robby Sands. A-Mac DZ have opened for bands like Rusted Root, Karl Denson's Tiny Universe, and MarchFourth!, and count among their biggest influences Nahko & Medicine For The People, Dispatch, and Citizen Cope.
MP3: "Balance & Purpose" – A-Mac DZ from The Gift of Music
Rikashay – All Alright
The Markham, Ontario indie pop band Rikashay dropped their debut EP, All Alright, last month, featuring the single, "Please!," an indie lo-fi pop rock track that has an awesome hook that save the song from indie pop mediocrity.
The second track, the ska-inspired, "Carefree," is a stronger song overall, and actually a lot of fun at an outdoor barbeque, partly thanks to it's unmistakable Weezer influence. The duo is vocalist and guitarist Isaac Papineau and drummer Jaiden Crawford. And it's no surprise the band are big fans of Red Hot Chili Peppers, Billy Talent, Weezer, Mac DeMarco, and Less Than Jake.
MP3: "Please!" – Rikashay from All Alright
Via Soundcloud: "Carefree" – Rikashay from All Alright
---
Last modified on 2016-06-02 22:59:07 GMT. 0 comments. Top.
The first edition of 5 Bands That Rock for 2016 features a killer collection of rock music from artists and bands from our archives that most of you have probably never heard of until today. And if you have – damn, you're up on your DIY bands that rock!
In this 10th installment of 5 Bands That Rock:
Welshly Arms – Cleveland, Ohio
The Scarlet Son – Pittsburgh, Pennsylvania
YourEnvy – Dryden, Ontario
Sunblaze Lane – Westchester, Pennsylvania
Glorious Moonrockets – Ottawa, Ontario
Welshly Arms – Cleveland, Ohio
Hailing from Cleveland, Ohio, blues garage rock band Welshly Arms knows how to rock. Formed in 2012, the band has released a couple of EP that have garnered them attention in their hometown, which appropriately is the location of the world famous Rock and Roll Hall of Fame.
Their amazing track, "The Touch," with it's gritty, attitude-oozing, even somewhat spooky thrust, is irresistible for anyone that loves stomping, kick-ass rock. The song would be perfect on the soundtrack of HBO's series Vinyl. Come on, Mick and Martin – listen to this track. We'd even be so bold as to say that these guys are a yet-to-be-discovered Black Keys (except with more people).
MP3: "The Touch" – Welshly Arms from Welcome
Band members Sam Getz on guitar and vocals; Jimmy Weaver on bass; Mikey Gould on drums and Brett Lindemann on keys are all competent and accomplished musicians in their own right, which is part of their appeal.
The band members are heavily influenced by artists like The Black Keys, The James Gang, The Ojays, Jimi Hendrix, Alabama Shakes and Howlin' Wolf.
Combining rhythm and soul, rock and jazz, with lots of blues, the band has knocked out a string of riveting, creative and exciting home brewed guitar rockers over the past few years.
In the summer of 2014, the band's ripping riffer, "Dirty Work," was released and used in a promotional video for the band's hometown baseball team's (Cleveland Indians) new season. That's a pretty big deal for a home town band in the city known worldwide for rock and roll.
MP3: "Two Seconds Too Late" – Welshly Arms from Welcome
Bonus MP3: "Run Right Out Of Here" – Welshly Arms from Welcome
The Scarlet Son – Pittsburgh, Pennsylvania
The Scarlet Son band from Pittsburgh is a heavy alt. rock band that began as a solo project for vocalist and guitarist Kris Litman before his friend and bass player Sterling Taylor joined followed by drummer Colin Mcbride and guitarist Dan Winschel.
The first single, "Silence," is cloaked by a dark and heavy shadow, full of hard driving beats, blazing, buzzsaw guitars, and at times, even slight pop rock elements. There's no question their sound is partly influenced by the 80's metal and hard rock bands – just without the teased hair, make-up and tights (and that's definitely a good). The second track, "Consumed," is another solid rocker from the band's self-titled debut.
MP3: "Silence" – The Scarlet Son from The Scarlet Sun
Bonus MP3: "Consumed" – The Scarlet Son from The Scarlet Sun
The Scarlet Son on Facebook
YourEnvy – Dryden, Ontario
Well-honed, good ole fashioned rock and roll blues is the signature sound of Dryden, Ontario duo YourEnvy's album, Darkside, featuring standout rockers like "Blue Ale," that harken back to a bygone era when rock ruled the world.
If you know anything about Detroit rock from the 70s and early 80s (Iggy and The Stooges; MC5; Ted Nugent; Alice Cooper, etc.), that's where YourEnvy has its roots. The track "Dirt Hill Woman II" is a rock radio blast from the past, reminiscent of classic rock bands like KISS, Black Sabbath and Deep Purple with a flare of T. Rex. These guys are tight!
MP3: "Blue Ale" – YourEnvy from Darkside
Inspired by both American blues and British hard rock, YourEnvy have emerged from deep within the forests of northern Ontario with a twisted saga of battle, romance, and nature. All the instruments are performed by Shawn Sherwood, with vocals from Clint Gottinger. The duo has opened for bands like Black Jack, Dayblind, and Stratovarius, and list their top musical influences, a bit surprisingly (but not really), as Helloween, Stevie Ray Vaughan, and Guns N Roses.
Bonus MP3: "Dirt Hill Woman II" – YourEnvy from Darkside
Sunblaze Lane – Westchester, Pennsylvania
Since 2014, the Westchester, Pennsylvania DIY rock band Sunblaze Lane has released one single at a time, bucking the tradition of a new band dropping either a debut EP or LP. But it doesn't really matter because smoking songs like "I'm Coming Home" and "All I ever Wanted," show how talented the band is; great band name by the way.
"It's easy to avoid sounding like one type of music because our influences are all very different," says lead guitarist Justin Smith. "Without getting into too much detail, our biggest challenges have to do with alcohol, women, money, and the law. All of us have similar interests, but common problems."
The other band members, all in their mid-20s, include frontman and guitarist Nick Hopton, drummer John Lamplugh and bassist Addison Scott.
Sunblaze Lane has opened for bands like The Moxy, The Quireboys, Goodman Fiske, Hello Cleveland, and are mainly influenced by Foo Fighters, AC/DC, Led Zeppelin, and Arctic Monkeys.
MP3: "I'm Coming Home" – Sunblaze Lane from The Way She Goes
Bonus MP3: "All I Ever Wanted" – Sunblaze Lane from The Way She Goes
The Glorious Moonrockets – Ottawa, Ontario
From their home base in the Ontario capital of Ottawa, indie rock band The Glorious MoonRockets belt out a gripping trashy, gritty punk rock sound that has rightfully earned them a spot in the Bands That Rock series. Formed in 2011, the band has kept busy with recording and releasing new material as well as touring throughout eastern Canada.
With their garage and psych rock influences, notable 90's grunge tinges and raw, driving lo-fi power chords notable on the band's menacing, edgy track, "Down On Their Luck" – a gritty chugging track that is ripe for the soundtrack of a series like Vinyl – and "3 Dollar Dinner," a blazing rocker. The band members are fans of Motorhead, AC/DC, MC5, and Dictators.
MP3: "Down On Their Luck" – Glorious MoonRockets from More Other Stuff
Bonus MP3: "3 Dollar Dinner" – Glorious MoonRockets from More Other Stuff
Glorious MoonRockets on Facebook
---
Last modified on 2016-11-23 23:55:59 GMT. 0 comments. Top.
The first volume of the Best New DIY Music of 2016 – of the hundreds and hundreds of songs we've listened to so far this year – features artists and bands from all across the U.S., including cities like Seattle and Phoenix to San Francisco and Nashville, and in farer away locales such as Canada, England and Australia. And there is so much more coming so make sure to follow us on Facebook and Instagram.
If you have been following IRC for a while, you may remember how crazy popular the 2015 Best New DIY Music series was – garnering, altogether, over 2,500 shares on social media; more than 87,000 views and hundreds and hundreds of MP3 downloads and streams.
There is some really amazing music and artists and bands to discover below – for most of you, the first time you're encountering the musicians and bands listed below, including cousins of The Black Keys, friends of Tame Impala and guest appearances from indie rock icons like Ariel Pink, from professional musicians with amazing cover songs to bands reflecting the grit and abandonment of a post industrial society.
In This Installment:
Deer Park – Seattle, Washington
Starfinder – Chicago, Illinois
Vicious Kicks – Los Angeles, California
Susan Hyatt – Nashville, Tennessee
Human Buoy – Perth, Australia
MOSAICS – San Francisco, California
Joel Strauss – Kelowna, British Columbia
Gibberish – Los Angeles, California
Windmills – San Francisco, California
Note: Hypem has certain restrictions that totally eliminates posts from Hypem that contain over 10 mp3 links. OK, we get it may be too much of a load on Hypem, but why not display the first 10 instead of eliminating ALL of the songs from appearing at all for our followers? Hype Machine folks?
Deer Park – Quentin In My Vitamins
Based out of Seattle, the relatively new indie rock project Deer Park kicks out a Built To Spill-like alt. rock grit with mini theatrics on "Me Against The World," just one of the riveting songs on Deer Park's debut album, Quentin In My Vitamins.
Rob Auerbach, a cousin of Dan Auerbach (Black Keys), is the founder and main force behind Deer Park. In addition to writing and singing all of the songs, Auerbach played all of instruments – including guitar, bass and drums – and programmed, recorded, mixed and produced every song, including the cool-ass follow-up track, "Coffee."
Auerbach's favorite bands include Tera Melos, Modest Mouse, Built to Spill and Cage The Elephant – not surprising at all when you listen to his songs. Deer Park has now expanded into a full band, with the addition of members Ben Jelinek, Brian DePartee and Jack David.
MP3: "Me Against The World" – Deer Park from Quentin In My Vitamins
Bonus MP3: "Coffee" – Deer Park from Quentin In My Vitamins
Starfinder – "If I Were You"
With a blockbuster of 80's and 90's underground influences like New Order, The Cure, Joy Division and Depeche Mode, among others, Chicago musician Ian G (Ian Galloway) has just launched a brand new electronic music project, Starfinder.
As Starfinder, Galloway celebrates his love of new wave, synth pop and goth, and also draws from years of experience as a band member of several past and present punk, garage, and indie rock bands, including Porno Mags, whose self-released debut album peaked at #47 on CMJ in 2014. He is also a member of Chicago bands Witchfeet and Joy Shooters. Woah, dude, slow down.
Music was something that was central to his life from early teens.
"I got into skateboarding and in turn started hearing punk rock and early indie rock in skate videos," he says. "I was immediately drawn to stuff like Dinosaur Jr, Fugazi, and Bad Religion." In his later teen years, Galloway studied, wrote and produced electronic music in his spare time.
The tantalizing, New Order-influenced track, "If I Were You," is the first single released by Starfinder, and his first venture into electronic based music, with, he promises, many more productions in the works. We've watched the song track on Soundcloud over the past couple of months, and it has picked up enthusiastic feedback from music lovers – always a good sign when the audience is engaging.
We know a lot about how to measure how an artist is received by fans, and one way is to look at their Soundcloud. For Starfinder to receive 50 positive comments on a track with approximately 1,200 plays says something profound about the excitement his music has sparked with a whole lot of music lovers in a very short time. That is rare.
Another track, "In The Dark," sounds like another jem already with a cool vibe, prominent drum beat, catchy rhythm, echoey vocals and synth and guitar melodies and hooks throughout. We'd like to hear, however, a higher production value because the instrumentation, via production, is a bit muted; it should be bigger-sounding, in our opinion. And that's why we say – promising artist.
MP3: "If I Were You" – Starfinder
Soundcloud: "In The Dark" – Starfinder
Vicious Kicks – Los Angeles, California
Vicious Kicks is the Los Angeles songwriting duo of DIY songwriters and musicians Nzo Tiano and Ray Giron. The two friends, now in their early 20s, have been writing songs together since they were in high school, where they met and realized they had similar music interests.
Last week, VK dropped their new track, "Weekend," which we think is one of the best DIY singles so far this year. Check it out for yerself and give love if you're feeling it. Their top musical influences – hints of which you can hear in their songs – include Black Keys, Tame Impala, Cream, Foo Fighters, and Wolf Mother.
"It was an exciting track to work with," Tiano says, "especially coming from our talented friend, Eric (a.k.a Yungwar1ock). He presented the song to us, and we immediately gravitated to the feel-good vibe by adding our own lyrical and creative embellishments."
Vicious Kicks was officially formed last year, and soon after released their debut EP, Mayhem. The EP is full of hard-hitting, in-your-face pop rock on well produced songs like "Run" and the unforgettable, "Workaholic." The guys also create their own artwork – and as you can see displayed above, is impressive, especially the new cover art for "Weekend."
Another track, "Wicked Summer," one of their first tracks, is a hard-driving, funky and celebratory track that is, as its title implies, perfect for the summertime.
MP3: "Weekend" – Vicious Kicks
"Indie rock is rough on the edge, no holds barred state of mind that feeds on creating a sound that is not limited to mainstream expectations and limitations." – Nzo Tiano
Susan Hyatt – Pin-Ups & Trumpets
Cover albums come out all of the time and the vast majority of them should have never been released. But in the case of professional musician Susan Hyatt, her new covers album, Pin-Ups & Trumpets, is simply exceptional. She worked on the album with famed Nashville producer Zack Leffew.
"I have always been a fan of David Bowie's Pin Ups album," Hyatt says. "This record is my Pin Ups, and includes some of my fave dark rock songs [when I was] growing up."
Hyatt describes the album as 'dark indie jazz' where trumpets have replaced guitars. And somehow the duo pull it off, upping the ante for unconventional cover songs, or just cover songs in general, on covers from Motley Crue's "Looks That Kill" to Marilyn Manson's "The Dope Show," and Depeche Mode's "Personal Jesus" to Judas Priests' "Breaking The Law."
"I chose the songs that I loved growing up, the ones I felt most connected to lyrically and melodically. The most challenging cover was Life in the Fast Lane. I am a huge fan of the original song and I knew in order to cover it I had to make it a total departure from the original. My ideas was to make it artsy and mellow like Nine Inch Nails meets Twin Peaks."
Our favorite is her sensual and totally original cover of the late and great David Bowie's "Young Americans." We are willing to take the chance to say that Ziggy Stardust would be proud.
Hyatt and Leffew have taken on a kick-ass collection of rock and roll favorites and given them a totally different spin that you're not going to hear anywhere else. This is an album you want, because you're likely to play it again and again. Hyatt is obviously a very accomplished, and cool ass, musician.
It's so nice to have something so original – as original as one can be for cover songs. From soprano to sultry and seductive, Hyatt has a voice that allows her to explore almost any genre she wants and yet retain the brass roots of jazz and rock at the same time.
MP3: "Young Americans" (David Bowie) – Susan Hyatt from Pin-Ups & Trumpets
Bonus: "Looks That Kill" (Motley Crue) – Susan Hyatt from Pin-Ups & Trumpets
Susan Hyatt's official website
MOSAICS – Year of Valor
The second single, "Freedom," from San Francisco acoustic-electronic pop trio MOSAICS has an industrial electro edge with a wicked rhythm accompanied by sensual vocals.
The track is the follow-up to the success of the first single, "Year of Valor", the title track from the band's new EP set to drop on May 27th.
The album features a collection of carefully arranged and produced songs, and marks the debut of Bay Area vocalist Maryam Sadeghian, whose seductive vocals have added a layer of mystery and intrigue to the band's music, which is decidedly more electro-acoustic than previous releases.
MP3: "Freedom" – MOSAICS from Year of Valor
Human Buoy – Animation Station
The spooky, funky "Period Of Maximum Excitability" is the new single from Perth, Australian indie psych band Human Buoy's debut album, Animation Station. The track is obviously meant to sound dark and ominous since the adopted subject matter is just that.
The song was written in Amsterdam after band founder and multi-instrumentalist Ben McDonald (who has worked with members of Tame Impala and POND), watched a documentary about the 'collective consciousness' of the world that suggests the sun's activity "seems to freakishly mirror that of the population's behaviour," he said.
"It's during the solar cycle known as the 'period of maximum excitability' when pivotal events such as world wars and revolutions most occur," McDonald adds. And thus, the name and theme of Human Buoy's debut.
One thing that would have made the song stronger, I think, is if that cool little guitar picking at the end of the track was woven in and out throughout the quieter realms of the song because it provides a little levity that is beckoning. But all around, it's a solid track. While we dig this new single, we like the debut single, "Oxygen", just a little more.
Animation Station features special guest appearances by Ariel Pink; Nick Allbrook (POND); Malcolm Clark; Ben Smith (Blud), and Shiny Joe Ryan. McDonald plays guitar, bass and synths, as well as produces and mixes. His biggest influences, he says, are David Bowie, Beck and MGMT.
MP3: "Period Of Maximum Excitability" – Human Buoy from Animation Station
Joel Strauss – Songs For The Vaudeville Theatre
From the natural beauty of western British Columbia, the DIY Kelowna-based singer/songwriter and multi-instrumentalist Joel Strauss returns with a terrific new album, Songs For The Vaudeville Theatre, featuring the standout, heavily melodic and hook-filled "Vaudeville."
The track, and the album, is meticulously arranged and produced, once again highlighting Strauss' many talents as one man band, performing adeptly on guitar, bass and drums, among other instruments.
His wonderfully distinctive, high-pitched, somewhat nasally, vocal range is one of the best registers to come out the Great White North. Strauss' influences include Bob Dylan, Smashing Pumpkins, Frank Sinatra, The Beatles, and Leonard Cohen.
The idea for the concept album struck Strauss after he was reading about vaudeville. "That mix of creativity, expression and performance has me convinced that if I lived in the 1920s and 1930s, I would have been a vaudevillian myself," he says. "There are sounds on this album that echo the sounds in music from the 20s and 30s – as if there is a piece of this history placed inside the songs."
MP3: "Vaudeville" – Joel Strauss from Songs For The Vaudeville Theatre
Gibberish – "Rudedue"
The track, "Rudedude," is the newest experimental synth pop delight from Los Angeles duo Gibberish. At the helm, Derek Bromley uses his unique perspective on California pop together with Animal Collective-like sampling and effects and Panda Bear-style vocals and dubbing. Gibberish is currently working on a follow-up to their fine 2015 debut EP, Winter Coat.
MP3: "RudeDude" – Gibberish
Windmills – "Go Without"
Windmills is the moniker of lo-fi DIY multi-instrumentalist Wayne Mills whose stimulating new track, "Go With," from his new release The Black Rose, features more of the San Francisco musicians' 'classic Tascam Portastudio bedroom folk' with influences as diverse as Elliott Smith, Circa Survive and Bright Eyes. The video for the track is also worth checking out.
MP3: "Go Without" – Windmills from The Black Rose
---
Fresh Tracks – The Davenports and Shirley Simms, Chasing Colors, Hillary Bratton, Eight Belles
---
In the ninth installment of the wildly popular Best New DIY Music of 2015 series, we cover the following artists and bands:
Sound Is Lovv – Los Angeles, California
Margarine – Boston, Massachusetts
My Tribe Your Tribe – Kildare, Ireland
Serve The Sun – Amsterdam, The Netherlands
Ocean Glass – Champaign-Urbana, Illinois
Hookspine – Lille, France
Beachmen – Salt Lake City, Utah
Bad Hounds – Akron, Ohio
Jaromil – Dijon, France
Tombstones In Their Eyes – Los Angeles, California
Featuring:
– GRRL PAL – Perth, Australia
– The Citie – Los Angeles, California
– Tigers In The Sky – Los Angeles, California
– Stereo Twins – Baltimore, Maryland
– Three Witches – Akron, Ohio
The Wild Young Hearts – Los Angeles, California
Starar – London, England
Ness – Long Island, New York
Ordinary Van – Fort Wayne, Indianapolis
Pelicat – Norway
Elder Flower – Arvika, Sweden
The Mondanes – Gothenburg, Sweden
Maven – Paris, France
Aether Street – Reno, Nevada
More Skies – Huntington, New York
Bad & The Ugly – San Diego, California
Jeremy & Lynee – Minster, Ohio
Birth of Joy
Transvaal Diamond Syndicate
A Victim of Society
Mary Goes Wild
BRUCE!
Toro Y Moi
Sufjan Stevens
Twin Shadow
Death Cab For Cutie
Bjork
The Cribs
Modest Mouse
Lord Huron
Waxachtchee
The Mountain Goats
Villagers
Lower Dens
Reptar
Brian Wilson
Josh Rouse
East Indian
…and more
Pet Politics – Gothenburg, Sweden
Bud Collins Trio – Mansfield Center, Connecticut
Lascaux – Rouen, France
Babbling April – Dayton, Ohio
Hard Soul – Albany, New York
Forensics – London, England
Stella Got – Israel
Drew Gibson – Washington, D.C.
Virgin Mary Pistol Grips – Omaha, Nebraska
HAPPY good – Lancaster, Pennsylvania
Elad Eyni – Rishon Lezion, Israel
Atrium of The Fall – Topanga, California
Fringes – Ormond Beach, Florida
Russell Joslin – London, England
Dan Zdilla – Lanchester, Pennsylvania
Doug Balmain – Laramie, Wyoming
No Body – Olympia, Washington
---
Top Indie Rock Songs, 2007 – 2013
– 2013 Indie Rock Songs
– 2012 Indie Rock Songs
– 2011 Indie Rock Songs
– 2010 Indie Rock Songs
– 2009 Indie Rock Songs
– 2008 Indie Rock Songs
– 2007 Indie Rock Songs
Other Popular Playlists featuring Artists and Bands
– Songs of Winter
– Songs of Spring
– Songs About The Moon
– Songs for Mom
– Songs About New York City
– Halloween Indie Rock Songs
– Indie Christmas Songs Compilation
– Valentine and Love Mixes
– Dream Playlist
– The Great Unknowns
–  Quickies
– Singer-Songwriter Spotlight Series
– Bands to Watch
– In Dee Mail
– One Man Bands
– Ears To The Music
– State of Music
– Best Rarely Heard Indie Songs
– Summer Indie Rock Mixes
June 2013 Artists and Bands
– June 27th – 7 Overseas Artists You've Gotta Hear – Profile/playlist feature highlights the following artists and songs they sent in for review – Metaform, James Kerr, Flat Ed, Matt Churchill, Heifervescent, Lillian Todd-Jones, and Reebosound.
– June 24th – Overseas Band Watch: Leeds, England Indie Rock Quartet China Rats – Check out three hot singles from the band that the UK music press is calling the 'next Arctic Monkeys.'
May 2013 Artists and Bands
– May 29th – Overseas Band to Watch: Deco Pilot
– May 28th – Bands That Rock, Vol. V – Tsar, Dreamers, Eight Feet Deep, The Bitter Roots, and The New Self-Defense
– May 25th – Best New Music Releases, Week of May 21st – Daft Punk, The National, Dirty Beaches, Man or Astro-Man, Attic Lights, The Baptist Generals, Jessie Rules, Major Cloudz, Linda Draper, Radiation City, Talking Heads, JC Brooks & the Uptown Sound, Shannon and the Clams, and Club 8.
– May 23rd – 2013 Sasquatch Music Festival Line-Up and Schedule of Artists & Bands – Includes four Spotify playlists for each day of the festival, featuring bands like Vampire Weekend, Sigur Ros, Mumford & Sons, Arctic Monkeys, Black Rebel Motorcycle Club, Tame Impala, Surfer Blood, Akron/Family, Andrew Bird, Elvis Costello, Edward Sharpe and the Magnetic Zeros, The Tallest Man on Earth, Grimes, Shout Out Louds, The Postal Service, Cake, The Lumineers, Ariel Pink, Toro Y Moi, Dirty Projectors, The xx, Built to Spill and many others.
– May 21st – Recent DIY & Indie Debuts of 2013, Vol. I, featuring bands like Great White Buffalo, Tournament of Hearts, Make Haste, Constant Supply, Will and the Indians.
May 20th – Almost Missed: San Francisco Band Cool Ghouls' Debut Album – A review, with song samples and a video, of the debut from the San Francisco retro psychedelic rock band.
…more coming soon
Discover awesome songs, albums, playlists and bands you've probably not heard before by perusing the following links (most of the songs in older posts are still active, since we encourage bands never to deleted song links once they are posted, and for all of the songs we host, unlike most blogs, we do not take down song files. However, it is getting increasingly expensive to maintain thousands of songs, starting from 2008-2009 to today; you can help us pay for the server and other costs by donating to us via PayPal, via the Donate button in the right hand column of this and every page. If you like what we're doing and want to see more, every dollar helps us continue to be one of the top sources for indie music, particularly of unsigned/DIY and under-the-radar, on the web.
Some of the popular regular feature posts, series and playlists that profile great artists and bands include:
– Artist of the Week
– 7 Bands You've Gotta Hear
– In Dee Mail
– 5 DIY Bands to Watch
– Best New Music Releases
– Top Ten Songs
Great artists and bands are also featured in playlists like  Best Summer Songs, One Man Bands, Indie Cover Songs, Halloween Song Mixes, Songs About New York, and the Singer-Songwriter Spotlight series. Since 2008, we've featured thousands of bands, and the archives contain over 10,000 MP3 songs, many of which are still active.  Here's the latest posts highlighting artists and bands that we think you'll be happy you checked out:
Last modified on 2016-02-23 07:26:13 GMT. 1 comment. Top.
The Helsinki, Finland band Scarlet Youth is barely on the North American indie music radar; in fact, it's almost like they're flying stealth.
The band members' raw musical talent, coupled with their otherwise insufficient blogger or media coverage, made Scarlet Youth a good candidate for the Artist of the Week series.
It didn't hurt that their excellent new album, The Everchanging View, dropped just last week. The full album, and other works by Scarlet Youth, are accessible to listen to near the end of this post.
After starting with the two tracks the band sent in for review, we've managed to listen to all of their releases, and that is what really raised them to the standard of an Artist of the Week designation.
Within a minute of listening to one of the album's singles, "You and Me," we were enveloped by the band's well-honed sound and the fantastic mix of shoegaze and dream pop that seems almost effortless. Of course, if you're a fan of European shoegaze or dream pop, you're most likely to dig Scarlet Youth's music, but we can also see how they may appeal to people who  appreciate of all kinds of music.
Having now listened to the band's full discography, "You and Me" is a good song to start with, but it's just the tip of the iceberg of what is an extremely talented band that makes enchanting, beautiful music, and at other times, can knock out a great indie rocker.
"You and Me" – Scarlet Youth from The Everchanging View – Jan. 11th, 2013
The second single, "What It's Worth," is simply a gorgeous synth pop wonder that sails along on layers of dreamy synthesizers, soothing and gentle vocals, romantic acoustic guitar playing, a heavy bass line and mid-tempo drum beat.
Overall, the song conveys a melancholic mood, and adds to the narrative set by the first song of deeply personal music about the trials of love, separation and relationships, a theme that runs throughout The Everchanging View. It's hazy pop with hushed vocals, lush melodies, impressive song writing and recording, and a sound that is more C-86 than it is indie pop, Scarlet Youth is a band that fits the bill pretty well.
The band started out in 2004 when musicians Markus Baltes and Palle Pyyhtinen got together to experiment. But it wasn't until 2007 that things took off after the duo decided to recruit three new members to accomplish the bigger, fuller sound they desired. The new additions included Marko Soukka (guitar), Riku H. Mattila (bass) and Jaani Peuhu (drums). Altogether, Scarlet Youth has among its lineup former members of bands like Iconocrash, ShamRain, Kemopetrol and Sidewaytown.
"What It's Worth"– Scarlet Youth from The Everchanging View
The band's first release was their 2009 EP, Breaking The Patterns, followed in 2010 by their debut album, Goodbye Doesn't Mean I'm Gone, released on Homesick Music, a small European indie label, and separately released in Japan.
Listen to one of the top songs – "Catch Me When I Fall" – from the 2010 debut album, as well as a great single release that was not available on either LP or the 2009 EP. We can't say that we listen to a lot of new shoegaze bands as much as the older favorites, but Scarlet Youth are a post shoegaze heyday band that does great justice to the tradition of what we consider one of the most sacred of alternative and indie music.
"Catch Me When I Fall" – Scarlet Youth from Goodbye Doesn't Mean I'm Gone (2010)
Listen to more Scarlet Youth via Soundcloud or both their albums and one EP via Spotify.
A terrific single the band recorded in 2010, "Note to a Stranger" is not available on Spotify, so we included it below as an MP3 to stream or download (this track will not be considered for the weekly Top 10 though since it's a 2010 release).
"Note to a Stranger" – Scarlet Youth from single, non-album release (2010)
Want a change of pace? Fire up any playlist from popular playlist series like Best New Releases, the DIY-oriented In Dee Mail the self-explanatory Recent Releases We Almost Missed and profiles and songs of great, largely unknown and DIY bands via the 7 Bands You've Gotta Hear profile playlists.
---
Last modified on 2016-07-16 03:42:26 GMT. 9 comments. Top.
It's been a while since the last installment of 7 Bands You've Gotta Hear, which yielded a significant amount of interest, as did the first spin-off of the series, which focused on overseas bands. This second installment of the overseas edition marks the first '7' series posting in quite a while, and hopefully we've put together a collection of bands here that you'll enjoy and be glad you heard. The '7' series is all about artists and bands, usually DIY, sometimes signed, who sent their music in for review via the submission form (located on the About page).
So why 7? Well, it's a lucky number, and because 5 seems a bit too few (considering the number of standout submissions we receive) and 10 a bit too many for one post. And to boot, we like to do things differently. Most of the bands are DIY and have not been profiled anywhere online, let alone a site with more than a million page views a month. However, these bands are a little bit different in the fact that a few are popular overseas, but have yet to break out in the states.
7 Overseas Bands You've Gotta Hear
The Amsterdams – Bucharest, Romania
Unsigned indie pop quintet The Amsterdams are not based in the Netherlands, but rather the capital city of Bucharest, Romania. The five members of the band hail from different cities in Romania, and met at the University in Bucharest. The band has a loyal following throughout Europe, but would like to make a splash on America's shores. Why they haven't already is a bit of a mystery to us, as are many artists we feature every month – and often the only major indie site on the web that does. Good music needs to be heard.
The band's music is essentially indie pop and rock, but more recently, more experimental – clacking drum sticks, bass rumbles, exotic bird sounds, waves of synth notes, handclaps, sound effects, crashing cymbals, guitar licks, repetitive lyrics, and pitchy vocals. Since forming in 2006, they have opened for bands like Wolf Parade, Handsome Furs and Whitest Boy Alive, among others. The Amsterdams influences include artists such as Arcade Fire, Bon Iver, Modest Mouse, Franz Ferdinand, and Clap Your Hands Say Yeah.
Before launching into their newest single, "Sunology," give a spin to two other songs like we dig from the band (and which offers a snapshot of their musical evolution since 2009) – the first from the 2009 debut LP, Adolessons that contains, among other songs, the standout track, "Laika" and the second, the single, "A Part of It" from the 2011 sophomore release, Electromagnetica. In addition to the band's particularly impressive talents, you've got to give them credit for also having such a strong command of English (they sing in English, not Romanian) that they can come up with a creative play on words for a debut album title, Adolessons – which is silly to a degree, but thought-provoking and appropriate as well. In addition, we also included the music video (above) for the track, "Chased By Housewives."

"Laika" – The Amsterdams from Adolessons (2009)
"A Part of It" – The Amsterdams from Electromagnetica
Just a few months ago, The Amsterdams released a catchy new song that may be a sample from a new album set to drop in 2013. The new single, "Sunology," is a great track to warm you up and combat the winter dreariness, cold and darkness, and probably one of the best rarely heard songs of 2012 (more 'rarely heard' in coming weeks). In September, the band was the first band to perform during the premiere of Romania's MTV Unplugged.
"Sunology" – The Amsterdams from Sunology single – July 19th
The Mouth of Ghosts – London, England
If you're a Bjork fan, you might dig this latest single from the London band, The Mouth of Ghosts. The self-proclaimed indie/alt/trip-hop quintet got together last year. Their debut single, "When The Sun Sets," reveals the bands' sexy alt-rock textures and layers of atmosphere and intrigue.
The band prides itself on a unique creation – a fusion of alternative rock and trip-hop, with lashings of atmospherics and an underlying tension. Last year, founding band members Simon Langford and Marco Italia met vocalist Alla Seydalieva, matching her sensual vocals with haunting, ragged guitar melodies and moody bass thumping. Soon after, drummer Phil Page joined the band, followed by Valerie Deniz (vocals, synth) earlier this year to complete the outfit. This past August, the band signed with the small indie label, Red Dragon Records. The single 'When The Sun Sets' was released on October 29th 2012 (with "Close" as a B-side), and has already received support from BBC Radio 6 as well as numerous other stations throughout the U.K.
"When The Sun Sets" – The Mouth Of Ghosts from When The Sun Sets – Oct. 29th

The Mouth of Ghosts Official Website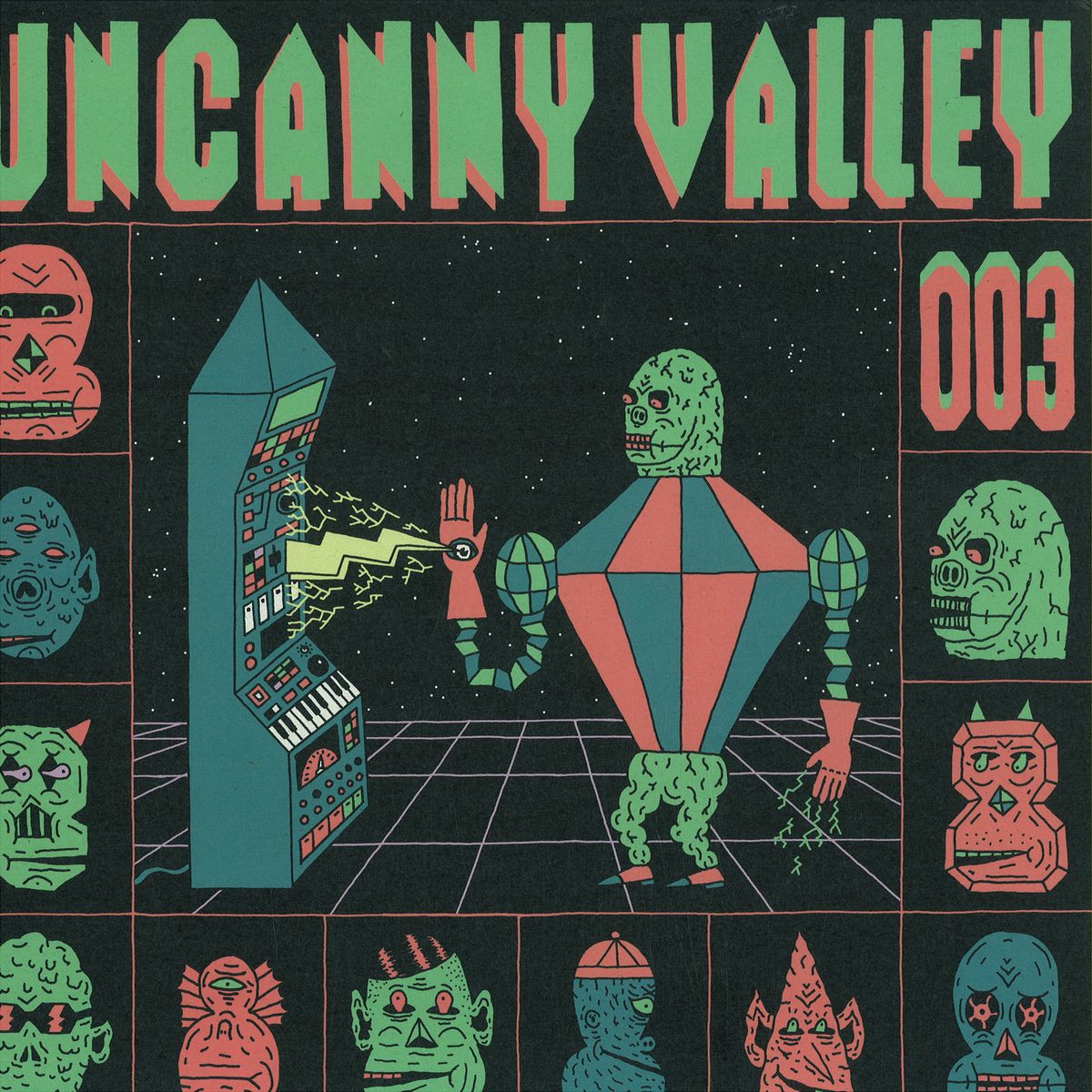 The Uncanny Valley – Manchester, England
A three-piece DIY alternative rock band from Manchester, England, The Uncanny Valley formed earlier this year, and not long after, were chosen to open for the popular indie rock band Jeff The Brotherhood. That is a clear signal for any band that things are off to a good start. There are bands that have been working their arses off for years to get a supporting gig like that. The Uncanny Valley caught on so quickly in Manchester that they've been getting airplay throughout the U.K. recently. Based on the two songs they sent us not long ago, we can see (well, hear) why.
Guitarist Nathan Day tells IRC that the formation of the band was actually an elaborate "trick" that turned out to be a good move by all involved, unwittingly or not. "I self released music online under the pseudonym 'The Uncanny Valley,' which due to the beauty of the Internet, quickly attracted attention from two fellow college students and cleaners who I then semi-tricked into starting the band with. They asked if they could be session musicians for my music so I agreed with the intention of quickly persuading them to make it a full on band which happened pretty much straight away."
Day describes the band's sound as "dark and eerie rock and roll with punchy overtones." He said the band's top musical influences include Jeff The Brotherhood, The Dresden Dolls, Jeff Buckley, John Frusciante, and Nicky Wire.
"Pandemonium" – The Uncanny Valley from demo – Aug. 14th

"Swallow Soil" – The Uncanny Valley from demo
Finnish Band Mojo Waves on American Shores
Mojo Waves is a rock trio from Helsinki, Finland, formed in late 2011 to pursue creating "the attitude and the spirit of what rock music used to be in the past." It's unpredictable, personal and energetic. Although influenced by vast amount of bands, their sound is unique, and impossible to categorize. Whether intentionally or not, there are songs like "Yeasayer" that sound like they were produced with a page torn from the musical textbook of Jack White – raunchy, raw, lightning-stricken garage rock grit hammered out with a menacing intensity.
Although the band has commented that they feel a "spiritual connection with the rock music of the past," you do not get the sense that they simply lift sounds and styles as much as they creatively infuse them into their tracks. According to the band, the main goal of the band is to make their own personal songs that they can be proud of, and to perform as many gigs as possible.
"Live music is what music has always been about," band member Mikko Matikka told IRC, "and that's what the band loves most." For a band that only formed a little more than a year ago, Mojo Waves show a lot of promise, and are easily a band to watch in 2013, as are every band featured in this series. Although they have not opened for another band that we know of , Mojo Waves count among their biggest musical influences artists like MC5, Truckfighters, Fu Manchu, and Brant Bjork. But it's hard to believe those artists are the band's only influences. Either way, this band rocks and are definitely an overseas band to watch in 2013.
"Yeasayer" – Mojo Waves from Enjoy, Don't Destroy EP – July 4th
"Whitebird" – Mojo Waves from Enjoy, Don't Destroy EP

Official Band Website: Mojo Waves on Tumblr
Thieves – Auckland, New Zealand
From Auckland, New Zealand, the DIY indie band Thieves released their self-recorded, produced and distributed second EP, Thieves 2, on August 18th. The talented young band, from the land of kiwis and the filming of Lord of the Rings and The Hobbit, belt out dark riffs and groovy rhythms, but their sound is a bit more complex than that. The band experiments with genres and sounds, and underneath the impressive noise is the revelation of some terrific songwriting. There are influences of indie rock, power pop, krautrock, post punk, all infused with defiant, yet well-crafted, harmonies, hooks, melodies and top-rate vocals.
"The potent 'Microcosm' opens the album and transports us back to the mid 80s where serious looking men in black made seriously brooding music (a la Depeche Mode, Killing Joke, or Echo & The Bunnymen)," wrote Under The Radar.
"Microcosm" – Thieves from Thieves 2 EP – Aug. 18th
"Sudafed" – Thieves from Thieves 2 EP

Thieves on Bandcamp
Silicon Ballet – Brussels, Belgium
Following the release of the peculiar and ethereal EP, Utopia, the Belgium band, Silicon Ballet recently regrouped under the direction of Gareth Parton (Go! Team, The Breeders), to record an EP of new material. The first single is the title track from a forth-coming EP. The song, "Slowly, Slowly" is a dreamy, mellow 'slow pop' track that reminded us immediately of The Clientele.
The Slowly Slowly EP has yet to fully emerge from behind the shroud of mystery that appears to surround Silicon Ballet, but it's fair to assume that if the rest of the EP is along the lines of the fine work of the title track, the EP should be rather special – "albeit," the band told IRC, "hampered by delays in mixing, mastering, postal issues, etc. – metaphorically speaking, the view was well worth the climb."
"'Slowly, Slowly' is embued with a gentle, elegance that says everything it needs to without raising its voice above a considered whisper…the regular plod of automata set against the organic ebb and flow of strings is a far cry from the chaotic Wilsonisms of [the] previous single 'Sunglasses,' or the spooked, nightmarish hubbub of Utopia, but an altogether stunning and welcome counterpoint to the pandemonium on the other side of the imaginary force field the song creates."
Last February, the band released their debut five-track EP, Utopia, which includes a couple of standout tracks like "Victory" and "Sunglasses."
"Slowly Slowly" – Silicon Ballet from Slowly Slowly single – Nov. 19th
Did you enjoy these bands? Let us know via the Comments box below, or via Twitter (@IndieRockCafe) and Facebook. There are many more great bands you probably never heard of before in the pipeline to be published in coming weeks and months, and plenty to explore and listen to via the archives. There are many entry points to archived posts and special playlists – via the frontpage categories, the tag cloud, the search box, the month-to-month drop-down menu in the right column – definitely no shortage of entry points to find more great music and bands.
Literally, you could spend half a year listening, reading and downloading songs from IRC and still not get to half of the artists and bands we've featured over the years – many who are under the radar – or another way of saying under-rated and under-appreciated, yet have put out some of the best music in the past five years since we started out as a place to share music with friends (never realizing it would blow up into the popularity IRC has today). We do this to share music with as many people as possible, as well as to provide an outlet for talented artists and bands that often get lost in the crowded field of bands trying to get a little love for their blood, sweat and tears.   That's why we do this. If you've been a long-time follower of IRC, you know what we're talking about.
---
Last modified on 2012-12-08 10:12:40 GMT. 0 comments. Top.
Originally from upstate New York, DIY musician Matt Script moved to Chicago a few years ago to further his career as a freelance composer, musician and artist. We were stuck right from the get-go by Script's obvious talents as a songwriter and singer and musician. The track that caught our attention from his submission was "Erasmus," with it's bright acoustic guitar and harp playing and mixing, it's uptempo style and winding melodies, not to mention Script's agreeable vocals that demonstrate quite a range. We've been playing the song, and some of his other tracks, over and over again. The guitar playing reminds us a lot of a musician name Michael Hedges who used to play this type of feedback/looping effect back in the 1980s, but Script says he is not aware of Hedges' work.
"Erasmus" – Matt Script from Thru The Noise
Script wrote "Erasmus" as a "therapy session" for the homesickness and isolation he was feeling for his native Buffalo while studying abroad in Rome. "I naively romanticized about the deep connections I would make with the [Italian] people only to find that I felt just as lost, if not more lost, than I felt in Chicago. The 'games' referred to in the song to what we have to do to fit into society just to feel included I guess. The chorus is a paraphrased quote from Augustus, the roman emperor, when he said, "I found Rome a city of bricks and left it a city of marble." . I used electric, acoustic, and nylon string guitars.
The second track, "Called," has a wonderful looping or feedback type of drone to it, and it occurred to us that at times Script sounds a bit like another Matt, that is, the artist known as Matt Pond PA. Not surprisingly, Scripts says that he is a big fan of Pond, especially his earlier releases, including the fantastic album, Several Arrows Later, which has been featured on IRC in the past.
"I'm huge fan of his," Scripts said. "Several Arrows Later is one of my favorite albums. I like a lot of his earlier stuff. "Measure 3″ might be one of my all time favorite songs too. I think that's fair to say [his influence] definitely ingrained in my roots."
A talented artist is able to do a lot with just a few simple instruments, strong lyrics, computer programs, plug-ins and gear, a well-honed, natural voice, and a genuine talent for music. Script combines all of these elements with excellent results again and again. Another track that showcases the diversity of his skills is "The Noise," a track that also include drums loops, electric guitar, crashing cymbals and piano. While he has been known to label his music "urban folk loop," which is a new sub-genre for us, Script successfully dabbles with other influences, ranging from pop and experimental to rock and ambient.
"Called" – Matt Script from Thru The Noise
His looping effects on electric and acoustic guitars are impressive and refreshing because you don't hear these particular effects often. He writes on this Bandcamp page that Thru The Noise "explores the role of noise in our everyday lives." That may be a bit, and unintentionally, misleading conceptually because in that case one would expect perhaps the album would contain a lot of sound samples and effects of actual everyday noises; there are some, but not to the extent that that would be the summation of the album. It's much more of a well-structure and instrument and vocals-driven album than the quote implies.
He also released a fantastic five-track EP in June called Permatransience, from which the next single, "Caught Up," is taken. Another song from that EP, "La Di Di" is a cheerful, upbeat song that also sounds like a Pond-influenced track, and the Simon and Garfunkel-like acoustic track, "Once You're Awake," is yet another accomplishment by Script, as is the title track, with its almost Spanish guitar style playing and poignant lyrics. Each song is a unique example of Script's impressive skills as a singer/songwriter and musician.
"Caught Up" – Matt Script from Permatransience
Interestingly, Script is also a member of the band Wait, What? , which was featured on IRC not long ago via the In Dee Mail profile series.  Even more interesting, and most particularly to Harry Potter fans, is the fact that the band were recently tapped to play the music for one of the popular Harry Potter musical parodies by Star Kid Potter, a group of University of Michigan theatre students whose videos have gone viral in the past couple of years. Their official YouTube channel has already received a combined 140 million views worldwide and in the past couple of years have out paced Glee and Lady Gaga on iTunes. Script said the video his band is playing in for Star Kid Potter is in production now.
Script also has five other releases dating back to 2006 available to stream/download via his Bandcamp page.    His favorite bands include The National, Fleet Foxes, Ratatat, The Black Keys, Grimes, and The Kinks. In fact, he said The Kinks' 1967 album Face to Face, was his favorite of the band's 30+ LPs.
---
Last modified on 2016-03-13 20:28:43 GMT. 2 comments. Top.
From Winnipeg, Canada, the band Departures are perhaps one of the most understated new bands of 2012. The band's constantly shifting post punk and indie rock influences are apparent in the tangle of angular melodies, layering of guitars, shadowy synths, understated rhythms, and vocals that range from hauntingly hushed to shouting, throughout their debut album, Still and Moving Lines, which has been earning the band the all-important 'blogger buzz' and increasingly, recognition from the more mainstream, established press.
"For a band that's only one album in," wrote Evan Minsker of Pitchfork, "it's impressive that they can seamlessly execute so many sonic shifts." Tim Sendra, who writes for the All Music Guide, gave the album 4.5 stars out of five, writing: "…most of the album is restrained and doles out its pleasures in less immediate fashion. It may take a little effort to get to the pleasures…but it is definitely worth it because Still and Moving Lines is an impressively assured debut."
Still and Moving Lines is a 'grower' – generally, the more you listen to it, the more likely you're bound to come to appreciate just how good it is. The song that stands out the most on the first spin is "Pillars." The blazing, melodic guitar jamming countered with edgier power chords, frantic rhythms, crashing cymbals, and shouting vocals on "Pillars" makes it seemingly the most accessible tracks on the album.
"Pillars" – Departures from Still and Moving Lines
The loudest, most energetic songs on the LP were wisely put back-to-back at the top of the track listing. But first, the opening track of the album is the haunting 72-second "At Rest, at Home," followed by "Pillars" and "Being There," the latter is a nearly five-minute onslaught of loud, distorted guitar layers grinding away, rapid-fire bass thumping, and furious drumming.
Departures takes the listener on adventurous, mysterious sonic journeys throughout the course of the 10-track LP, from melancholic electric experimentation, free form angular guitar jams and sluggish rhythms to full-on screeching, angst-driven walls of noise comprised of tangled, chaotic blasts of reverb and feedback. A couple of worthwhile examples include songs like "Cartwright, MB" and "Contempt."
Another highlight (among many) on the album is the muffled "Winter Friend," which conveys a sense of the frigid, isolating environment where nearly half of the year is spent indoors to stay warm. The song starts out with an erie, David Lynch meets X-Files sounding synth, and like other tracks on the album, it slowly builds momentum to a raucous climax. For the band members, the long days of darkness and confinement lend themselves to endless hours of practice, experimentation and honing their skills, which undoubtably facilitated the writing, recording and mixing of a superb album and one of the best debuts of 2012.
"Winter Friend" – Departures from Still and Moving Lines
The standout song, "Being There," provides total bliss for lovers of lo-fi post punk where fuzzy, noisy guitars are on a rampage, blazing away unabated. The track also has the best guitar solo of any other on the album. The rhythm section is an integral aspect throughout the album as "Being There" demonstrates – the rhythm is bold, energetic, and calculating, somehow exerting a controlled anarchy. Switching gears, the track "Sleepless" is one of the most upbeat songs on the album, with atmospheric synth riffs, bongo style drumming, some "ooohs and ahhhs" and the calming, hushed vocals of Nicholas Liang, who is often a backdrop to the near constant wall of sound found throughout the LP.
"Sleepless" – Departures from Still and Moving Lines
Of the instrumental tracks on the album, the most memorable and poignant is found within the sweet sounds of "Swimming," a track that conjures up all kinds of relaxing, hazy summer day images, like floating on a raft on a peaceful river surrounded by orange walled canyons, and serving as a contrast to the icier recordings on the album. One of the best aspects of Still and Moving Lines, in addition to its overall brilliance, is that there is absolutely no pandering to appeal to a mass audience. After spinning the album a number of times, listeners may detect the warmth underneath what is often a cold, hard exterior, and possibly come to the conclusion that, in the final analysis, Departures are a jam band, and a very talented one at that. In addition to being one of the best debut albums of 2012, Still and Moving Lines has put Departures on our list for the breakout bands of the year.
"Swimming" – Departures from Still and Moving Lines
---
Last modified on 2012-12-01 04:43:54 GMT. 0 comments. Top.
The peppy Mexico City-based indie pop band, The Plastics Revolution, have been making news this week with the release of a colorful, stop-motion music video that was shot from hundreds of photos that were processed through the popular app Instagram. The band claims that it is the first music video of its kind to be made using Instagram.
San Francisco filmmaker Art Perez, who directed the video, says he shot a total of 1,095 still photos around San Francisco and processed them all through Instagram using various filters. The final effect has the feel of a video and is set to the likable, upbeat track, "Invasion." The band's Vimeo page reads: "Every single frame of this music video is an actual picture that we ran through Instagram. We never shot any video. We only shot still photography."
Perez told the Huff Post: "I live in SF and it's the perfect background for a colorful music video. No other city compares." However, it's not entirely clear from the Huff Post article how Perez is associated with the band or what type of camera was used to take the still shots since they were obviously not taken with an iPhone camera. That said, the flow of hundreds of story-telling photos makes it feel very much like a video. The music video is really an impressive accomplishment – fun and lively, richly textured, wonderfully choreographed and extremely well produced, especially to have been done with the aid of Instagram – a still photo app. In the past few days, the video has already had nearly 100,000 views.
Invasión – The Plastics Revolution (Video oficial/Official Music Video) from The Plastics Revolution on Vimeo.
Media Claims of 'First-Ever' Music Video Made with Instagram a Bit Misleading
There has been a bit of confusion floating around about "Invasion" being the 'first-ever' music video made with Instagram, as blogs like The Huff Post reported. London musician Ellie Goulding created a similar video in August after asking fans to submit Instagram photos to be used for the lyrics video of the song, "Anything Could Happen." But clearly, the time-lapsed, story-telling timeline of "Invasion" is far superior and much more like a traditional music video, and therefore, may very well be the 'first' in that respect. The video for "Invasion" tells the story of a young couple's adventures in San Francisco as they follow a map they found in an abandoned bottle.
The band's official Vimeo page that hosts the video includes all of the credits in the making of the 'InstaVideo.' The band, in reply to comments left, wrote that they 'shot' in full Instagram dimensions of 1920×1920. They also claimed to have used Instagram filters like Amaro, Rise, X-pro II, Brannan, Nashville and 1977.
However, the band doesn't seem interested in answering other questions in the comment thread about what equipment was used to take the still photos, since, the photos were clearly not taken with an iPhone or Android smartphone camera. The closest we could come to an answer was this shot from Perez's own Vimeo page of his gear.
Make no mistake about it – the time-lapsed video, in which Instagram was one tool used to help create it, is fantastic. It also does justice in representing San Francisco's varied and gorgeous environs – the natural, topographical, cultural, and architectural characteristics of the iconic city, one which was spurred by the world's most famous gold rush, decimated by earthquake and fire in 1906, and rose from the ashes and rubble to retake its place as a world class city once again.
An official website for The Plastics Revolution is difficult to find (there is another band of the same name minus the pluralization of 'plastic'), but they do have the Vimeo page and a Bandcamp page for those interested in hearing more music from the band's two releases. They're not entirely unknown. In March of 2011, The Plastics Revolution performed at South by Southwest in Austin and were profiled on the SXSW page, which included the song, "Karina," their first single release.
"Kibera" – The Plastics Revolution from King Bono Vs. Los Flight Simulators – Aug. 29th
The Plastics Revolution on Facebook
---
Last modified on 2012-11-28 11:40:41 GMT. 3 comments. Top.
With a band name like The Crookes, it's understandable to conjure up the image of a band of scruffy, rebel-rousing, hard-drinking young hoodlums stirring up mischief and banging out angst-driven punk rock songs. But instead, this Sheffield-based band delivers retro pop rock blended with elements of the C86 sound of the post punk era.
The Crookes first caught our attention some time ago with their second single, "Chorus of Fools,"  a jingle-jangle tune with an infectious beat and rhythm, topped with just a touch of indie folk pop, and sprinkled with lyrics born out of English kitchen-sink literature. The band's overall sound is decidedly The Smiths, Orange Juice, Coral, The Arctic Monkeys, and early Libertines. With the continuous flood of new wave synth acts seemingly coming far and wide, The Crookes offer a refreshing escape into the realm of bliss pop.
This summer, the band released their sophomore LP, Hold Fast, which demonstrates their love for mixing elements of alternative rock, post punk and heavily melodic indie pop/post punk as demonstrated on songs like "Where Did Our Love Go?," and "Maybe in the Dark."
"Maybe in the Dark" – The Crookes from Hold Fast
Watch the music video for "Maybe in the Dark." The built in Yahoo streamer should pop open a window on the page. The Crookes official YouTube page features a total of more than 800,000 views.
In addition to a string of well-received singles, The Crookes raised their profile in the U.K. and Europe over the past couple of years by endlessly touring, hitting all the major U.K. and European cities with enthusiastic crowds to greet them.  But they have yet to break-through in the U.S. Perhaps one song from the LP that aims to change that is the catchy track, "American Girls," although it's not among the top three standout songs on Hold Fast (listen to the entire album via Spotify).
"American Girls" –  The Crookes from Hold Fast
For fans of jangly guitars, soaring vocals and light pop tracks with tinges of alternative rock, British style, the album is an enjoyable listening experience. The title track, "Hold Fast" and "Afterglow" (watch video above) are some of the more energetic, toe-tappers on the album, featuring high octane synths riffs and 'ooh ooh' sing along choruses.  More tamed and deep, the spectacular track, "Sal Paradise," shows off the band's penchant for retro pop rock.
"Sal Paradise" – The Crookes from Hold Fast
The Crookes' Debut EP and LP Set the Stage for Their Popularity in the U.K. and Europe
The single "Chorus of Fools," was released as a single from the band's October 2010 release, Dreams of Another Day, an EP that raised the band's profile in Europe and the UK, and started the momentum that snowballed in 2011 after The Crookes were featured as a Band of the Day in the The Guardian. On BBC Radio 1, popular deejay Steve Lamacq, who proclaimed in 2011 that The Crookes were his 'favourite British band of the year," described the band as having "ambition and flare and a singer with a beautiful voice; one of those special, poetic voices which dips and soars above their jangling guitars."
"Chorus of Fools" – The Crookes from Chasing After Ghosts (2011)
The band's 2009 debut double single , A Collier's Wife/By The Seine, released through the Too Pure Singles Club (part of the Beggars' Group label), was the fastest selling single ever for Too Pure, with all pre-orders selling out in a matter of days. But together with their 2010 debut EP, Dream of Another Day and especially their debut album, Chasing After Ghosts, released in March of 2011, that really got the ball rolling.
"Back Street Lovers" – The Crookes from Dreams of Another Day (2010)
"Yes Yes, We're Magicians" (demo) – The Crookes from Dreams of Another Day (2010)
In the spirit of the season, here is a rare 2009 Christmas single, "It's Just Not Christmas Without You," from the band, which was not part of an official release. The song comes courtesy of 'the Rolling Stone magazine of the U.K.,' New Musical Express (commonly referred to as NME), which was one of the publications that initially helped launch the band into the spotlight on the U.K. indie music scene.
"It's Just Not Christmas Without You" – The Crookes (2009)