New Releases
In case you've missed any new or recent of the best indie rock song and album releases, this page offers one place to view them all going back months. The releases include the greatest of 2015′s indie rock and DIY drops.
Follow us on Facebook and Twitter to get more goodies every day, including indie rock Spotify playlists, new band profiles, cool links, flashback tracks, artists to watch, the Top 10, album reviews, and much more.
---
Last modified on 2015-03-30 18:01:48 GMT. 1 comment. Top.
March releases from popular, signed, and on-the-radar artists and bands have been combed through carefully to present only the best. In case you have missed any of the top singles from new releases dropped this month, we've assembled the first half of the month (the second half coming soon) in detail for you below, featuring streaming (with built-in player) and download MP3s for singles from Purity Ring, Gateway Drugs, Jon Hopkins, Beech Creeps, Fences, Lady Lamb, Moon Duo, Tigercats, Echo Lake, The Stones, Destruction Unit, Lotic, Coastal, Darren Hanlon, Swervedriver, and many others.
If you haven't listened to past playlists of the Best New Album Releases of 2015, you might want to check them out because there are a bunch of great new albums and singles from them, including ones from Guster, Panda Bear, The Districts, The Do, and many others. Also, the Best New DIY Music of 2015 series is a great spot to find great singles and new bands to watch. And the six part series for the Best DIY Songs and Albums of 2014, receiving over 1,500 Likes in all, are also accessible, featuring over 150 songs.
You can stream the songs individually by clicking on the titles, stream all of the songs on this page continuously without interruption using the small Flash player below.
Purity Ring Continues To Amaze Fans with Release of Another Eternity
In the world of electronic psych pop, few bands have made as big of a splash in the past few years as Edmonton, Canada's Purity Ring, helmed by the talented girl/guy duo Megan James and Corin Roddick. Their new album, Another Eternity, and latest single, "Begin Again," speak for themselves. The album cover art, from illustrator Tallulah Fontaine, is captivating.
"Begin Again"- Purity Ring from Another Eternity on 4AD
Moon Duo and Beech Creeps Strike Hard with Riveting Noise Rock
Buzzing guitar riffs rifle along with manic keyboard jams, a steady, one-two punch drum beat, spooky vocals and distant howls comprise the latest single, "Animal," from Wooden Shjips' guitarist Ripley Johnson and keyboardist Sanae Yamada, aka,Moon Duo, on their third album, Shadow of the Sun.
"Animal" – Moon Duo from Shadow of the Sun on Sacred Bones
Next, the noise rock continutes with the rattly, punk rock-infused single, "Times Be Short," from the self-titled debut album by Brooklyn's garage rockers, Beech Creeps. These boys can rip it up.
"Times Be Short" – Beech Creeps from Beech Creeps on Monofonus Press
Lady Lamb Drops Debut Album, After, on Mom and Pop Records
Brunswick, Maine pop girl Lady Lamb (who recently dropped "The Beekeeper" from her moniker) gets the blood running with the incredibly infectious, uptempo single, "Billions of Eyes," featuring endearing, high pitched vocals and choruses, tropical, melodic guitar riffs, and hip-shaking pop rhythms. The single is from the debut album, After, released appropriately by Mom + Pop Records.
"Billions of Eyes" – Lady Lamb from After on Mom + Pop
Chill Session with Jon Hopkins and Retro Prog with Steven Wilson
Appropriately titled, Late Night Tales, is the new album from Jon Hopkins featuring mellow ambient instrumentals like the lead single, "I Remember." If you're stressed out like most people, kicking back and melting into this sweet track is medicine. Stunningly calm and rejuvenating.
"I Remember" - Jon Hopkins from Late Night Tales on LateNightTales

So while we're already into the whole Zen-"Be Calm"-chill mode, it's not a bad place to insert the very different, but almost as calming track, "First Regret/3 Years Older," from Steven Wilson. But the calm is shattered between minute seven and minute 10 of the 12-plus minute modern prog rock opera. Wait, is this a flashback? It's like 1973 again when the original prog rock fad was burning up vinyl sales and filling arenas from New Jersey to San Francisco. Eat your heart out Rick Wakeman.
"First Regret/3 Years Older" – Steven Wilson from Hand.Cannot.Erase. on Kscope
Of Montreal Drops 13th Album; Coastal Gets Melancholy on New Single
Athens, Georgia native band, Of Montreal, continue to establish themselves as one of the most quirky, non-cookie cutter experimental indie bands of the past decade-plus. The band reaffirms their deserved status in the world of underground music with their latest single – the punky-funky, disco-influenced genre-bender blender, "Bassem Sabry," from their latest LP, Aureate Gloom.
"Bassem Sabry" – Of Montreal from Aureate Gloom on Polyvinyl
LA Band to Watch Gateway Drugs Drop Debut; Swervedriver Release New LP
The breakout Los Angeles band, Gateway Drugs, who just killed it at SXSW last week, consist of siblings Gab, Noa and Liv Niles, the offspring of bassist Prescott Niles of The Knack – the 80's band responsible for mega hits like "My Sharona." Blues Williams rounds out the quartet on bass.
Papa bear Niles not only executive produced their debut album, Magick Spells, dropped on March 3rd, but he also reserved the studio time in Dave Grohl's tripped-out Studio 606. Gateway Drugs follow-up single, "Fridays Are For Suckers," is streaming below. They are on tour right now with shoe gaze veterans Swervediver, who also released a new LP, I Wasn't Born To Lose, on the same day, featuring the single, "Setting Sun."
"Friday's Are For Suckers" – Gateway Drugs from Magick Spells on Cobraside
"Setting Sun" – Swervedriver from I Wasn't Born to Lose You on Cobraside
Roots of Lo-Fi Psych Rock Trace Back To Re-Drop From NZ's Flying Nun
It probably was never a good idea, especially 35 years ago, to call your new band The Stones. Afterall, it's an unspoken truth today, and perhaps even more so in the late 70′s and early 80′s, that a reference to 'The Stones' was simply how a fan referred to rock legends The Rolling Stones. But New Zealand rockers, The Stones, made no bones about the fact that they named themselves after their inspiration – The Rolling Stones – out of respect, not because the short-lived trio weren't original.
Quite contrary, it should be noted; these Stones made some music history of their own by contributing a few awesome songs to the famous Flying Nun Records' 1982 lo-fi compilation, Dunedin Double EP, a seminal release in New Zealand's alternative rock history. Other bands on the two-disc, 13-track EP included The Chills, Sneaky Feelings, and The Verlaines. The Stones' reissue of Three Blind Mice includes the standout track, "See Red," and reaffirms the band's contribution to the so-called Dunedin Sound, which contributed to the resurgence of psych rock and lo-fi in recent years.
"See Red" – The Stones from Three Blind Mice reissue on Flying Nun
Liked that? Get a much better, longer-lasting fix with Flying Nun's classic 20-song compilation Time To Go – The Southern Psychedelic Moment: 1981-86 via YouTube
Noel Gag-laher? 15 Minutes+++?
What can anyone say these days about the aging Noel Gallagher that hasn't already been said over the past two decades? – filthy rich, loud mouth, boozer, ex-cokehead, brilliant, overrated, ballsy, rebel rouser, talented, opinionated, immature, goof-ball, prankster, and on and on.
Well, bollocks, the blabbermouth is back again with his High Flying Birds and a new LP. Yawn. Does he keep turning it out? But isn't there something inescapably annoying, and repugnant, about a bratty millionaire-one-hundred-plus-times-over who has had way, way more than his 15 minutes of fame? That said, Noel fans check out the High Flying Birds new video single, "Ballad of The Mighty," from the album, Chasing Yesterday.
New Singles from Artists Coastal and Darren Hanlon
If you're a sucker for melancholy songs, Coastal's single, "We Drink To Remember," provides the necessary elements – slow, quiet notes; sad, whispery vocals, and lots of dead space where somber thoughts are able to linger. The band's new album, Beneath the Snow and Streetlights, dropped on March 3rd.
"We Drink To Remember" – Coastal from Beneath the Snow and Streetlights on Words On Music
Picking things up a bit, the woody, stringy rhythm, occasional flare of the snare and Darren Hanlon's nasally, emotive vocals give this song an uptempo, yet organic, feel.
"When You Go" - Darren Hanlon from Where Did You Come From? on Flippin Yeah Industries
Echo Lake's New Single Celebrates Spring while Destruction Unit Crashes the Picnic
Just Imagine: It's the first of April and you're chilling on a park bench in the afternoon – leaf buds are popping out of tree branches, flowers and grass blades are erecting upwards from the ground, the warm sun is shining on your face, and then it happens – an explosion of hazy surf rock pumps into your ears. It's the new single, "Waves," from the band Echo Lake . The song gradually builds up into a cacophony of reverb-soaked guitars, keys and percussion – it's all confirming that spring has finally arrived.
"Waves" – Echo Lake from Era on No Pain in Pop
Thrashing, blazing guitars, reverb, feedback, barely audible vocals, crashing cymbals and stomping drums mix with the musical anarchy of punk meets psych garage rock on the nearly seven-minute ear blistering track, "Bumpy Road," from Destruction Unit's Live in San Francisco release. Nothing remains but the destructed remnants of a happy little picnic.
"Bumpy Road" – Destruction Unit from Live in San Francisco on Castle Face
Jeff Rosenstock Drops New LP and Beer Single; Lotic Go Totally 'Heterocetra'
Hard acoustic guitar strumming, tambourine rattling, electric guitar notes flying, and big, flourishing choruses are the components of the single, "Beers Again Alone," from Jeff Rosenstock's new album, We Cool?. This track is quickly one of the top new beer drinking songs of 2015. Gulp.
"Beers Again Alone" – Jeff Rosenstock from We Cool? on Side One Dummy
Imagine being encircled by a swarm of mechanical, metallic insects from the future world, trying to swat down as many as you can with a copper coil while thousands of glo worms of many florescent colors crawl on the floors and walls. That's what Lotic's single, "Heterocetera," sounds like to us (even without shrooms).
"Heterocetera" – Lotic from Heterocetera on Tri Angle
Third Man Records Drops Live Album from Parquet Courts
Make no bones about it: any rock band that gets signed to Jack White's record label, Third Man Records, has to have something really special. That's just the case with New York City rockers Parquet Courts. The label just dropped the band's first live album, Live at Third Man Records. Is it a mindless grab for easy green or giving PC fans what they want? Who the fuck said rock is dead?
"Sunbathing Animal" – Parquet Courts from Live at Third Man Records on Third Man Records
Lead Singles from Best New Albums Dropped Week of March 10th
Arranging a sweet, irresistible pop melody with a steady, but soft, back beat, jangling, shimmering guitars that interplay with synth keys, and sexy, charming vocals and harmonic choruses, the indie pop band Tigercats crafted one of the most memorable tracks of the month with the single, "Sleeping In The Backseat," from the album Mysteries.
"Sleeping In The Backseat" – Tigercats from Mysteries on Fortuna Pop
Fucked Up guitarist Been Cook blends big hooks and Prince funkadelics with electro pop and jangle pop on his new album. Recently, Cook shortened his Young Governor moniker to simply Young Guv.
"Wrong Crowd" (Featuring Jef Barbara) – Young Gov from Ripe 4 Luv on Sumberland
Fences Drops Lesser Oceans and Lieutenant Release Long-Titled Album
With a foot-tapping, uptempo beat, power pop guitars bouncing along, melodic keys twinkling and soaring, harmonic choruses, the inde performer Fences fire us up for the warmth and sunlight of the coming summer season on the single, "Sunburns," from the new album, Lesser Oceans.
Sticking to the same upbeat mood set by "Sunburns," the shimmering power pop, Big Star-like track, "Belle Epoque," from Lieutenant, marks the drop of the long, and unusually, titled LP, If I Kill This Thing We're All Going To Eat For A Week. 'Belle Epoque,' or 'Beautiful Era,' was a period of optimism, peace and high cultural and scientific development in Europe between 1871 and the beginning of World War I in 1914. In America, it was referred to as "The Gilded Age."
"Sunburns" – Fences from Lesser Oceans on Elektra
"Belle Epoque" – Lieutenant from If I Kill This Thing We're All Going To Eat For A Week on Dine Alone Records
Another Butler Enters the Music Fray and BLSH Do Retro Disco Mixed with Glam and Synth Infusions
Will Butler, the younger brother of Arcade Fire frontman Win Butler, is cutting his teeth with his debut release, Policy. The lead track, "Anna," sounds like a kick-back to the 80s, complete with a new wave back beat, emotive, smoky vocals, jazzy/bluesy horn infusions and hard-hitting piano key notes. Next, with a disco-like beat, ringing and angular guitars, warped and swooshing synth keys, and soaring choruses, Bright Light Social Hour add a little glam to their pop on the single, "Infinite Cities," from the new album Space Is Still the Place.
"Anna" – Will Butler from Policy
"Infinite Cities" – Bright Light Social Hour from Space Is Still the Place on Frenchkiss Records
Singles from LPs by Fawn Spots, Black Yaya and Sarah Bethe Nelson
Amped up noise rock on the verge of metal mixed with some hard core punk influences and moments of de-escalation, are some of the main elements that comprise the new single, "New Sense," from the fresh album release by York, England trio Fawn Spots. With a groovy rock and roll beat and screeching guitars, fuzzy synths, echoey vocals and rocket blast off sound effects, Black Yaya's single, "Flying A Rocket," is the lead track off of their self-titled debut LP.
"New Sense" – Fawn Spots from From Safer Place on Critical Heights
"Flying A Rocket" – Black Yaya from Black Yaya on City Slang
"Paying" – Sarah Bethe Nelson from Fast Moving Clouds on Burger Records
---
Last modified on 2015-03-23 17:00:33 GMT. 1 comment. Top.
This second installment of the Best New DIY of 2015 features a wide diversity of unsigned artists and bands with brand new singles, EPs and albums out now that you're not likely to hear anywhere else but on IRC. From Brooklyn and Austin to Brisbane and Manchester, the artists and bands in this new playlist post of the best new DIY run the gamut from riff-tearing rock and glittery synth pop to spiraling psychedelic and acoustic folk.
In This Issue
Empire Machines – Austin, Texas
Silas Fermoy – Brooklyn, New York
Voir Voir – Bethelem, Pennsylvania
ONFIILM – Ottawa, Ontario, Canada
Modern Chair – Auckland, New Zealand
Them Bruins – Melbourne, Australia
DROLL - Boise, Idaho
Disco Fiasco – Oulu, Finland
Selina George – Rockville, Maryland
Concetta Abbate – New York City
Greg Chiapello – Brisbane, Australia
Empire Machines – Animal Skin EP
Empire Machines is a four piece indie rock outfit from the band-saturated, musical breeding ground of Austin. Founded in 2009, the band first gained recognition in the competitive environment of the Texan state capital in 2011 with the release of their self-titled debut EP. We were among the first blogs to feature the band back then. Fast-forward to 2015. Without realizing that we had nearly forgotten about them (it's easy, alas, to forget about bands we love because we hear so many in the course of a year), Empire Machines dropped their follow-up EP, Animal Skin, on February 3rd.
While the three-track Animal Skin has flown largely under the radar just about everywhere else, it clearly reminds us of why we dig the band's blend of heavily distorted, yet blazing, guitar riffs, catchy alternative rock rhythms, dark psychedelic tones, and big-sounding drums paired with minimalistic melodies on singles like "The Plan" and the EP's title track.
"I think indie rock spans a bunch of different styles of rock, usually with a tendency to take more creative routes and sounds," lead vocalist and guitarist Matt Blackwell said. Other band members include Trey McKinley on bass; Matt Reynolds on drums, and Bruce Smith Jr. on lead guitar.
"The Plan" – Empire Machines from Animal Skin EP
"Animal Skin" – Empire Machines from Animal Skin EP
Opened For: None provided
Musical Influences: Radiohead, The Beatles, Cage the Elephant, Spoon, and Arctic Monkeys
Twitter handle: @Empire_Machines
Empire Machines on Facebook
Silas Fermoy – Clouds That Dropped You
After moving from London to California when he was only 16, DIY songwriter, vocalist and multi-instrumentalist Joshua Mash immediately got involved with producing hip hop music in the west. Four years later, he made the cross-continental move to Brooklyn where he began writing songs and playing the guitar. Soon after, he created Silas Fermoy and recruited band members for live shows. With the release of his first EP, Chapters, in 2012, he toured the United States, making a stop in Austin to perform at South By Southwest.
Fast forward to last summer – Mash found himself with a number of new songs that he was eager to get into the studio and record. He recruited former Elefant drummer Kevin Mcadams and producer Jason Cummings (who also played guitar and bass on the EP) of The Cutting Room Studios. That was the starting point for his new EP, Clouds That Dropped You, which features uptempo, melodic pop hooks with dance beats floating on top of warm synths on songs like "Passed Time" and "Feet Wont' Keep You," that you'll find are difficult to get out of your head. His sophomore EP was dropped on February 27th.
"Passed Time" – Silas Fermoy from Clouds That Dropped You
"Feet Won't Keep You" – Silas Fermoy from Clouds That Dropped You
Opened For: Hunter Hunted, Various Cruelties
Musical Influences: The Mary Onettes, Stars, Beach House, Blonde Redhead, The Stills, Delta Spirit
Twitter handle: @Silasfermoy
Silas Fermoy on Facebook
"Indie rock is music that doesn't follow the basic rules or guidelines of what typical rock should be; it's produced with an edge and not pulling on the typical strings of "baby left me"/"baby came back". – Joshua Mash
Voir Voir – There Are No Good Goodbyes
Voir Voir started after it began. In the creativity-fertile Lehigh Valley town of Bethlehem, Pennsylvania, April and Matt Molchany discovered a fitting respite from their previous bands and the summer heat in 2012, writing and practicing songs together, and incorporating tones and textures that were part of their natural and artificial surroundings. The couple's work remained under wraps even though they drew inspiration from the local DIY music scene.
By 2013, they had recruited a couple of other band members and began recording and performing their demos live after being billed to open for touring bands like Drowners, Slingshot Dakota, and Lewis & Clarke. It was during these performances that the band realized they were moving in the right direction. Thus, they self-released their debut album, There Are No Good Goodbyes, in February. The raw energy and musicianship, the passion and the talent of the DIY band is evident on 'slacker rock' songs like the title track and their first single, "I Wanna."
"I Wanna" – Voir Voir from There Are No Good Goodbyes – Feb .27th
"There Are No Good Goodbyes" – Voir Voir from There Are No Good Goodbyes
Opened For: Drowners, Slingshot Dakota, Lewis & Clarke
Musical Influences: Built to Spill, The Pixies, Elliot Smith, Modest Mouse, Pavement
Voir Voir on Facebook
ONFIILM – Shade Single
ONFIILM is a new DIY post punk duo from Ottawa, Canada, founded by musicians Jordan Craig (vocals, guitar, violin) and Aaron Sager-Yung (guitar) in 2014. At first spin of their new, seven-minute blazing track, "Shade," it's not out of the realm of probability that some listeners could think they might be listening to a previously unreleased demo from Jane's Addiction. But it's not. It's ONFIILM.
The pair make no bones about their long-time admiration of Jane's Addiction's big, electrifying trademark sound. Nor should they. ONFIILM's sound is a mix of post punk, shoe gaze, psych rock, and what they call 'abrasive blues.' The result is a highly charged sound that the guys contend takes "the listener down a dirty, but sparkling, intergalatic black hole, and into a magical plane of shoe gaze psychedelia. The lyrics are terrestrial, but the vibe is extra. "
The band released the "Shade" single on February 12th and are preparing to drop their debut EP something in the next few months. In the meantime, the band also sent us a raw, live and unreleased track, "The Good Ones."
"Shade" – ONFIILM from Shade 7″
"The Good Ones" – ONFIILM
Opened For: Country, Alpha Strategy
Musical Influences: Jane's Addiction, Spacemen 3, Brian Jonestown Massacre, and Black Angels
Twitter handle: @onfiilm
ONFIILM on Facebook
Modern Chair – Tokyo Compression EP
From the mysterious world of New Zealand, rock veterans Wayne Bell and Andrew Thorne recently released a three-track EP, Tokyo Compression, as the newly-formed band Modern Chair, which has demonstrated that these aging-gracefully gents can certainly rock and roll, as evident on the EP's raucous title track, and the follow-up single, "Vampire Squid."
After many years of performing on albums and on tour with New Zealand rock royalty such as Tim Finn, Dave Dobbyn, Bic Runga and Gin Wigmore – opening for artists and bands like Radiohead, Jeff Buckley, The Cure, and Paul McCartney – Bell and Thorne are also studio owners with a long list of TV, commercial and session work to their credit.
"But that's not necessarily real music," Thorne said. "Music to me is doing things purely because you like the noise. A Les Paul through some fuzz pedal into an old AC30 [amp] melting your face just feels good."
Bell chimes in, adding: "We wanted to do something big and driving [with Modern Chair]…if called upon, both of us can play some fairly fiddly stuff on our respective instruments. But, at this stage, that's pretty much redundant. What's ultimately satisfying is a groove or a melody that gets stuck in your ear and a band that makes you feel like you've arrived home. The modern age seems to be about celebrating individuals in 'art'. I'd like to think Modern Chair is about celebrating the art in individuals."
That's certainly what Auckland's newest hard rock duo have achieved with Tokyo Compression. The fuzzy guitar riffs, gritty vocals, scuzzy bass playing, and big-sounding drums are exactly what the duo were aiming for. The EP was recorded and released within two months (during New Zealand's summer).
"Tokyo Compression (Lets Go Tokyo!)" – Modern Chair from Tokyo Compression – Feb. 18th
"Vampire Squid" – Modern Chair from Tokyo Compression
Opened For: None yet; but in previous bands – Radiohead, Jeff Buckley, The Cure, Paul McCartney
Musical Influences: Tom Petty, Miles Davis, Stevie Wonder, NIN
Twitter handle: @Modern_Chair
Modern Chair official website
Music Video for 'Tokyo Compression'
Disco Fiasco – Golden Hats
Stepping out of the shadows of obscurity, Oulu, Finland electro rock dance band Disco Fiasco have been making waves in their home country for the past year now. Formed in 2013, they dropped two EPs in less than two years. Fast-forward to now: these young lads have just released their new hip-shaking track, "Chance to Dance," the second single from their debut album, Golden Hats, released last month. Increasingly a band to watch in Finland, the DIY quintet performed at Finnish music festivals like Qstock (Oulu, FIN) and Buktafestivalen.
It's almost impossible not to imagine that the album's title track – with it's poppy hooks, lush grooves and flourishing keys – sounds somewhat like an 80′s keyboard rock tune from a band that emulates Devo and Duran Duran. Disco Fiasco features Karri Hurskainen on drums; Topi Kilpinen and Joonas Juntunen on guitar; Santeri Koppelo on vocals, and Jami Myllykoski on bass.
"Chance To Dance" – Disco Fiasco from Golden Hats
"Golden Hats" – Disco Fiasco from Golden Hats
Opened For: None yet
Musical Influences: Arctic Monkeys, Two Door Cinema Club, Wombats, Satellite Stories, Metallica
Twitter handle: @disco_fiasco
Disco Fiasco on Facebook
Them Bruins – Them Bruins EP
Born nearly three years ago in Melbourne, Australia, the youthful, hard-hitting, and fast-driving garage rock band, Them Bruins, blaze out of the headphones at 100 miles per hour with a relentless inferno of crunchy, raucous guitar riffs from Ben Woodmason; fuzzy, brooding bass lines from Jimmy Campbell; ferocious drumming from Tim Woodmason and wicked, snarling vocals from Joel Griffith, on noisy, chunky tracks like "Walk The Line" and "Black Widow" from the band's self-titled debut EP. Paying homage, completely in their own distinct way, to idols like Nirvana, Queens of the Stone Age and The Strokes, Them Bruins are one of the best new overseas DIY rock bands to hit the shores of the United States so far this year, and we can only suspect that they'll grow in popularity throughout 2015 if all the right pieces fall into place.
"Walk a Line" – Them Bruins from Them Bruins – Feb. 1st
"Black Widow" – Them Bruins from Them Bruins
(Watch the "Black Widow" music video on YouTube)
Opened For: DZ Deathrays, British India, Children Collide, Kingswood, and The Bellrays
Musical Influences: The Strokes, At The Drive In, Bloc Party, Queens of the Stoneage, and Nirvana.
Twitter handle: @ThemBruins
Them Bruins on Facebook
DROLL – A Durty World (The Bedroom Recordings)
Situated in Boise, Idaho, DROLL, is a new 'anti-folk' musical project of Storie Grubb (guitar, uke, percussion, vocals and harmonica), featuring Matt Vorhies on accordion. On February 1st, DROLL released the magnificently melancholy debut EP, A Durty World (The Bedroom Recordings).
We have been really moved by Grubb's intensely emotive vocals, intriguing story-telling and lyrics, and his sublime, folksy acoustic instrumentation that exudes what sounds like a lifetime of sadness and reflection. There's something undeniably innocent and beautiful in his song craft; in fact, these songs have really stuck with us, and we've played them again and again, which has resulted in us liking them more and more with each spin. He is uniquely his own artist, and while he listed musical influences to include Magnetic Fields, Neil Young and Bob Dylan, Grubbs' stands alone in his own world of musical expression and songwriting.
For example, take into consideration the following verses from the poignant song, "The Land of 2,000 Hands," which is apparently about a mother who died of a heroin-induced suicide:
Heerrrr-o-in,
She couldn't come back even if she wanted to…
Momma's on the window sill,
Cybil's counting out her pills,
Momma's thinking, she's no good for anyone…
"The Land of 2000 Hands" – DROLL from A Durty World (The Bedroom Recordings)
Prior to dropping A Durty World (The Bedroom Recordings), DROLL unassumingly released a five-track, self-titled EP on January 9th via Facebook, featuring tracks like a ukelele and accordion instrumental, "Ode to Zach," a Nick Drake-like instrumental, "Sing With Me," and other deep, heart-breaking 'anti-folk' compositions like "Names," "Paycheck to Paycheck" and "Anything," the latter with lyrics like "Such a sad, stupid thing to fight/you're beating on my floor/And there's the chords you took for Bride(?)/he's beating down my door/No, I won't be just another fly for you to eat."
"Names" – DROLL from A Durty World (The Bedroom Recordings)
We don't know if Grubb is channeling Nick Drake and Elliott Smith – legendary, yet tragic, figures of the 'sombre folk' genre – but he sure strikes a chord on song after song that has us reminiscing. The preface to the DROLLS EP on Facebook notes: "…if you've ever had a broken heart or lost something you love…"
"I've been playing in a rock and roll band for the passed four years and wanted to get back to my roots," Grubb told IRC, adding that DROLL aims to create "simple, lyrical and melodic music that reflects the many ways I feel about life, war, religion and art…and sometimes love."
"The Gods of Man" - DROLL from A Durty World (The Bedroom Recordings)
Opened For: None Yet
Musical Influences: Magnetic Fields, Black Francis, Neil Young, Bob Dylan, Belle and Sebastian, and Peter Gabriel
DROLL's on Facebook
Video: An interesting music video for "The Morro Rock, Part One (Like My Father)".
Selina George – South of The Border
At the age of 20, Rockville, Maryland, singer/songwriter Selina George displays the deep insight and perspective on life that one would expect from someone twice her age. Her gorgeous, yet mysteriously pained, vocals maintain an innocent quality that ironically work well with her lyrics and musicianship. On splendidly beautiful songs like "South of the Border," George's lyrics, vocals and musical skills on guitar immediately signal a DIY sensation in the making that is just under the radar, but that we suspect won't be for long once more people hear her creations. "Who is that?!" we thought, as have other unsuspecting listeners in the cafe. There's something fitting about the otherwise misplaced samples of exploding fireworks in the background, that intertwine with haunting melodies and lyrics of long distant love denied, that the give the song an arresting allure, while simultaneously conveying the tribulations of an aching heart.
"I speak strictly from the heart, and my songs are very real to me, and everyone who hears them," George told IRC. "The way I see it, music is my therapy, my release, and my call to action. These songs are my legacy." George began writing songs and playing guitar when she was 16 years old.
Her musical influences are varied and include artists like Jhene Aiko, The Beatles, Bob Marley, Amy Winehouse, and Pink Floyd. She labels her music in more than one genre – folk, soul, and 'acoustic mellow.' On February 21st, George self-released her self-titled debut EP with help from her boyfriend producer, Robin Smith.
"South of the Border" – Selina George from South of the Border
Opened For: None Yet
Musical Influences: Jhene Aiko, The Beatles, Aluna George, Bob Marley, Amy Winehouse, and Pink Floyd
Twitter handle: @TheSelinaGeorge
Selina George on Facebook
Concetta Abbate – Falling In Time
Calling New York City home, songwriter and singer Concetta Abbate released her debut album, Falling In Time, on February 15th, from which the orchestral pop track, "Thought Thieving Hen," is taken. It's a short, but sweet, song track, which is fitting considering the title of the album. The song is also like a tune we could imagine hearing in the Wizard of Oz if the movie were filmed in 2014. There are even more songs – that mix elements of jazz, classical, experimental, pop and electronic – on the album that should be satisfactory to any listeners who are smitten by the single we included in this short review of Abbate's debut album.
"Thought Thieving Hen" – Concetta Abbate from Falling In Time, Pocket Sized Songs
Opened For: Archipelago String Quartet, Inti and the Moon, Ember Schrag, Susan Alcorn, Janel and Anthony, Lola and the Wolves
Musical Influences: Bjork, Emiliana Torrini, Karla Khilstedt, Hildegard Von Bingen, Arvo Part
Twitter handle: @concetta.abbate
Concetta Abbate on Facebook
Greg Chiapello – Hot Coffee single
Brisbane musician and Hey Geronimo and Montpelier collaborator, Greg Chiapello, released his debut single "Hot Coffee" on February 4th and announced a national tour of Australia supporting artist Megan Washington.
The joyful track has an addictive charm and hook-heavy chorus, which was one reason it was an IRC Song of the Day. "Hot Coffee" was produced by Brisbane-based producer/session musician Graham Ritchie (Airling, Emma Louise), and engineered by Matt Redlich (Ball Park Music, Hungry Kids Of Hungry, Emma Louise). It's the perfect tease track for a forthcoming album that we're looking forward to hearing as soon as it's dropped.
"Hot Coffee" – Greg Chiapello from Hot Coffee single
Opened For: Megan Washington
Musical Influences: Babaganoü and Montaigne
Twitter handle: @gregchiapello
Soup – Soup EP
The DIY band, Soup, is a Manchester, England indie psychedelic band that rips a page from Syd Barrett's tenure with Pink Floyd before Barrett allegedly "lost his mind" by taking too much LSD and was replaced by Roger Waters. The Barrett channelling, if you will, is most apparent on Soup's track, "Colour Coded," from the Soup EP, a five-track "introduction to the full 13-track album" that can be streamed here.
"Had I not been asked to be a guest vocalist on what would have been the first Paris Angels' album since the early 90s," Andy Whitaker, lead vocalist and guitarist said, "this project in it's current incarnation would have never come about." After Paris Angels disbanded last year, bassist Oz Cooper and Whitaker continued experimenting in the recording studio, bringing "the mighty Dug McLeod in on drums," for the recording session. The current Soup line-up includes Oz's brother, Dan Cooper, on drums, Elliot Wheeler on guitar and Chad Whitaker on keys.
"Colour Coded" – Soup from Album
Opened For: None yet
Musical Influences: Melody's Echo Chamber, Miracle Fortress, The Chameleons UK, New Order, Beck, Simeon, Syd Barrett
Twitter handle: @Soupband
Soup on Facebook
Like what you hear on Indie Rock Cafe? You can contribute to the indie and DIY coverage by donating to IRC (and we'll give you a shoutout on FB and Twitter)
---
Last modified on 2015-03-02 21:25:36 GMT. 0 comments. Top.
The last two weeks of February album drops features former Libertines' frontman, Carl Barat, and his band, The Jackals, and their debut album, Let It Reign, that borrows lovingly from The Clash and throws in a couple of sweet ballads to boot. Emile Haynie teams up with a number of other artists on the album,We Fall which includes the single "A Kiss Goodbye," with Charlotee Gainsbourg, Devonte Hynes and Sampha.
View and listen to the top singles from the Best New Album Releases for February, Vol. One.
Swedish musician Jose Gonzalez, with his third solo album of folk pop tracks dipped in West African blues and layered vocals. On the latest from Brooklyn's A Place To Bury Strangers, the band cranks out more oozing shoegaze mixed with psych rock, post punk and goth.
Also, don't miss new singles from fresh albums by The Amazing, Dan Deacon, Keath Mead, The Black Ryder, Gang of Four with Alison Mosshart, Cheatahs, Sonny and The Sunsets, Steve Gunn and the Black Twig Pickers, and many others. Disclaimer: All songs are made available for review and property of the artists and labels. Purchase any of the albums via Amazon simply by clicking on the album title. Don't miss the Top 10 Songs charts for February and January. The other Top 10 charts for February – based on this playlist – will be posted in the coming week.
"Glory Days" – Carl Barât and The Jackals from Let It Reign on Grand Jury/Cooking Vinyl
"A Kiss Goodbye" – Emile Haynie featuring Charlotte Gainsbourg, Devonté Hynes and Sampha from We Fall on Interscope
"Every Age" – Jose Gonzalez from Vestiges & Claws on Mute
"EarthEE" – THEESatisfaction from EarthEE on Sub Pop
"Straight" – A Place to Bury Strangers from Transfixation on Dead Oceans
"Polite Refusal" – Keath Mead from Sunday Dinner on Company Records
"Wax Chance" – Six Organs of Admittance from Hexadic on Drag City
"Santaria" – The Black Ryder from The Door Behind the Door on The Anti-Machine Machine
"Feel The Lightning" – Dan Deacon from Gliss Riffer on Domino
"Picture You" – The Amazing from Picture You on Partisan
"Broken Talk" – Gang of Four feat. Alison Mosshart from What Happens Next on Metropolis/Membran
"Cheap Extensions" – Sonny & the Sunsets from Talent Night at the Ashram on Polyvinyl
"Rosie" – The Lowest Pair from Sacred Heart Sessions on Team Love
"Trailways Ramble" – Steve Gunn/Black Twig Pickers from Seasonal Hire on Thrill Jockey
"Sunne" – Cheatahs from Sunne EP on Wichita
"House Shoes feat. Nina K" – Nadastrom from Nadastrom on Friends of Friends
"Chains" – The Airborne Toxic Event from Dope Machines on Epic
"Weather Vane" - Sam Prekop from Republic on Thrill Jockey
"Alone Again" – The King Khan & BBQ Show from Bad News Boys on In the Red Records
"Refugio" – Anthony Naples from Body Pill on Text
Miscellaneous Releases from Axis: Sova, Leviathan, Little Tornados and Rev. Peyton
A bad-ass combined assault of guitar jams, ferocious bass runs and frenzied drumming on Axis: Sova's seven-minute, instrumental track, "Fractal Ancestry," qualifies it as a notable single from the album Early Surf.
"Fractal Ancestry" – Axis: Sova from Early Surf on God?/Drag City
We rarely featured what we call 'monster rock' aka 'death metal,' but there was such a strong response from music lovers to Leviathan's new single, "All Tongues Toward," that we decided to include it. The album art from the band's Scar Sighted album is sick. We'll see when the Top 10 comes out if they made it in. If you haven't seen the Top 10 playlists for the first half of February check them out.
"All Tongues Toward" – Leviathan from Scar Sighted on Profound Lore
Have A Balloon – Little Tornados from We Are Divine on Rio Bogota Records
Unicorn Little Tornados from We Are Divine on Rio Bogota Records
And there was this very odd, but entertaining, music video from Reverend Peyton's Big Damn Band.
Like What We Do? Please Donate to IRC so we can keep Bringing You The Best Music
---
Last modified on 2015-02-15 19:37:52 GMT. 0 comments. Top.
The Best New Album Releases for the first two weeks of February 2015 include new material from artists old and new, from folk and rock to pop and psych. The latest releases for this past week are reviewed and available below, followed by the first week of releases (Feb. 3-9) for the month, which include new singles and albums from Ólafur Arnalds, The Church, John Carpenter, Two Gallants, Dylan and many others.
Father John Misty, The Districts, The Do, Thurston Moore, Peace
Father John Misty has ordained the single, "Chateau Lobby #4," from the well-received new album, I Love You, Honeybear, as the album's first single. Next, one of the best new rock singles of 2015 is The District's track, "Peaches," from their new album, A Flourish and a Spoil. Raucous guitar riffs and spatial percussions dominate the new title track from Thurston Moore (Sonic Youth) and John Moloney's new album, Full Bleed. Plus, listen to lead tracks from new LPs by The Do, Peace, Rone and Crushed Beaks.
If you missed any of the recent blockbuster DIY and indie posts and playlists, check out Best New Releases for January, the blockbuster Best New DIY Releases of 2015 and the on-going series featuring the Top DIY Songs and Albums of 2014.
"Chateau Lobby #4" – Father John Misty from I Love You, Honeybear on Sub Pop
"Peaches"- The Districts from A Flourish and a Spoil on Fat Possum
"Full Bleed" – Thurston Moore and John Moloney from Full Bleed on Northern Spy Records
Trustful Hands" – The Dø from Shake Shook Shaken on Get Down!
"World Pleasure" – Peace from Happy People (Deluxe Edition) on Columbia
"OUIJA" – Rone from Creatures on InFiné
"Overgrown" – Crushed Beaks from Scatter on Matilda Records/Moshi Moshi Records

Swedish artist Magnus Larsson, aka Pet Politics, released a compilation, titled simply, 2005-2008, of his solo music released on different labels during those years. The single we chose from the compilation is "The Ghost Mary and Her Friends." The DIY band, Max and The Moon, self-released a new EP, MATM, featuring the single, "Modern Love." You can purchase albums via Amazon by clicking the album title.
"The Ghost Mary and Her Friends" – Pet Politics from 2005-2008 on Novoton Records
Bonus: Taken Away By Aliens – Pet Politics from 2005-2008 on Novoton Records
"Modern Love" – Max and The Moon from MATM EP (self-released)
Top Releases for Feb. 3rd – 9th: Olafur Arnalds, Two Gallants, Title Fight, Dylan
The prolific multi-instrumentalist and Arcade Fire collaborator, Olafur Arnalds' score for the soundtrack of Broadchurch: Original Motion Picture Soundtrack is out now, featuring the track, "Beth's Theme." Filmmaker John Carpenter releases his first non-soundtrack album, with the dark, cinematic orchestrations and pending doom rhythms. San Francisco duo Two Gallants dropped another roots blues rock and folk album We Are Undone, followed by Pennsylvania's Title Fight and the new track – "Chlorine" – from the band's decidedly more shoegaze-oriented album, Hyperview.
Beth's Theme – Ólafur Arnalds from Broadchurch: Original Motion Picture Soundtrack on Mercury Classics
"Vortex" – John Carpenter from Lost Themes on Sacred Bones
"We Are Undone" – Two Gallants from We Are Undone on ATO
"Chlorine" – Title Fight from Hyperview on Anti
Bob Dylan, The Aging Master, Drops LP of Sinatra Covers
Even though Bob Dylan would scoff (and always has) at the suggestion that he is a musical genius, at the ripe old age of 73, Dylan (whose birth name was Robert Zimmerman) simply is just that – a musical genius. And yet he hates that. Just last week he said in an interview that if he had to do it all over again, he would have been a school teacher. Hmmm…the world would have surely been different today if he had become a school teacher, and perhaps not have benefited quite as much.
Dylan is a historic figure who not only had tremendous impact on music, but also the world. He has been a powerful, yet modest, warrior against the forces of evil in the world. Millions of people took his words in the 60′s and turned them into positive change across the globe – from the equal right movement to protests against war and violence. Now, Dylan, always evolving, has recorded an album of Frank Sinatra songs – and it's, of course, brilliant.
"Stay With Me" – Bob Dylan from Shadows in the Night (No. 6 on Amazon) on Columbia
Singles from New LPs by The Church, Butch Walker, All We Are and Michna
Next up is the dreamy psych pop of "Pride Before A Fall" from The Church's 21st! album, Further/Deeper, a release that is a textured mix of majestic power pop and psych rock, atmospheric guitars. Butch Walker doesn't fade away; he keeps coming back every year with more solid music. Such is the case with his newest LP, Afraid of Ghosts, featuring the mysteriously ominous, yet gorgeous, single, "Bed of Fire." Plus, listen to singles from new albums by All We Are and Michna, Breakfast in Fur and The Staves, and a split single from Kind of Like Spitting and Warren Franklin & the Founding Fathers.
"Pride Before A Fall" – The Church from Further/Deeper on Unorthodox
"Bed of Fire" – Butch Walker from Afraid of Ghosts on Dangerbird Records
"Stone" – All We Are from All We Are on Domino/Double Six
"Portrait" – Breakfast in Fur from Flyaway Garden on Bar/None Records
"She Exists In My Mind" – Michna from Thousand Thursday on Ghostly International
"Stress Cadet" – Kind of Like Spitting/Warren Franklin & the Founding Fathers from It's Always Nice to See You on Top Shelf Records
"Steady" - The Staves from If I Was on Atlantic
All the albums featured in this post are available for fast checkout on Amazon simply by clicking the album title.
---
Last modified on 2015-02-20 15:42:04 GMT. 0 comments. Top.
The first batch of new DIY releases for 2015 is here, and there are some terrific singles from noteworthy new albums released by DIY bands across the U.S. and around the world. You can listen to singles singularly or use the streaming player below so that the 23 songs on this page will stream automatically and uninterrupted.
We'll also be publishing the fifth volume of the Best DIY Releases of 2014, since there are still some not-to-miss EPs and LPs from last year, and a new Artist of the Week. Recently we have also posted the top non-DIY releases for January from well-known and small label indie artists and bands, featuring new material from Ty Seagall, Guster, The Decemberists, Panda Bear, California X, Belle & Sebastian and many others – see and stream it here.
And, if that's not enough – the famed Top Ten Songs playlists for January will be out later in the week. The following are the bands highlighted in this first volume of 2015 DIY releases. Don't miss any of it – follow IRC on Twitter and add us on Facebook.
In This Issue:
Steels – Tuscaloosa, Alabama
Her Magic Wand – Paris, France
Columbia – Melbourne, Australia
Valley Shine – Los Angeles, California
DAVID – Southampton, U.K.
Kat and the Canaries – Culver City, California
Radiolab – Alexandria, Virginia
Shibuya Terminal – Denver, Colorado
Benskuba – Regina, Saskatewhen, Canada
Hilldale – Dijon, France
Helen Mystic – El Cerrito, California
Hydrogen Skyline – Denver, Colorado
Action Jets – Phoenix, Arizona
Sun Cut Flat – Brooklyn, New York
Steels is a DIY indie rock band forged in 2013 by musicians from 'two glorious Southern cities' – Tuscaloosa and Atlanta. Now based in Tuscaloosa, the band's goal, according to frontman D. Charles Robinson was, and remains, "rock vengeance."
The information we can find on this band (which is difficult because of their common name) is thin. The reason we want to know more is because we are smitten by the angling guitar riffs, horns and harmonic choruses on singles like "True Romance" and the splintering rock of "Be Around," from the band's debut EP, On the Other Side. Steels features Robinson, along with bassist Justin Ray-West, guitarist Brett Mitchell and a drummer known only as 'Gunner.' Each member, ex-pats from a variety of hardcore bands, bring to the table their aggressive passion to make love with the soul of rock.
"True Romance" – (video) Steels from On the Other Side
"Be Around" – Steels from On the Other Side
Opened For: "We play in crap hole venues. We open up for everyone." – Robinson
Musical Influences: Led Zepplin, Riff Raff, As Cities Burn, James Brown, Chon, Zac Brown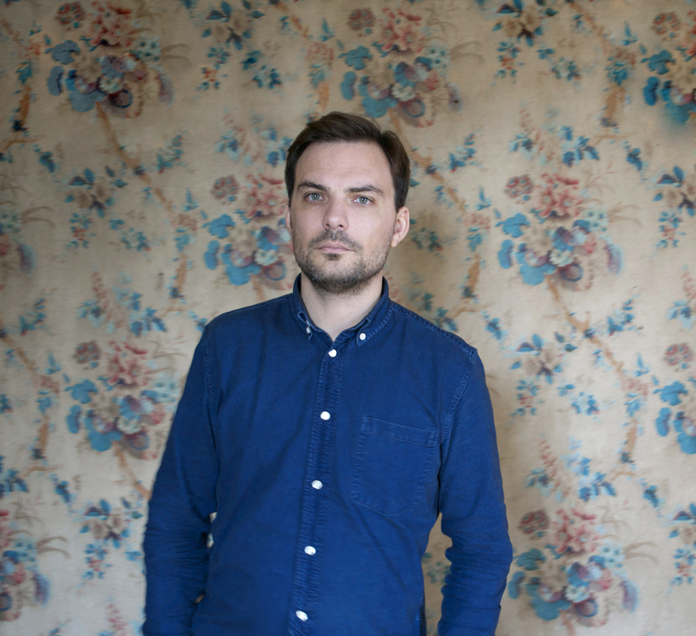 Her Magic Wand – Everything At Once
Her Magic Wand is the creation of Parisian songwriter, vocalist and musician Charles Braud. Creating his own brand of French-inspired indie pop/rock, Braud's impressive debut single, "Everything At Once," from his forthcoming debut LP, is enough to make us take notice and await the rest of the album, which should be released in the next couple of months. According to Braud, the album was written and recorded over a period of nearly a year. Braud landed some terrific, grade A help with the album, scoring Stephane 'Alf' Briat (Phoenix, Air) to mix it and Chab (Daft Punk, Sebastien Tellier) to master. The results of such prestigious guidance and assistance are apparent on the new single. But Braud is also no stranger to the indie scene in Paris; he's previously shared the stage with bands like Cloud Control and The Hundred In The Hands and artists such as Kyp Malone of TV On The Radio.
As far back as 2010, Braud released Her Magic Wand's debut 'demo' EP, Catch A Rainbow, which sold out, even on Bandcamp, but is still available for streaming. If the new single, and the demo EP, are any indication of what Her Magic Wand's debut LP will sound like, then we're definitely keeping our ears and eyes open for its official release.
"Everything At Once" – Her Magic Wand from Everything At Once
"Mistakes" – Her Magic Wand from Catch A Rainbow EP (2010)
Opened For: The Hundred In The Hands, Team Ghost, Summer Camp, Cloud Control, Birdpen, Kyp Malone (TV On The Radio)
Musical Influences: The Notwist, Slowdive, The Flaming Lips, Lali Puna, My Bloody Valentine, The Delgados
Columbia – Columbia EP
From the rock and roll city of Melbourne, Australia, the post-punk band Columbia crafts dark, mysterious and forbidding songs on their self-titled debut EP. Their sound reminds some of a mix between The National and Joy Division. Frontman Michael Magee's brooding, passionate vocals are at the heart of the band's music, as evidenced on tracks like "One of These Days" and "Brother." The other members of the band, including guitarists and keyboardists Simon Spratling and Vincent Freeny, and drummer Michael Blancato, round out Columbia's reputation as a band to watch. The members hail from cities like New York and Belfast. According to Magee, the band's music aims to "burn with desperate energy" and "confront classical themes of love, faith and work."
For their debut EP, the band teamed up with reputed producer Anna Laverty, who is known for her work with Cut Copy, Nick Cave and Temper Trap, to record the EP at Melbourne's Sing-Sing Studios. There's no question when you listen to the two tracks below that Laverty helped enormously in fostering the raw and deep sound the band strived to create. "It's the sound of people trying to break through," Magee said. "We associate indie rock with honesty, integrity and a yearning for truth."
"One Of These Days" – Columbia from Columbia – Jan. 10th
"Brother" – Columbia from Columbia
Opened For: None Indicated
Musical Influences: U2, Joy Division, R.E.M., Oasis, The National, Broken Social Scene
Valley Shine – LOCA
Los Angeles songwriter, vocalist and strings musician Sam Sobelman, of the band, Lipstick Lumberjack, met his soon-to-be Valley Shine bandmate Jenna Blake of Xu Xu Fang, after she had posted a comment about Sobelman's cat on Instagram. After some enlightening discussions, the two have been "writing and recording foot-stomping music non-stop" ever since, Sobelman told IRC.
Perhaps foot-stomping isn't exactly the right description, but the duo sure do create cheery folk pop. Sobelman said they piece together influences such as the piano and guitar arrangements of The Head and The Heart, sing-a-long choruses of The Oh Hellos and Angus and Julia's "male-female vocal harmonies" to create their decidedly pop folk charm. Their new single, "Bop Bah," released on January 31st, is an uptempo pop gem that you might think you've heard somewhere before, but you probably haven't). The duo will release their debut EP LOCA in the spring.
"Bop Bah" – Valley Shine from LOCA – Jan. 31st
"If I Was a Bird" – Valley Shine from LOCA
Opened For: None
Musical Influences: The Head and the Heart, Angus and Julia, The Oh Hellos, Rilo Kiley, Bon Iver, Mates of State
"Indie Rock is DIY!," Sobelman wrote. " It's keeping the process personal: making everything true to the artistic vision of the creators, and rocking the folk out of music."
DAVID – Impulses
Based in the U.K. town of Southampton in Hampshire, musician and vocalist David Blackbourn creates what he calls "raw, passionate, weird" acoustic sounds accompanied by lyrics that are "chaotic and confused and full of venom and anger and hope." These self-professed traits and feelings are not necessarily funneled into the songs featured here; in fact, we don't hear any anger or chaos on songs like the bright, uptempo, "Keep Smiling," and the more tame, somewhat melancholy, "Pleasure Seekers."
"My aim is to make you feel something and to connect," Blackbourn writes, "…to share joy and pain and to highlight the illogical and the strange." Using the moniker DAVID (which makes it difficult for people to find him on web searches), Blackbourn contends that his musical influences are "a mess," including artists that range from polar ends of the music spectrum, such as Aimee Mann to Eminem, Kings of Leon to Frank Ocean, and Fiona Apple to Nick Drake.
He may call his diverse musical influences a 'mess,' but the results sound pretty good to our ears. "People say I sound like Jeff Buckley, Paolo Nutini and Tom Waits' strange love child." On January 1st, DAVID self-released his debut EP, Impulses.
"Keep Smiling" – DAVID from Impulses – Jan. 1st
"Pleasure Seekers" – DAVID from Impulses
Opened For: Habitats, Dave McPherson, Lotte Mullan, Boz
Musical Influences: Jeff Buckley, Fiona Apple, Frank Ocean, Aesop Rock, Nick Drake, King Krule
Kat & The Canaries – Kat & The Canaries EP
Based in Culver City, a city that borders Los Angeles, the quintet DIY band, Kat & The Canaries, released its self-titled debut EP on January 1st, featuring catchy singles like "Dead Canary" and "Close The Blinds." Formed last year, this new alternative/punk rock band features lead vocalist Kat Grant, guitarists Mikey Flores and Adam Joe, bassist Nate Waxler, and drummer Terry Barajas.
"Indie rock to me is rock in its freest form," Grant told IRC. "When I think of indie rock, I think of rock with no boundaries, traveling down an array of avenues of influence. New sounds mixed with old familiar favorites seems to be the epitome of the indie rock experience."
"Dead Canary" – Kat and The Canaries from Kat and The Canaries – Jan. 1st
"Close The Blinds"- Kat and The Canaries from Kat and The Canaries
Opened For: The Milky Way, Surgeon Marta, The Decorators
Musical Influences: Pixies, Johnny Cash,The Ramones, Radiohead, Bjork
Kat and The Canaries on Reverbnation
Kat and The Canaries on Facebook
Radiolab – Dreamless
Radiolab is the musical moniker of Alexandria, Virginia multi-instrumentalist Dane Di Pierro, who crafts breezy, dreamy tracks like the standout song, "Sail to the Stars," from Radiolab's third album, Dreamless, released on January 5th. In addition to writing all of the songs, Di Pierro plays the guitar, bass, keys, synths and programs the drum beats. Occasionally adding samples from obscure films and movies, Di Pierro mixes all of the elements together and layers them with dense overlays, particularly for guitars and keys. Vocalist Meghan Redding joined the Radiolab project in 2009 and recorded two albums with Di Pierro before departing for other endeavors before the recording for Dreamless began.
"Sail to the Stars" – Radiolab from Dreamless – Jan. 5th
"After the Rain" – Radiolab from Dreamless
Opened For: Time Colulmns, The Floor is Hot Lava, Ghost Hotel, Seaknuckle, Chainsaws, Heavy Lights
Musical Influences: Voyager One, Ride, Mogwai, Bark Psychosis, Efterklang
Shibuya Terminal – The Javelin Set EP
During the long, warm Denver summer of 2014, Shibuya Terminal was a newly formed indie rock trio performing gigs at clubs and festivals, and gaining a following in the local music scene. However, when frontman guitarist and vocalist Pierce Murphy sojourned to Japan last September, he decided to morph Shibuya Terminal into a solo project. Drawing from a variety of genres, including garage rock, post punk and indie, as well as from artists and bands like Elvis Costello, The Thermals, and The Strokes, Murphy wrote and sang each song, as well as played all the instruments, recorded and mixed the DIY EP, The Javelin Set, entirely by himself.
"Javelin" – Shibuya Terminal from The Javelin Set EP – Jan. 5th
"We're Not Getting Any Younger" – Shibuya Terminal from The Javelin Set EP – Jan. 5th
Opened For: None Indicated
Musical Influences: Elvis Costello, The Thermals, The Strokes, Mose Allison, The Modern Lovers
Benskuba – Celebration
The Canadian outfit Benskuba started out in 2005 as a trio featuring former members of the band Mad Shadows; they were Kevin Cholerton, Blair Polischuk, and Randy Reibling. As Mad Shadows, the Regina based trio recorded and toured together for eight years playing from a discography of punk, ska and pop tracks. The band transitioned into a new band called Benskuba. But the trials of change that the years bring dealt the trio a number of blows, the most tragic of which was the death of Polischuk, the band's veracious drummer. Polischuk (or "Spike") was diagnosed with ALS and passed away only months later. Reibling decided to return to Dubai, where he performs in a few bands.
That left Cholerton to set out on his own; pulling himself together on the heels of losing his best friend in such a tragic and sudden (when compared to all of the years they were together) way, Cholerton decided to keep Benskuba going as a solo project. He wrote and recorded Celebration as a tribute to his long-time childhood friend. "I ended up playing all the instruments," Cholerton said. "The CD is somewhat of a tribute to Spike as we were best friends, and had played together in bands since we were 10 years old. The music can best be described as an alternative rock/pop sound with an emphasis on groove and melody – a blend of big electric guitar, acoustic, big drum sound, introspective lyrics."
"Indie music is independent, unfiltered music played and written without the constraints of commercial or corporate interests, allowing the artist full control over his art, career, and anything music related."
"Just a Dream" – Benskuba from Celebration – Jan. 10th
"Ease the Line" – Benskuba from Celebration
Opened For: 'None so far'
Musical Influences: U2, Kings of Leon, Beck, Teenage Head, Black Keys, The Clash
Hilldale – Hilldale EP
Hilldale is a DIY indie pop band based in Dijon, France. The four band mates – Christelle Armenio (lead vocals, guitar, bass), Lucas Auroy Lopez (drums, backup vocals), Charlie Suchaut (guitar, bass) and Julien Rouche (guitar, backup vocals) – formed the band last year in a mutual quest to write and record songs with sunny, glimmering guitars, mid and uptempo percussions and dreamy melodies, as evidenced on songs like "Day Off" and "Curtis." Hilldale released a self-titled EP on January 6th.
"Day Off" – Hilldale from Hilldale EP
"Curtis" – Hilldale from Hilldale EP
Opened For: Son Lux, White Hinterland, Love Inks
Musical Influences: Real Estate, Real Lies, Future Islands, Beach Fossils, Mac Demarco, Warpaint
Helen Mystic – Sistine Candles
Helen Mystic is an alternative folk rock trio based in the Bay Area town of El Cerrito. All three of the band members – Tennessee Mowrey, Tobias Butler and Isaac Silk – studied music at Wesleyan University and moved to the Bay Area after graduation. They describe their music as "slow, melody-based electronica, influenced by artists like Beach House and James Blake," as well as the band members' "various studies of world music and experimental music at Wesleyan." The following two tracks are from their debut EP, Sistine Candles, released on January 1st, and available via Bandcamp.
"This Whale" – Helen Mystic from Sistine Candles – Jan. 1st
"Josef" – Helen Mystic from Sistine Candles
Opened For: None
Musical Influences: James Blake, Beach House, Alt-J, Novelty Daughter
Hydrogen Skyline – Hey Sly King Drone
The Denver alternative electro rock band Hydrogen Skyline comprises a husband and wife team that reunited after years of being separate following an intense high school romance. In 2012, Norman Skyline, his real name, graduated from university and pursued a career in music by starting a solo project which "absorbed other artists as the evolution of its existence began." He found it difficult, however, to find local talent to work with. "Years later," Skyline says, he crossed paths with Asher, his former high school sweetheart and their love was rekindled; as Skyline says, it never burned out ("there was an old love still there"), and in less than a year, the two were married and Hydrogen Skyline was launched.
"Initially, it was never our intention to work on music together," he wrote. "She came down to rehearsal one day asking about singing to one of the established songs, and without much preamble showed me why she belonged in this project." A few months ago the band was featured on Reverbnation and on January 16th, they dropped the album, Hey Sly King Drone.
"Over Tonight (Paradise Remix)" – Hydrogen Skyline from Hey Sly King Drone
"Shadows" – Hydrogen Skyline from Hey Sly King Drone
Opened For: Civil Twilight, Atlas Genius, Abney Park, Saving Abel
Musical Influences: Metric, Sia, Panic at the Disco, Nine Inch Nails, Thrice
Action Jets – Action Girl on Instagram
Action Jets is an indie rock/power pop band from Phoenix that grind out hook-laden rock fused with elements of power pop, punk and new wave to create an original sound on their debut 7″ single, "Action Girl on Instagram," with the B-side, "Action Party Epic Fun!" Action Jets is appropriately a phoenix-rising band that formed from the ashes of the pop punk band, Dfactor, that disbanded in 2013. The band is currently recording an EP for release this spring. In the meantime, they've released the EP's first double-single.
"Indie rock is a movement that brings together fans, musicians, promoters and publishers in a spirit of DIY creation-making for bringing sounds to the street without the interference of corporate interests." – 'Action Dan'
"Action Girl on Instagram" – Action Jets from Action Jets Single – Jan. 15th
"Action Party Epic Fun!" – Action Jets from Action Jets Single
Opened For: Warm Soda, The Everymen, Field Tripp
Musical Influences: The Hives, Teenage Bottlerocket, Tinted Windows, Cheap Trick, Guided by Voices, The Replacements
Sun Cut Flat – Copy Machine Dream
DIY band Sun Cut Flat was originally formed as a live band in Boston during 2009. Nick Lattanzi (vocals, guitar, synth), then a freshman at Boston University, began collaborating with Erik Kramer (bass) and later Chris Pegram (keys, synths, percussion), both freshman at Berklee College of Music. The group bonded over their similar taste in music and appreciation of everything from jazz to electronic. It was only last year that the trio began writing and recording. They decided to use the same name that they had originally performed under because "we want the energy of our music to be as powerful and bright as the sun being split in half." Sun Cut Flat completed the recording of the 14-track debut album,Copy Machine Dream, relocated to Brooklyn, and welcomed a new member to the band, drummer Angelo Spampinato.
"Love In Spiritual" – Sun Cut Flat from Copy Machine Dream
"Salty Sea Intro" – Sun Cut Flat from Copy Machine Dream
Opened For: None
Musical Influences: Gorillas, Radiohead, Little Dragon
---
Last modified on 2015-02-04 00:06:32 GMT. 10 comments. Top.
It's back by popular demand! The Best New Indie Rock Releases playlist series, featuring the top new single and album releases from well-known and signed bands, has returned with the top releases for January 2015. Stayed tune: the top DIY and small label under-the-radar releases dropped in January will be published next week. Also by popular demand, this means the Top Ten Songs playlists will also return by mid-February, after we gather which songs from both well-known and DIY releases were streamed and downloaded the most by IRC listeners.
If you want to purchase any of the albums below, simply click on the album title link and it will open a window from Amazon.
San Francisco garage rocker Ty Segall shows no signs of slowing down in 2015. After releasing Manipulator just a few months ago; he's already out with a new four song, 7-inch EP titled Mr. Face, officially dropped on January 13th, and a live album recorded in his home base of San Francisco, released on January 27th (further down the page).
The title track from Mr. Face starts out with an uptempo acoustic guitar strumming, followed by thick bass lines and Segall's echoey vocals. Hazy electric guitar riffs weave throughout the pop-heavy track before it explodes with bombastic strumming and drumming as psychedelic guitars swirl in the background. Think California folk pop rock of the late 60s – as if the song came out of a time capsule. And for even more of a psychedelic affect, the EP cover art for Mr. Face is in 3-D (and comes with 3-D glasses).
"Mr. Face" – Ty Segall from Mr. Face EP on Famous Class
If you haven't heard of New Jersey band Rye Coalition, or even if you have, you'll want to check out the new film, The Story of the Hard Luck 5, chronicling the band's journey over the past two decades to get recognition as one of the best kick-ass, hard rock bands to ever come out of the Garden State; they make fellow Jersey band Bon Jovi look like the corporate rock sissies that they are.
In the clip from the film, Dave Grohl (Foo Fighters, Nirvana), a long-time fan and advocate of the band, comments: "These guys are bad-ass. And they can fucking smoke anybody." The band has been called the 'unluckiest' band ever because every time they got within a hair of the fame and recognition they deserved, something went wrong.
"The Lipstick Game" – Rye Coalition from The Story of the Hard Luck 5 DVD on Matzorific
"Boys Latin" – Panda Bear from Panda Bear Meets the Grim Reaper on Domino
"Nights In The Dark" – California X from Nights in the Dark on Don Giovanni
"Heart It Races " – Dr. Dog from Live at a Flamingo Hotel on Anti-
"Simple Machine" – Guster from Evermotion on Nettwerk Music Group/Ocho Mule
"Into The Dunes" – Noveller from Fantastic Planet on Fire
"Vessel" – Dan Mangan + Blacksmith from Club Meds on Arts & Crafts
"I Can Tell" – Jack White from Another Day, Another Time: Celebrating the Music of "Inside Llewyn Davis" on Nonesuch
"Uptown Funk" – Mark Ronson from Uptown Special on Columbia
Best New Indie Singles and Albums – Week of January 20, 2015
The week of January 20th releases include new albums from Belle & Sebastian, The Decemberists, The Dodos, Sleater-Kinney, POND, The Primitives, Alex Calder, Amen Dunes, among others. We're always excited when Sweden's pop masters Belle & Sebastian release a new album. The band's music video for the bright and breezy track, "Nobody's Empire," is one of the best videos for a new year release.
"Nobody's Empire" – Belle and Sebastian from Girls in Peacetime Want to Dance (vinyl box set) on Matador
Another top new video is from Portland's own folk rock heroes The Decemberists, who weave a 70′s story line with ringing electric guitar melodies, a decidedly rock/pop-based percussion and Colin Meloy's unmistakably high-pitch vocals on "Make You Better," from the band's newest album, What A Terrible World, What A Beautiful World .
The actor Nick Offerman from Parks & Recreation plays the role of a host of a tacky 70′s mythological German TV show - The Old Blue Rock Palace Show – that features all kinds of mishaps occurring as the band performs.
"Make You Better" – The Decemberists from What a Terrible World, What a Beautiful World on Capitol
Against the back-drop of repetitious and spacious electric guitar picking , dubbing and feedback, the oddly beautiful, but haunting, cover of Tim Buckley's "Song To The Siren," from Amen Dunes is, so far, the best cover song released in 2015 that we've heard in the cafe. Dunes' touching , pained, and melancholy vocals absolutely are the centerpiece of this new single from his new EP, Cowboy Worship. Regardless of what other covers are dropped in 2015, this cover from Dune will be one of the Top 10 Cover Songs of the year. It might seem a bit to early to make such a proclamation, but really it just goes to show how fantastic this cover song really is.
"Song To The Siren" (Tim Buckley) – Amen Dunes from Cowboy Worship EP on Sacred Bone
Read more comments about Dunes' Buckley cover of "Song To The Siren" on Soundcloud and Youtube. Watch Buckley performing the original "Song To The Siren" from this 1968 performance. Buckley died in 1971 of a heroin overdose.
His son, Jeff Buckley, who created his own legendary status in the music world with his brilliant songs and amazing voice, died in 1996 at the age of 30. His death, which occurred the night before he was to embark on a huge southern U.S. tour starting in Memphis, was ruled an accidental drowning. However, myths and rumors persist to this day about the circumstances of his death – all of which have been ruled out by local officials and the responsible press.
After a 10 year hiatus, one of the Northwest's greatest exports to rock music ever, Sleater-Kinney, have returned with a new album that proves they haven't lost their magic touch. Next, combining elements of post-punk and new wave with dashes of psychedelia, songwriter and vocalist Alex Calder dropped one of the best debuts of the new year with his new album, Strange Dreams. The first single is the mystical title track from the LP.
Other singles from new releases dropped the week of January 13th include Viet Cong's "Continental Shelf"; Siskiyou's "Deserter"; The Sidekicks' "Deer"; BC Camplight's "Just Because I Love You"; Hanni El Khatib's "Moonlight" and Menace Beach's "Tastes Like Medicine."
"Surface Envy" – Sleater-Kinney from No Cities to Love (double white vinyl edition) on Sub Pop
"Continental Shelf" – Viet Cong from Viet Cong on Jagjaguwar
"Deserter" – Siskiyou from Nervous on Constellation
"Just Because I Love You" – BC Camplight from How to Die in the North on Bella Union
"Deer" – The Sidekicks from Runners in the Nerved World on Epitaph
"Tastes Like Medicine" – Menace Beach from Ratworld on Memphis Industries
"Moonlight" – Hanni El Khatib from Moonlight on Innovative Leisure
Best New Indie Singles and Albums – Week of January 27th
Just two weeks after dropping the EP, Mr. Face, Ty Seagall and his band released a live album this past week recorded in his home base city of San Francisco. Listen to a cut from the show with the track "What's Inside Your Heart." Next up, Melbourne band, Twerps, deliver driving, jangly and melodic pop tunes on their new masterpiece album as evidence by the single below, " Back To You."
"What's Inside Your Heart" – Ty Segall Band from Live in San Francisco on Castle Face
"Back to You" – Twerps from Range Anxiety on Merge
Another Australian band, POND, featuring current and former members of Tame Impala, dropped a new album this past week that oozes with the band's spectacular knack for weaving pop, psych rock, glam rock and other genres all together to create a unique musical expression that the indie rock world encourages. And of course The Dodos' new release, Individ, is one not to miss as well.
"Waiting Around For Grace" – POND from Man It Feels Like Space Again on Modular
"Competition" – The Dodos from Individ on Polyvinyl/Morr/Dine Alone
The Primitives add interesting sound effects to a smoking guitar riff on the single, "Earth Thing," The Punch Brothers float out a mellow folk rock track "Julep" from the album The Phosphorescent Blues, and the single, "Lanai," from the band You Blew It!'s EP, Pioneer of Nothing, flourishes with rich instrumentation, layers of dubbed vocals, swirling guitars, and crashing cymbals. Other singles from new releases include select tracks from Pinkshinyultrablast, Cotillon, The Charlantans UK, African Express, and the Young Ejecta.
"Earth Thing" – The Primitives from Galore on Cherry Red
"Julep" – The Punch Brothers from The Phosphorescent Blues on Nonesuch
"Umi" – Pinkshinyultrablast from Everything Else Matters on Shelflife
"Lanai" – You Blew It! from Pioneer of Nothing EP on Jade Tree
"Before" – Cotillon from Cotillon on Burger
"So Oh" – The Charlatans UK from Modern Nature on BMG
"Your Planet" – Young Ejecta from The Planet EP on Driftless
---
Best New Album Releases of 2013
June 2013 Top Releases
Highlights for June included new album releases from Surfer Blood,
Surfer Blood's long-awaited sophomore album, Pythons, dominated indie rock news for the second week of June (see our Pythons' album review by Devin William Daniels). While Surfer Blood got a great deal of buzz, there were also other new albums dropped for the week of June 11th that are worth checking out, including new material from Gold Panda, Sonny & The Sunsets, Boards of Canada, Estrangers, John Vanderslice, as well as DIY artists The 88, The Human Natures and Graham Repulski. Plus, the new album by Deafheaven, Sunbather, was reviewed by IRC contributer J. Hubner. The Artist of the Week honors went to Rob Eldridge and his Pittsburgh band Steelesque.
The first week of June 2013 ushered in a new wave of singles and albums that will help to create the soundtrack for indie rock during the summer of 2013, with impressive releases, and lead singles, via the Best New Releases playlists, from established bands like Camera Obscura, Rogue Wave, Queens of the Stone Age, Future Bible Heroes, among others, as well as new-to-us bands now firmly etched on to our 'emerging bands' list like Big Deal, Dead Stars, Splashh, GRMLN and Little Children.
IRC contributor Devin William Daniels reviewed the new Camera Obscura LP, and the latest edition of 7 Overseas Bands You've Gotta Hear pleased the ears of many by introducing seven under-the-radar acts that you can learn more about via the Artists/Bands feed. The first week of June's Best New Music Releases (week of June 4th) included new albums from Portugal The Man, Big Deal, Future Bible Heros, Queens of the Stone Age, and many others, in addition to the Artist of the Week, Nick Jania, who crafts some amazing pop sounds you don't want to miss.
May 2013 Top New Releases
The last week of May's releases included another batch of fine LPs and EP from artists with name recognition, such as Animal Collective, Baths, Brazos, and bands that are less known, but just as important to hear if you're an indie rock fan, including Alex Bleeker and the Freaks, Paperhaus, Hooded Fangs, Feathers and CocoRosie, plus a reissue of King Tuff's awesome release, Was Dead and a 10th anniversary deluxe reissue of Damien Jurado's spectacular LP, Where Shall You Take Me.
Additionally, don't miss the Top 10 Songs playlist for April, and for the first time ever, a separate playlist for the Top 10 DIY Songs of the month. Based on the number of streams and downloads of great songs from a variety of small label and DIY artists that we feature all of the time on IRC, as well as requests from readers, we figured it only makes sense to have a Top 10 Songs playlist for DIY artists too. However, if a single from an unsigned artist ranks high enough to be featured in the regular Top 10 Songs list, that's where it'll go (as has happened many times in the past); but the separate DIY Top 10 songs is a supplemental playlist, highlighting songs from unsigned bands that received many streams and downloads.
The third week of May featured a number of posts, such as the weekly Best New Music Releases for the Week of May 21st, that included an overview and playlist of songs from a number of fresh albums, including the long-awaited newest release from Daft Punk, as well as LPs by The National, Dirty Beaches, Man or Astro-Man, Attic Lights, The Baptist Generals, Majical Cloudz, Radiation City, and Shannon and the Clams, among others, including a reissue of The Talking Heads' classic Speaking in Tongues.
Other posts for the third week of May included four Spotify playlists for each day of headliners and other bands that played at the 12th annual Sasquatch Music Festival in Murray, Washington, as well as a special post of Great DIY and Small Label Debuts of 2013, featuring bands like Great White Buffalo, Tournament of Hearts, Make Haste, Constant Supply and Will and the Indians; there's some awesome indie rock in this post, which probably explains why it had so many views and 45 Likes on Facebook. The week started off with another debut review of San Francisco band the Cool Ghouls.
The second full week of May 2013 kicked off with an overview and playlist of the BFD Music Festival in Mt. View, California, featuring headliners like Passion Pit, 30 Seconds to Mars, Diplo, Of Monsters and Men, Gold Fields, Atlas Genius, Capital Cities and many others. Plus, the second week of Best New Music Releases (Week of May 14th), featured a playlist of singles from new releases by Vampire Weekend, Wild Nothing, Small Black, Classixx, Wampire, MS MR, The Blank Tapes and many others.
One of the top posts for May was the Artist of the Week feature we did for the New York band The Rotaries; with over 20,000 views and some 125 Likes on Facebook, we were glad to see that many IRC listeners agreed with us that The Rotaries belonged on the 2013 Bands to Watch list, even if their last album was from the summer of 2012; the fact that we had not heard of them until recently was puzzling considering the band's enormous talent – clearly one of the top band 'discoveries' of 2013 for the folks in the cafe. The week kicked off with a special playlist called 'Around The World,' featuring fantastic songs from many great bands about places around the world. Contributors included The Strokes, Sufjan Stevens, The Clash, Calexico, The Shins, and Beach House, to name a few.
The first week of May releases included singles from new albums by AM & Shaun Lee, Savages, She & Him, Fitz and the Tantrums, Deerhunter and Mikal Cronin, among others. IRC also ran an update on Sonny & The Sunsets upcoming LP, plus Artist of the Week, Joshua Hanson, who had won the International Songwriting Competition award.
Also for the first week of May, we published Vol. III of 7 Overseas Bands You've Gotta Hear, highlighting artists and bands like The Naturals, Echoic, Lausch, AppleTree, Bearskin, among others. And since the last day of April – April 30th – dropped on a Tuesday (the day new releases are dropped), it really was the first Best New Music Releases for the month of May – not technically, but in practical terms. Highlighted singles from new album releases included Iggy Pop and The Stooges, Arkon/Family, Guided By Voices, Daughter, Wolf People, to name just a few.
April 2013 Top New Releases
April 2nd, 2013 – Listen to the best new songs from this week's top album releases from the Generationals, Mudhoney, Hookworms and more! Amazing playlist of singles from new releases.