best indie rock 2010
So far, 2010 is looking like a great year for indie and alternative rock.
best indie rock 2009
Browse playlist mixes with hundreds of free, legal MP3s.
New Posts and Playlists
Recent Releases We Almost Missed, VII: Sam Billen,...
Best New Releases of the Week: Avi Buffalo, Alcoho...
IRC Band to Watch: New York's The Rassle
New York Times Will Stream The National's New Albu...
Recent Releases We Almost Missed VI: Owen Pallett,...
Best New Releases of the Week: Radio Dept., Rory E...
Yoko Ono Talks to IRC About Her Dance Hits, Musica...
Record Store Day: The Importance of Record Stores,...
One Man Band Series: Ben's Imaginary Band, 200 Lur...
Recent Releases We Almost Missed, Vol. V: The Libr...
best indie albums 2008
popular indie songs 2008
Recent Comments
It is still early in the new year, new decade, and so much fantastic music from 2009 that has spilled over that we would be remiss not to share it with all of you. Plus, our site stats show a lot of you are still looking for

music from 2009

that you might have missed. In this on-going special edition of our popular

In Dee Mail

series, we are now on Volume Seven, with at least four to five more installments to publish in the coming weeks, not to mention 2010 releases as they come in, and the

12-part Favorite Songs of 2009

series.


Travis Lee Wiggins
started
Essex Chanel
in
Chicago
in 2005 as an effort to go in different musical directions than his first band,
Fetla
. After Fetla imposed a two-year hiatus in the fall of 2005, Essex Chanel became Wiggins's primary focus. Since then, in addition to creating the
Sweet Goodness
record label, Wiggins collaborated with a collective of local musicians to perform his songs, all of which - nearly
250 tracks
- are now available
for free
- a remarkable and charitable gift, especially considering the caliber of the music.
We first heard Essex Chanel's 2009 album,
Love is Proximity
, last fall, and they immediately went up
on our radar
.
Love is Proximity Sessions, Disk 2
, will be available on
January 26th
.
"Skinny Dippin"
-
Essex Chanel
from
Love is Proximity
(2009)
"She Cuts His Hair"
-
Essex Chanel
from
Love is Proximity Sessions, Disk 1
(2009)
"It Was All Because of the Icy Stairs"
-
Essex Channel
from
January 2007
(2007)

Essex Channel on MySpace
Download
hundreds of their songs
for free
Brooklyn
-based musical project
Scares The Daylights
released a folk-pop drenched, prog-rock heavy LP,
Burn The Bed
,
late in 2009
that went largely unnoticed by most music blogs, to the detriment of indie music fans. The musical project is the brainchild of
White Shoe Records
' founder
Neil Lipuma
. The label has spawned indie artists such as
The City and Horses
,
The Exeter Popes
and
Twice As Bright
, all of whom contributed to
Burn The Bed
.
Lipuma's project is largely influenced by the break-up with his long-term girlfriend, and leaving his day job to work as an assistant engineer with
Sear Sound
, where he contributed to releases from
The Killers, Richie Havens
and
Lykka Li & Bjorn Yttling
.
Burn The Bed
is the product of an introspective man whose adolescence was dominated by the music of
R.E.M
. and
The Smiths
, and whose adult life coincided with the onset of the indie rock explosion. Lipuma's songs are quirky, fun, mellow, and colored by his distinctive vocals, arrangements and poetic, even silly, lyrics, with an underlying ode to Americana.
"Divorces"
-
Scares The Daylights
from
Burn The Bed
(2009)
"Lion Chair"
-
Scares The Daylights
from
Burn The Bed
(2009)
Scares The Daylights on MySpace
White Shoe Records official site
Here are some other
free MP3s
from
White Shoe Records
' recording artists:
"You Are The Sun"
-
Water Fai
from
Girls In the White Dream
(2008)
"I Love The Girls"
-
The City and Horses
from
I Don't Want to Dream
(2009)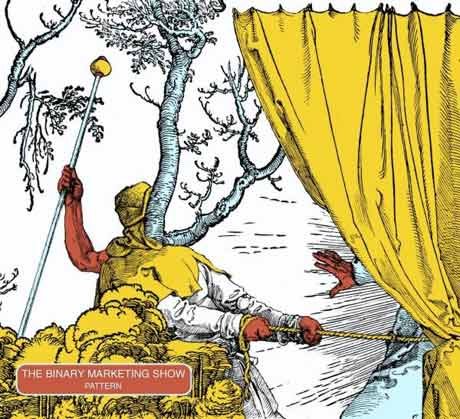 Another
Brooklyn
band,
The Binary Marketing Show
, have made ripples in the huge indie music pond of the NYC borough in the past year or so, especially thanks to their new LP and opening gigs for
Animal Collective
,
Explosions in the Sky
,
MGMT
and
Miccachu and the Shapes
.
BMS's music is dense,
experimental, minimalistic pop
, full of African-influenced drum beats, nasaly vocals, ambient loops and sound effects. TBMS started as the musical project of
Abram Morphew
and
Jason Meeks
in 2000 in Conway,
Arkansas
.
By the time they moved to Brooklyn in 2007, Meeks and Morphew were playing shows as a duo that eventually involved into a full quartet. Last summer, they released their
third full-length record
,
Pattern
, with the stand-out track, "Shape of Your Head."
"Shape of Your Head"
-
The Binary Marketing Show
from
Pattern
(2009)
"Tesseract"
-
The Binary Marketing Show
from
Pattern
(2009)
The Binary Marketing Show on MySpace
Previous Installment of the
In Dee Mail Special Edition
series:
(oodles of fab music you've probably never heard; sent to IRC in the mail)
In Dee Mail Special Edition, Vol. VI

- Sore Eros, The Melloncollies, Himalaya and Matias Aguayo
In Dee Mail Special Edition, Vol. V

: Army of Me, Threes and Nines, Trees and Trashcans and Lefse Records' Artists
In Dee Mail Special Edition, Vol. IV:

Tiny Tin Hearts, Flotation Walls, Twilight Revival, Oryan, The Sidewalk Driver and Rolf Lislevand
In Dee Mail Special Edition, Vol. III:

Elephant Stone, Clock Hands Strangle, The Sun, Six Simple Songs, Aeroplane Pageant, Lemonwilde & More
In Dee Mail Special Edition, Vol. II:

Dylan in the Movies, The Fling, East Hundred, Maklak, Said The Whale & Nheap
In Dee Mail Special Edition, Vol. I:

Sean Walsh & The National Reserve, Devries, Jupiter One, Julian Plenti and Parlour Steps
Labels: Brooklyn Bands, Essex Chanel, In Dee Mail, Scares The Daylights, The Binary Marketing Show
eMusic's FREE Daily Download!
If you haven't heard of the young and brilliant singer and songwriter
Will Stratton
, here's your chance. Stratton's 2007 debut album,
What the Night Said
, was written and recorded while he was a teenager. Even popular indie artist
Sufjan Stevens
contributed to the record.
Stratton just released his new album,
No Wonder
, on November 3rd, via the indie label
Stunning Models on Display
. We are excited to share with you songs from the LP, which we
strongly encourage purchasing
, not just because it's
magnificent, almost magically splendid,
from start to finish, but also to help encourage this prodigy to continue crafting his warm, heart-felt compositions.
In fact,
NPR
called Stratton's music "disarmingly proficient";
PopMatters
declared
No Wonder
"pretty damn close to a straight-up masterpiece" and the highly respected
All Music
dubbed the album, "stirring and hyper-personal yet universally beautiful."
Stratton was born in
California
and grew up in
New Jersey
where he began composing songs on piano at three years old. Fans of
Nick Drake
and
Mark Kozelek
will likely hear why comparisons of Stratton's music have been made to these prolific songwriters. In fact, Stratton's favorite album of all-time, he said, is Drake's classic
Pink Moon
.
If you enjoy Stratton's breathtakingly beautiful, and deeply personal, music, please
vote for him
as
Deli Magazine's
Artist of the Month
. Last month, Stratton performed a set at
New York's CMJ
supported by the blog
Pop Tarts Suck Toasted
. In addition, he has previously toured with
Sam Moss
and
These United States
. Stratton one of the most gifted musical geniuses of our time, and we hope to hear much more from him in the months and years to come.
"Your California Sky"
-
Will Stratton
from
No Wonder
(2009)
"Who Will"
-
Will Stratton
from
No Wonder
(2009)
Earlier this year, Stratton
self-released a free EP
,
Vile Bodies;
even more reason why we'll be following Stratton's career for a long time to come.
"Vile Bodies"
-
Will Stratton
from
Vile Bodies
EP (2009)
"Lying in the Dark"
-
Will Stratton
from
Vile Bodies
EP (2009)
Note
: After downloading and unzipping the free
MediaFire EP
, make sure to add .mp3 extension to the song titles so you can listen to them in your preferred music player.
Finally, here are just a
couple of the amazing tracks
off Stratton's stunning 2007 debut LP, plus a cover from his mentor, Nick Drake. Special thanks to catbirdseat.org and slowcoustic.com for the following tracks.
"I'd Hate To Leave You"
-
Will Stratton
from
What the Night Said
(2007)
"Night Will Come"
(Demo) -
Will Stratton
from
What the Night Said
(2007)
"Place To Be"
(Nick Drake) -
Will Stratton
from
Herohill.com
Will Stratton:
Official Website
Will Stratton: MySpace
Download a free zip
of Stratton's demos, out-takes and B-sides.
Labels: Brooklyn Bands, Singers and Songwriters, Will Stratton
eMusic's FREE Daily Download!
Hip-hop artist and rapper
Jay-Z
, along with
Beyonce
, attended Jelly NYC's free
Grizzly Bear
show at the Williamsburg Waterfront in
Brooklyn
Sunday night. But it is what Jay-Z told MTV after the show that has people talking.
In a video-taped interview, Jay-Z said he hopes that the "inspiring" nature of "the indie rock movement" will "push" rap and hip-hop artists to become more creative and take risks.
The following is Jay-Z's full quote to MTV today:
"[Grizzly Bear is] an incredible band. The thing I want to say to everyone - I hope this happens because it will push rap, it will push hip-hop to go even further - what the indie rock movement is doing right now is very inspiring. It felt like us in the beginning. These concerts, they're not on the radio, no one hears about them, and there's 12,000 people in attendance. And the music that they're making and the connection they're making to people is really inspiring. So I hope that they have a run where they push hip-hop back a little bit, so it will force hip-hop to fight to make better music. Because it can happen. Because that's what rap did to rock."
Jay-Z just gave one of the best definitions of what "indie rock" is all about nowadays, and touched on another aspect of what helps define indie rock - taking risks, experimenting with new sounds, mixing genres, incorporating various musical styles and having fun in the process.
Jay-Z said his love of different forms of music is the reason his "second
Blueprint
" was "so all over the place." The world famous rapper also commented on how people are regularly surprised to see him at indie rock shows. See a
video of Jay-Z's
quote broadcast on MTV this afternoon.
The comments Jay-Z made got me thinking about when
Run DMC
teamed up with
Aerosmith
to produce the legendary video remix of "Walk This Way." As a result of that video that premiered on
MTV in 1986
, millions of music lovers in both the rock and rap music markets came to appreciate musical styles they may have previously not enjoyed, thought wasn't cool to enjoy, or simply were not exposed to in a way that talked to them, so to speak.
When the idea of re-recording the song was originally presented to Run and DMC by
Jam Master Jay
, the guys had no idea who Aerosmith was and didn't want any part of the project. Nevertheless, it is that video, and the album it appeared on, that catapulted the rappers to international fame and resurrected the career of Aerosmith.
Wikipedia's official entry supports this connection, and is perhaps, in part, what Jay-Z was alluding to: "The 1986 version of the song is often credited as helping break rap into mainstream popular music as it was the first rap song to hit the Top 5 in The Billboard Hot 100, and the remake demonstrated how elements of rap music can be part of rock and pop songs."
Kayne West
is another hip hop/rap artist who is known to enjoy indie rock music. In fact, last February, West's endorsement of Floridian band
Blind Man's Colour
played a part in the band being signed to a record deal. West had seen
a review of BMC
on Indie Rock Cafe and linked it from his personal blog,
Kayne University
.
Check out some great photos of Grizzly Bear, Jay-Z and Beyonce from
Brooklyn Vegan
.
Labels: Brooklyn Bands, Hip Hop, Jay-Z, Kanye West
eMusic's FREE Daily Download!
Brooklyn band
Low Water
is an unsigned, indie rock band whose music conveys a sincerity and depth that is increasingly rare in an industry that too often relies on cookie cutter formulas, gimmicks and overly polished productions. Low Water's music has rightfully won resounding praise among radio stations, music publications and blogs, as well as national media such as PBS and NPR.
Their new, self-released album,
Twisting The Neck of The Swan
, proves this is no run-of-the-mill Brooklyn indie rock band. Low Water deliver high caliber, soulful, melodic pop rock music that is refreshingly authentic, free flowing and memorable. Their moody, crisp songs are easily accessible to anyone who appreciates well crafted and honest rock and pop.
Low Water's
Twisting The Neck of The Swan
is full of poetic lyrics, bright guitar riffs, pop experimentation and awesome vocal ranges that all pull together nicely on song after song. The opening track, "Voodoo Taxi," is melodic, catchy pop rock tune that people are probably going to play more than a couple of times.
One of the album's stand out tracks is the dreamy, folk pop of "She Shined Down," one of the most
Wilco
-sounding (in a good way) songs in recent memory. Featuring story-telling lyrics, uplifting harmonies and perfectly time melodies and percussion, "She Shined Down" gradually progresses into a full-on band jam that last for about a minute until the song's triumphant end.
A common MO, if you will, throughout Low Water's music, is how so often there are changes in tempo and style at different points within the same composition. And yet, every time, at every turn, it is done masterfully and somehow remains cogent and luring.
Sometimes one of the indications of a great band is in their ability to create a long song that is actually engaging and enjoyable all the way through. In the case of the song "Charge," the band took a shot at an 11 minute experiment of Beatlesque pop rock, and pulled it off with amazing results.
The song brilliantly shifts from cheerful pop melodies and old school guitar jams to dreamy choruses and 70's AM radio harmonies. There are a few points in the song when, if you're not watching the player, you might think the song is finished, and like a pleasant surprise, it continues on. There are not many songs this long that are keepers, but in my book, "Charge" is one of them.
Even though the band gives the impression that they've been making rock music for a long time, band members,
John Leitera
(guitar and vocals),
Dave Rubin
(guitar),
Joe Burch
(drums) and
Turner Stough
(bass) only released their debut album five years ago.
Low Water's 2004 self-released debut,
Hard Words In A Speakeasy
, was followed up in 2007 by the release of
Who Said That Life Is Over?
, featuring, among other impressive songs, the infectious pop tune, "House In The City," and the catchy, garage rocker "Brooklyn."
Some of Low Water's biggest musical influences, according to Rubin, are
Elvis Costello, The Kinks, George Jones, Spoon
, and clearly,
Wilco
and
The Replacements
. The amazing thing about that is that you can clearly hear those influences in their music with such compelling, yet original, results.
Rubin also cited
Abbey Road
(
The Beatles
),
Marquee Moon
(
Television
),
#4
(
You Am I
) and
Horsepower
(
The Phoenix Foundation
) among the band's favorite albums.
All things considered, Low Water is clearly one of the best unsigned bands in Brooklyn at the moment, and easily deserving of a "band to watch" declaration.
"Voodoo Taxi"
-
Low Water
from
Twisting The Neck of The Swan
(2009)
"She Shined Down"
-
Low Water
from
Twisting The Neck of The Swan
(2009)
"Charge"
-
Low Water
from
Twisting The Neck of The Swan
(2009)
"House In The City"
-
Low Water
from
Who Said That Life Is Over
? (2007)
Low Water on MySpace
Labels: Bands to Watch 2009, Brooklyn Bands, Low Water
eMusic's FREE Daily Download!
Today's batch of new songs features artists who will be performing at this year's South by Southwest conference in Austin, from March 18-22. IRC will be featuring dozens of artists and bands from now until the end of SXSW, including live performances, updates, playlists, features and more.
Here are new tracks from Portland's Gavin Castleton, Brooklyn's newest electro-pop sensation BELL, Texan singer songwriter Robert Gomez, Alabama's indie rockers All The Saints and another Portland artist Tara Jane O'Neil.
"Coffelocks"
-
Gavin Castleton
from
Home
Gavin Castleton on MySpace
"Magic Tape"
-
BELL
from
Magic Tape
coming out March 24nd
"New Bridge"
BELL on MySpace
"Fire on Corridor X"
-
All the Saints
from
Fire on Corridor X
All The Saints on MySpace
"On This Day"
Robert Gomez
from
Pine Sticks & Phosphorus
out April 14th
Robert Gomez on MySpace
"Drowning"
Tara Jane O'Neil
from
A Ways Away
out May 5th
Tara Jane O'Neil on MySpace
To see the full list of artists and schedules for SXSW 2009,
click here.
Labels: All The Saints, BELL, Brooklyn Bands, Gavin Castleton, Portland Bands, Robert Gomez, SXSW 2009, SXSW Performers, Tara Jane O'Neil
eMusic's FREE Daily Download!
Older Posts