best indie rock 2010
So far, 2010 is looking like a great year for indie and alternative rock.
best indie rock 2009
Browse playlist mixes with hundreds of free, legal MP3s.
New Posts and Playlists
Recent Releases We Almost Missed VI: Owen Pallett,...
Best New Releases of the Week: Radio Dept., Rory E...
Yoko Ono Talks to IRC About Her Dance Hits, Musica...
Record Store Day: The Importance of Record Stores,...
One Man Band Series: Ben's Imaginary Band, 200 Lur...
Recent Releases We Almost Missed, Vol. V: The Libr...
Best New Releases of The Week: Golden Triangle, MG...
Songs About Spring, Vol. II: Deerhunter, A Boy Lea...
What's Hot Right Now, Vol. II: Suckers, Polock, Ba...
Recent Releases We Almost Missed, Vol. IV: Holly G...
best indie albums 2008
popular indie songs 2008
Recent Comments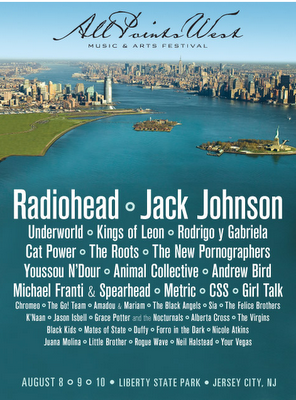 The organizers of Coachella, Goldenvoice/AEG Live, announced a few weeks ago the formation of a new east coast major music festival, dubbed "Coachella East".
The festival, now officially the All Points West Festival (Aug. 8-10), just released the lineup -
including Radiohead
, Underworld, Cat Power, Jack Johnson, Black Kids, CSS, Animal Collective
(shown below),
Andrew Bird, Metric, The Go! Team, Rodrigo Y Gabriel, The New Pornographers, Kings of Leon and many others.
Some festival fans in the New York City metro area (which includes the venue location of Jersey City - just across the river from lower Manhattan - with amazing views of the city and Statue of Liberty) are calling a coup of the historically annual Vineyard Festival.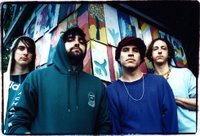 Vineyard has been cancelled because it was Coachella'd from Liberty State Park
(photo; bottom left)
until 2009.
From a money-making and fan-demand perspective, it only makes sense to create a "Coachella East" based on the enormous success of the famous west coast, three-day outdoor camping Coachella Valley Music and Arts Festival in the desert of Indio, California (read the latest on
Coachella lineup, tickets and breaking news
), which has attracted some of the biggest names of indie and mainstream rock for the past half decade.
Apparently, the announcement of 'Coachella East' by Goldenvoice/AEG Live effectively forced Vineyard promoters Festival Republic and C3 Productions (who also produce Lollapalooza, Austin City Limits, Glastonbury and others) to cancel the Vineyard Music Festival for 2008.
Perhaps more telling is the fact that 'Coachella East' was in the works for months now, and through the online rumor mill was scheduled a couple of months ago – deliberately or not – on the very same dates as Vineyard, August 8 to August 10.
Among many speculators,
Rolling Stone
magazine recently reported - incorrectly - the dates of the Vineyard Music Festival, or 'Coachella East' would be August 10-12, 2008.
"We had to get our egos in check and say, 'Let's do [sic] the smart decision, get off these dates and go for an isolated (date) so we can build this thing without having to look over our shoulders,"' C3 partner Charles Attal said.
"We don't want to be compared to all the other festivals and who's playing where. We want to build this thing right, organically from the ground up."
Organically? Ticket prices for a single day pass are $89 a pop. Three-day passes sell at a hefty $258, plus Ticketmaster's ridiculous fees (but they are the sole distributor of the tickets; Coachella organizers, along with Goldenvoice/AEG Live, must have a deal with Ticketmaster on both coasts it appears.
While the tickets don't go on sale until Feb. 29 at noon EST, the following fees have been added to tickets for Coachella West (not including the $55 camping fee):
Convenience charge: $22.20
Building facility charge: $12.00
(These do not include whatever other fees, such as delivery and such, are added when tickets go on sale. Note: Opt for the $2.50 online tickets to print when you want).
Flashback:
Thank goodness to Eddie Vedder and Pearl Jam
(photo; bottom, right)
for taking a stand against Ticketmaster's exorbitant fees and services charges more than a decade ago, even though they knew it would mean losing millions of dollars. Now that's putting your money where your mouth is.
Check out this
rare 2003 RS interview
in which Vedder talks for the first time in a long time about the Ticketmaster fight that left some fans bitter and caused others to entrench deeper with the band).
---
Subscribe for the
Feed Me Indie
feed via RSS, Atom, iTunes or your favorite reader and podcaster.
Labels: 2008 Music Festivals, All Points West Festival, APW Tickets, ATT Coachella Webcast, Coachella East, Festival Tickets, Festivals, New Jersey, Pearl Jam, Ticketmaster, Venues - Liberty State Park
eMusic's FREE Daily Download!
Older Posts