best indie rock 2010
So far, 2010 is looking like a great year for indie and alternative rock.
best indie rock 2009
Browse playlist mixes with hundreds of free, legal MP3s.
New Posts and Playlists
Recent Releases We Almost Missed, VII: Sam Billen,...
Best New Releases of the Week: Avi Buffalo, Alcoho...
IRC Band to Watch: New York's The Rassle
New York Times Will Stream The National's New Albu...
Recent Releases We Almost Missed VI: Owen Pallett,...
Best New Releases of the Week: Radio Dept., Rory E...
Yoko Ono Talks to IRC About Her Dance Hits, Musica...
Record Store Day: The Importance of Record Stores,...
One Man Band Series: Ben's Imaginary Band, 200 Lur...
Recent Releases We Almost Missed, Vol. V: The Libr...
best indie albums 2008
popular indie songs 2008
Recent Comments
In response to a playlist challenge to Deerhunter's Bradford Cox's previously published playlist mix, IRC is happy to offer you the following playlist featuring what we think are a great representation of songs of interest to Deerhunter, and non-Deerhunter, music lovers.

"Did You See The Words" -
Animal Collective
(photo, top) from the 2005 release
Feels


"Carrot Rope" -
Pavement
from the 1999 release
Wowee Zowee


"Weird Fishes/Arpeggi" -
Radiohead
from the 2007/2008 release
In Rainbows


"Cello Song" -
Nick Drake
from the 1969 release
Five Leaves Left


"Canadian Girl" -
The Walkmen
from the 2008 release
You & Me
"Is There A Ghost?" -
Band of Horses
from the 2007 release
Ceases to Begin


"Disarm" -
Smashing Pumpkins
from the 1993 release
Siamese Dream


"Scythian Empires" -
Andrew Bird
from the 2007 release
Armchair Apocrypha


"Float On" -
Modest Mouse
from the 2004 release
Good News for People Who Love Bad News


"Knots" -
Pete and The Pirates
from the 2008 release
Little Death
Download the ZIP
for this playlist
What do you think of this mix? Use the comments section below.
Labels: Andrew Bird, Animal Collective, Band of Horses, Indie Playlist Mix, Modest Mouse, Nick Drake, Pavement, Radiohead, Rogue Wave, The Walkmen
eMusic's FREE Daily Download!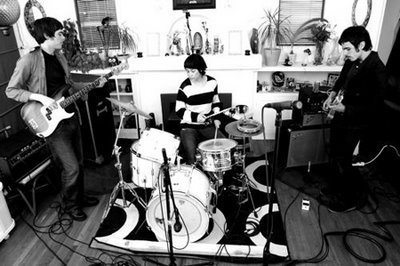 Riding on the sails of their 'critically acclaimed' debut album
Humanimals
,
San Diego's indie trio
Grand Ole Party
has announced a slew of concert dates with indie rockers Rogue Wave and punk old-timers New York Dolls (do they get MediCare?) for the month of April with a final show in San Francisco on May 3rd.

Question: Is this band really good enough to tour with the likes of Vampire Weekend, Rilo Kiley and Rogue Wave? (I don't think so, but you be the judge.) Plus, the name; that's the best they could come up with? GOP? Maybe they'll get a spot at a McCain rally.

Grand Ole Party
:
"Nasty Habits"
[mp3] from
Humanimals
Grand Ole Party's April/May Concert Schedule
April
2 Denver, CO - Hi-Dive
3 Omaha, NE - Slowdown Jr
4 Lawrence, KS - Replay Lounge
5 Nashville, TN - The Rutledge
6 Birmingham, AL - Bottletree
7 Mt. Pleasant, SC - Village Tavern
11 Boston, MA - Paradise #
12 New York, NY - Fillmore at Irving Plaza #
15 Philadelphia, PA - First Unitarian Church #
16 Washington, DC - 9:30 Club #
18 Chicago, IL - Schubas #
19 Chicago, IL - Schubas #
20 St. Louis, MO - Gargoyle Club #
22 Boulder, CO - Fox Theatre #
24 Phoenix, AZ - Rhythm Room #
27 Indio, CA - Coachella
May
3 San Francisco, CO - The Fillmore #
-----------------------------------------------------------------
Subscribe for the
Feed Me Indie
feed via RSS, Atom, iTunes or your favorite reader and podcaster.
Labels: 2008 Indie Releases, Rogue Wave
eMusic's FREE Daily Download!
Older Posts