Great playlists with songs from some of the best indie albums of 2009
Stream all of the songs on any page just by playing the first song.
New Posts and Playlists
New Indie Rock from The Cave Singers, The Duke Spi...
New Indie Songs from The Almighty Defenders, Thao,...
Ears To The Music, Vol. IV: The Spinto Band, The D...
The Format's Sam Means and Nate Nuess Release New ...
In Dee Mail - One Man Band Series: Portland's Fasc...
Ears To The Music, Vol. III: New Indie Songs from ...
New Indie Releases This Week: Why?, The Pains, The...
Pavement Reunion News Spurs Sell Out of Three 2010...
Last Call for Great Indie Songs of 2008, Vol. I - ...
Best Rarely Heard Songs of 2009, Vol. I - Sun Airw...
Recent Comments
Browse the Music Archives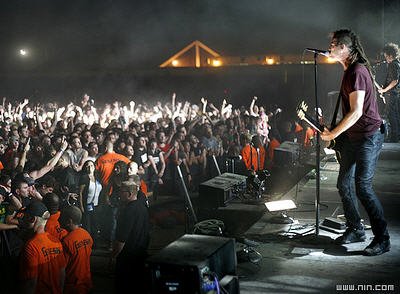 After writing about Nine Inch Nails a few weeks ago, a number of you have written to me pointing out that I did not include the link to NIN's new album free download.
Oops! You're right, I did, and now after having listened
The Slip
by NIN's for a few weeks, I'm convinced it's worth downloading, especially for free.
There are few 'big name' indie and alternative bands out nowadays willing to offer their music for free, but if you think about it, the strategy is a smart one. Not only do you create loyalty with long-time fans, but it's also a great way to attract new fans. And thus, sell more concert tickets and merchandise.
Let's face it, the give-our-music-out-for-free approach is working, as bands like NIN have shown. Now it's up to many other music artists and bands to follow their lead, and in return, grow their base.
The record industry made windfall profits off CD sales for decades; but the formula has changed and the sooner they embrace it, the better off they will be in the long haul.
If you're a Nine Inch Nails fan, you probably already know that the band will be performing tomorrow, August 10th, at the Virgin Mobile Festival in Baltimore. Check back later for YouTube and other videos from the 2008 Virgin Festival lineup.
Download
The Slip
for free at NIN official website.
The following is the official NIN's music video for the track "Lights in the Sky" from their latest free release,
The Slip
:
Labels: Free Music Downloads, Indie Artist/Group Profiles, Nine Inch Nails, The Slip Free Download