best indie rock 2010
So far, 2010 is looking like a great year for indie and alternative rock.
best indie rock 2009
Browse playlist mixes with hundreds of free, legal MP3s.
New Posts and Playlists
Recent Releases We Almost Missed, VII: Sam Billen,...
Best New Releases of the Week: Avi Buffalo, Alcoho...
IRC Band to Watch: New York's The Rassle
New York Times Will Stream The National's New Albu...
Recent Releases We Almost Missed VI: Owen Pallett,...
Best New Releases of the Week: Radio Dept., Rory E...
Yoko Ono Talks to IRC About Her Dance Hits, Musica...
Record Store Day: The Importance of Record Stores,...
One Man Band Series: Ben's Imaginary Band, 200 Lur...
Recent Releases We Almost Missed, Vol. V: The Libr...
best indie albums 2008
popular indie songs 2008
Recent Comments
Los Angeles
folk pop band
Family of the Year
appeared on our radar in December, thanks to a friend who turned us on to their brilliant, and addictive, 2009 release,
Songbook
.
The LP is one of those albums that you find yourself loving more and more with each spin, and that you go back to again and again. The band is now one of our
favorite new bands
, and definitely a
band to watch in 2010
.
Family of the Year, who hail from LA's
Silverlake
area, a hilly region east of Hollywood, are not completely unknown in the world of music. They played four shows at New York's
CMJ
last fall, and
toured the U.S
. in a RV that they lovingly call
Rosie
. But it was the release of
Songbook
that really put them into a new category of prominence.
Moreover, last September, conductor
Keith Lockhart
, and singer-songwriter
Ben Folds
, selected the LA folk pop band out of more than 650 applicants to open for Ben Folds' performance with the
Boston Pops
on Friday, on October 2, 2009, at
Symphony Hall
in Boston.
"Let's Go Down"
-
Family of the Year
from
Songbook
(2009)
There is some relevance to the band's name - it started as a project of brothers
Joe Keefe
(guitar and vocals) and
Sebastian Keefe
(drums and guitar), and
Jamesy Buckey
(guitar and engineer). The brothers, who grew up in Wales, first gained recognition on the local scene as part of the
Martha's Vineyard
-based raw rock ensemble
Unbusted
. Not long after, they were featured in the
Edgefest Cafe's
broadcast on June 21 and 22, 2006, prior to the Boston Pops performances with
My Morning Jacket
.
Family of the Year's assemble expanded with the addition of singer
Vanessa Long
, an Orange County, California native, and actor, whose feature films include
XII, I'm On Fire
, and
You Don't Mess with the Zohan
. Keyboardist
Christina Schroeter
, also from Orange County, is an entertainment public relations professional, and bassist
Brent Freaney
, hails from Long Beach, Mississippi. Contributing members include musicians
Meredith Sheldon
and
Farley Glavin
.
Family of the Year's original name was
Bogie Ogreton
, but, at the urging of friends, family and their manager, they changed their name. Sebastian Keefe recently told
Blast Magazine
about the name change.
"(Family of the Year) was nice-sounding, and we kind of evolved into a family, the six of us," Keefe explained. "We all live together in the same house and we all travel together … so it was kind of fitting."
Keefe said the
band's main influences
- which are apparent listening to
Songbook
- are The Beach Boys, The Beatles, Simon and Garfunkel, Fleetwood Mac, Crosy, Stills, Nash and Young, and Bob Dylan.
"Feel Good Track Of Rosemead"
-
Family of the Year
from
Songbook
(2009)
Mixing upbeat rhythms, sunny folk ballads, rich melodies, uplifting choruses, sweet pop harmonies, impressive story-telling, and even some dance beats, it's no wonder Family of the Year were chosen to open for Ben Folds and the Boston Pops.
Because there are so many memorable, 'keeper' tracks on
Songbook
, it was quite a challenge to pick a few songs that stand out the most. We suspect that fans of the band who have listened to
Songbook
multiple times (and it's hard not to), face the same dilemma if asked to choose two or three favorite songs from the LP. Other
standout tracks
- and most songs on the LP are - include "Surprise," "No Good at Nothing," "Stupidland," and "Let's Be Honest."
Family of the Year are
selling their debut LP
using the Radiohead model - basically
name your price
(minimum of $1). The CD version is $15 via their record label,
Washashore Records
.
The band is performing tonight, February 1st, at the legendary
Roxy Theatre
in
Los Angeles
.
"Summer Girl"
-
Family of the Year
from
Songbook
(2009)
Family of the Year on MySpace
Family of the Year on FaceBook
Family of the Year on Twitter
Here's a
great interview
with Sebastian from the blog,
In Your Speakers
.
Labels: Band of the Week, Bands to Watch 2009, Family of the Year, Los Angeles Bands
eMusic's FREE Daily Download!
The members of
Grizzly Bear
are fans. And so are we.


Boston
area band
Elephantom
, a musical collective of high school and college aged musicians, are IRC's first unsigned 'band to watch' of 2010. Plus, we have an exclusive new demo, "I Am Your Head," provided by the band to IRC for all to hear.
But first, the back story.
Comparing them to the Danish band
Efterklang
, Grizzly Bear members recently endorsed Elephantom's 2009
DIY debut LP
,
Swim. Toward the Sun
. While the band were attending a Grizzly Bear show in
Vancouver
last year, Elephantom guitarist, trumpet player and vocalist
Sam Pearce
tossed a CD copy of
Swim. Toward The Sun.
on to the stage.
He, along with his band mates, never thought that one of indie rock's biggest bands of 2009 would listen to the CD, let alone send Elephantom an email
praising their music
and wishing them success.
For any band that knows why Grizzly Bear is such a hit nowadays - largely due to their
critically acclaimed
2009 release,
Vecktimest
- a thumbs up from GB is an
enormous
endorsement
, and is likely to get bloggers, music sites, and most importantly, indie fans, to take notice.
According to keyboardist and vocalist,
Matt Aucoin
, Grizzly Bear's email
hailed the Elephantom album
as "really lovely," adding, "we are in
Vancouver
all listening...thanks so much for sharing this with us. I hope you guys go far."
The band features Pearce, Aucoin, bassist and guitarist
Mike Cotter
, guitarist and vocalist
Trudie Kaiser
, drummer and guitarist
Nick Pope
(who designed the album cover above), and lead guitarist, bassist and drummer
Zach Trahan
. All six of the band members are songwriters and multi-instrumentalists.
With
Swim. Towards The Sun
, Elephantom have created a breath-taking, rich, beautifully composed and produced album, full of spacious orchestrations, academic-style song titles and themes, spot-on vocals and harmonies, and oozing with a musical maturity that hints at a band that is headed for
bigger and better things
. They exhibit an enthusiasm and natural ability to sculpt songs that combine story-telling with elements of indie rock, jazz, cabaret, classical, folk, synth pop, psychedelic rock and so on.
In response to one of our questions, the band cited their major influences as
Radiohead, Broken Social Scene
and
The Arcade Fire
. Nevertheless, Elephantom have created their own original sound that really cannot be compared to anything else we've heard. There's so much happening on this album - and the diversity of songs is so profound - that you may find yourself going back to listen to it again and again, and each time, likely discover new and fantastic things in the process.
Listening to the track "Aurora Surrealis," you can close your eyes and i
magine drifting away
on a cloud on a glorious summer day, lifted by soft piano keys, French horns and the gorgeous vocals of Trudie Kaiser. "Citizen of the Earth" begins theatrically, and then eases into a
seductive and sensual
cinematic-cabaret swagger, interrupted by big blasts of sounds like some kind of cosmic orgasm.
We are excited to share a
blog exclusive
with you all - a demo version of Elephantom's
newest track
, "I Am Your Head," which Aucoin hopes will be on the band's next album, even though a release date and title for the follow up to
Swim
have
yet to be determined
.
If all the right pieces falls into place, you are likely to hear a lot more about Elephantom in 2010.
"I Am Your Head"
(demo) -
Elephantom
, from Nick Pope's solo album
St. Deviations Attack on The Castle Of Love
, and planned for release on the band's upcoming album (date and title TBD)
"Aurora Surrealis"
-
Elephantom
from
Swim. Toward the Sun.
(2009)
"Citizen of the Earth"
-
Elephantom
from
Swim. Toward the Sun.
(2009)
Here's a YouTube video of a
recent live performance
of "I Am Your Head," which created so much excitement among music listeners on
Indie Bands Blog
, that Elephantom were voted the top
band of the week
this past weekend.
Elephantom on MySpace
Elephantom official website
Download

Swim. Towards the Sun.

for free
Other Posts That You Might Enjoy:
Best Rarely Heard Songs of 2009

, Vol. I - Ex Norwegian, We All Have Hooks for Hands, Pistol for Ringo and Fredrik
Best New Releases This Week (1/19/10)

: Spoon, Surfer Blood, The Eels, Feral Children, Editors, Big Star, Dinowalrus & Len Price 3
Favorite Indie and Alternative Songs of 2009

, Vol. III: Neko Case, Public Radio, Bishop Allen, Harlem Shakes, Deer Tick & More
In Dee Mail Special Edition Vol. VII

- Essex Chanel, Scares The Daylights and The Binary Marketing Show
Favorite Indie and Alternative Songs of 2009

, Vol. II - The Big Pink, The Thermals, Dan Auerbach, Telekinesis, Faunts & More
Much more amazing music is on the way...
Labels: Band of the Week, Boston Bands, Elephantom, Grizzly Bear
eMusic's FREE Daily Download!
There are still plenty of fantastic
songs and albums from 2009
that we're catching up to, and we suspect that will extend into the first couple of months of the rapidly approaching 2010. Wow, it's almost a new decade; let's hope it is
a better one
than the 2000s - for everyone. You might want to check back daily over the next few weeks - not only do we have barrels of
great 2009 music
you probably have never heard in the pipeline, but also additional
alternative and indie Christmas songs;
best songs and best albums
year end lists
and lots more.
This week's
Band of the Week
is
Hosta
, a folk rock band from
Fayetteville, North Carolina.
Admittedly, it took us a while to get around to featuring this band; the more we have listened to their self-titled debut over the past half year, the more it has proven itself as one of the best
under-the-radar debuts of the year
. It's baffling that the rest of the blogosphere, if you will, missed out on what is
a fantastic album
from start to finish.
Hosta is a trio of musicians:
Iris Shepard
(bass/vocals),
Greg Moore
(guitar/keyboards/vocals) and
Randy Kehne
(drums). The
genre-bending band
mix blues, ska, folk and experimental rock to create
fun and interesting songs
with likely comparisons to
Weezer
(and to some extent
Pavement
; hear "Hope You're Not Sorry"), which is especially evident on the
geo-centric
song, "Cali," and the
quirky, ska-infused
, "Secret Self."
Band member Greg Moore is also a Fayetteville artist
While the band primarily tours in the Midwest, we hope they will
come out to Cali
(actually, someone easily gives themselves away as a newcomer when they call California 'Cali,' sort of the same idea as calling
New York
, "The Big Apple," or
D.C
., "Washington, DC"). Hosta were awarded the
Northwest Arkansas Music Award
in the category "Best None of the Above" this year. We strongly recommend getting the entire LP if you like the songs featured below.
"Cali"
-
Hosta
from s/t debut (2009)
"Secret Self"
-
Hosta
from s/t debut (2009)
"Hope You're Not Sorry"
-
Hosta
from s/t debut (2009)
Hosta on MySpace
Coming Up:
More alternative Christmas songs; a new installment of the Singer/Songwriter Spotlight Series; In Dee Mail Special Year End Edition, Vol. II and much more.
Other Recent Posts You Might Enjoy
(and faster loading pages)
:
Ears to the Music

, VIII: Monogold, Old Canes, Slideshow Freak, Japanese Motors, Langhorne Slim and Laura Veirs
Today's Best New Releases (12/8)

: The French Semester, STS9, Avi Buffalo, Smashing Pumpkins, Midnight Masses and More
In Dee Mail Special Edition

, Part I: Sean Walsh & The National Reserve, Devries, Jupiter One, Julian Plenti and Parlour Steps
Band of the Week

: Austin's Wiretree Release One of the Best Under-the-Radar Albums of 2009, 'Luck'
Today's Best New Indie Releases (12/1)

: The Delfields, Spoon, Morningbell, Tristeza, The Dimes and More
The

Splendid Debut LP

from Arizona's Talented Music Duo

The Smiles and Frowns
Labels: Band of the Week, Hosta, Indie Artist/Group Profiles
eMusic's FREE Daily Download!
Eighteen-year-old
Long Beach
, Calif., guitarist and singer/songwriter
Avigdor Zahner-Isenberg
, and his band,
Avi Buffalo
, have created quite a buzz within the indie music circles during the past year with their impressive folky pop hooks, intriguing lyrics and live shows. So it was no surprise to some when
Seattle
's legendary
Sub Pop Records
- home of popular indie artists like Band of Horses, The Shins, Iron and Wine, Grand Archives and Blitzen Trapper - signed Avi Buffalo to a record deal last month.
With Isenberg at the helm, Avi Buffalo, consisting of
Sheridan Riley
(drums),
Arin Fazio
(bass) and
Rebecca Coleman
(keyboards and vocals), are now under the wings of one of the finest
indie record labels
in the business.
Tonight, Nov. 2nd, Avi Buffalo will open for the wildly popular
Vampire Weekend
in a
sold out
show at the
Art Theatre
in Long Beach - clearly an indication of Avi's rising star status within the indie music scene.
Things started to roll for the band after a couple of well received live performances in 2007 and 2008 led to a meeting with musician and producer
Aaron Embry
. Before long, Embry - who has worked with musicians like
Elliott Smith, Daniel Lanois
and
Emmylou Harris
- was recording Avi Buffalo's material.
The result of this collaboration is evident on the band's
label
debut 7"
, due out next month via Sub Pop. The
A-side
track, "What's In It For?", is a jangly guitar driven song with a southern rock twang, and rounded out with well crafted, melodic hooks, Isenberg's high pitched and quirky vocals (think
Wayne Coyne
meets
Daniel Johnston
), and uplifting back-up choruses.
"What's In It For?"
-
Avi Buffalo
from
What's in It For?
7" (2009)
Isenberg begin recording
home demos
in 2006 when he was just a sophomore in high school (most of the band members recently graduated from high school; Riley is still a senior), and as recently as this past spring, he was mixing the demos using
Macbook Pro Tools
and
SM58/57.
In August, the band
independently released five songs
via their
Bandcamp page
, allowing fans to decide how much they would pay for each track.
One of those tracks, "We Can't Try This Again," is a lazy,
lo-fi acoustic
strummer, featuring the following lyrics:
no one ever said we can't try this again/brought it so high, brought me so high/spent too much time in there/don't know just what you saw.
The translation is, perhaps, typical teenage disillusionment with the
highs and lows of young love
. Near the end of the song, a brief, but edgy, guitar riff shatters the dreamy soundscape, and closes with a chorus of whistling.
"We Can't Try This Again"
-
Avi Buffalo
If you like what you hear, you can purchase ($1 minimum) more tracks from the band, including
"Distaste and Interest"
, Avi Buffalo's first song - written and recorded by Isenberg (when his moniker was Avi Buffalo before it became the band name) when he was only in the 10th grade.
It's possible that some of these songs will make it on the track listing for the band's debut full-length album, planned for release in spring of 2010. Avi Buffalo lists musical influences such as
Simon and Garfunkel, The Beach Boys, Wilco, Panda Bear
and
Grizzly Bear
. Isenberg recently told
BeatCrave
: "As much as I'd love to say we're not pop, we've got some poppy stuff going on. I like the way hooks sound, and I like the idea of infiltrating minds with catchy stuff."
We are looking forward to seeing Avi Buffalo open for the
Grand Archives
on Nov. 12th in
Santa Cruz
, Calif. In our review of the show, we will published more tracks from Avi Buffalo, including a couple of hard-to-find songs. In the meantime, listen to more songs on the band's
MySpace page
.
Check out a
HD quality video
of Isenberg discussing his music, with studio out-takes, plus a video of the 7" B-side track,
"Jessica"
and a live recording of the song
"Remember Last Time"
.
Other Posts You Might Enjoy:
Last Call for 2008

Vol. II: In Dee Mail Special Arists and Bands Spotlight
New Indie Releases

from Roman Candle, Brimstone Howl, Brazos, Josh Rouse, Nirvana, Memory Tapes, Say Hi & More
Indie Cover Songs,

Vol. IV: Beck and the Record Club, The Very Best, Alberta Cross, Spinto Band, Spoon, The Kooks & More
Bands to Watch

: Double-Shots on the Rocks from Scotland Yard Gospel Choir and Fool's Gold
In Dee Mail

: New Music from Beautiful Small Machines, Looking Glass, Inkwell, Lemonwilde, Cool Devices & More
New Indie Releases

From Vampire Weekend, No Age, Devendra Banhart, Neon Indian, Spiral Beach & More
The Format's

Sam Means

and

Nate Nuess

Release New Music Since The Duo's Official Break-Up
Labels: Avi Buffalo, Band of the Week, Bands to Watch 2009, Indie Artist/Group Profiles, Subpop Records
eMusic's FREE Daily Download!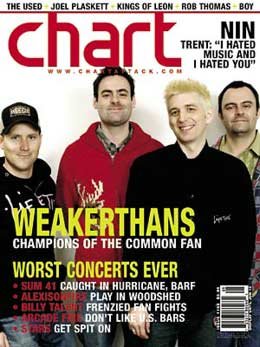 The Weakerthans, a Canadian indie band from Winnipeg, put themselves on the music map back in the late 1990's, and have been impressing critics and fans with subsequent, yet limited, releases ever since.

The band's latest album,
Reunion Tour
, released last fall, has received wide praise by the music press, bloggers and fans, making many top album lists for 2007.

Comprising an exciting mix of punk revival and melodic indie rock,
Paste
magazine hailed
Reunion Tour
as a collection of "songs of brutal beauty, little rock n roll vignettes that perfectly capture the malaise of the peculiar, disorienting times in which we live."

Here is the hit single music video "Civil Twilight" from The Weakerthans'
Reunion Tour
CD:


Propagandhi member John K. Samson left his former band and joined Red Fisher drummer Jason Tait and bassist John Sutton to create The Weakerthans in 1997. Later guitarist Steve Carroll and bassist Greg Smith joined the lineup.

The band, especially founder, John Samson, doesn't just record and play music; they are actively involved in promoting the fight against poverty and advocating for environmental conservation. Samson's 'day job' includes his publishing company,
Arbeiter Ring Publishing.
Reunion Tour
was, in a sense, aptly named since the band's last release before that,
Reconstruction Site
, was issued back in 2003 on Epitaph Records.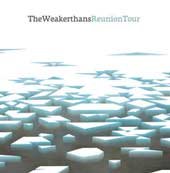 MP3:
The Weakerthans - "Plea From A Cat Named Virtue" from
Reconstruction Site
MP3:
The Weakerthans - "Aside" from
Last and Leaving


You can listen to and download more music, plus watch various music videos, from The Weakerthans on their official web site. Also, check out The Weakerthan's MySpace page and Facebook profile to social network with the band, get tour information, connect with fans and stream songs.

The Weakerthans were the first band in the CBC Radio 3's R3-30 chart history to hit the No. 1 spot with two different songs in the same year - a cover of Rheostatics "Bad Time to Be Poor" during the week of June 21, 2007, followed up in November 2007 by another No. 1 song, "Civil Twilight", their hit single from Reunion Tour.
The band released their debut album,
Fallow
, to wide praise from music critics and fans in 1998, on the indie label cooperative, G7& Welcoming Records. In 2000, The Weakerthans issued their sophomore record
Left and Leaving
, followed a year later by the EP
Watermark
.

Left and Leaving was eventually named one of the ten best Canadian albums of all time in a
Chart
magazine readers' poll last year. Epitaph re-released Fallow and Left and Leaving in Canada on November 6, 2007.



Labels: Band of the Week
eMusic's FREE Daily Download!
Older Posts