best indie rock 2010
So far, 2010 is looking like a great year for indie and alternative rock.
best indie rock 2009
Browse playlist mixes with hundreds of free, legal MP3s.
New Posts and Playlists
Portishead's New Video MP3 "Machine Gun" To Hype F...
Six-Pack MP3 Stack: New Songs from Band of Horses,...
South by Southwest Favorite 'Other' Performances, ...
Vampire Weekend's Free 40 Minute Studio Session on...
Lollapalooza's 2008 Line-up Rumors, Fakes and Spec...
Grand Ole Party Touring With Rogue Wave Throughout...
Wank You For Coming, Here's Your Festival Tickets
Mark Kozelek and Sun Kil Moon's New Album, Book an...
2008 PLUG Awards Go To Arcade Fire, Animal Collect...
Chicago Tribune's Wishy-Washy Report of 'Headliner...
best indie albums 2008
popular indie songs 2008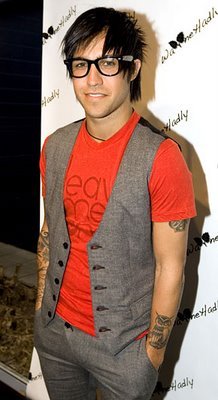 (photo by Chris Polk)
The songwriter and bassist for the popular pop-punk indie group Fall Out Boy said that he had struggled with major depression that lead to a suicide attempt, according to
US
magazine.
Wentz, who is currently dating celebrity singer Ashlee Simpson, said that he was "lost" and "out of control" during the time Fall Out Boy was in the studio recording. The article does not say when the incident occurred, but a wild guess says it would have been during the recording for the 2007 release
Infinity on High
.
In 2005, FOB released one of the year's top-selling albums,
From Under the Cork Tree
, spawning a Billboard Top 10 for album spot and two Top Ten hits "Dance, Dance" and "Sugar We're Going Down." The album quickly gained double platinum status and Fall Out Boy was subsequently nominated for a Grammy for Best New Artist of the Year.
But the fame and fortune, and the prescription drugs, Wentz said, were not making him any happier.
"I got in my car. I remember I was listening to Jeff Buckley doing Leonard Cohen's 'Hallelujah' [mp3] and sat there and took a bunch of [anxiety drug] Ativan in a Best Buy parking lot," Wentz said.

Wentz said he then "called up my manager because I was, at that point, completely out of my head with Ativan. And I was talking to him and I was slurring my words, so he called my mom and my mom called me and she came and got me and we went to the hospital.

"It's not really about keeping your head above water, it's about feeling all right and feeling safe in your own skin."

MP3:
Fall Out Boy -
Dance, Dance
MP3:
Fall Out Boy -
This Ain't a Scene, It's an Arms Race
This week Wentz took part in a MTVU teen suicide prevention fundraiser called "Half of Us".
Fall Out Boy are enroute to Chile and, I checked this three times, Antartica. Why? FOB is trying to set a world record. Stay tuned to IRC by signing up for the
site feed
to get all the details about this still developing and amazing story when the results are in. Will they do it?
As of today, according to Fall Out Boy's
official website
, there are no other shows scheduled yet for 2008, but chances are their will be.
Don't forget your ear muffs.
Fall Out Boy's 2008 Concert Schedule (so far)
Mar 23, 2008 Teatro Teleton Santiago, Chile (Sold Out)
Update:
The venue for this show was originally set for the Victor Galpon Jara but was moved to the Teatro Teleton - a larger venue - to accommodate a huge demand for tickets. All tickets purchased from Jara's will be honored at the Teatro venue.
Mar 25, 2008 Gymnasium @ Frei Base King George Island, Antarctica
(not sold out yet; don't penguins and polar bears like indie rock?)
__________________________________________________
Subscribe for the Feed Me Indie feed via RSS, Atom, iTunes or your favorite reader and podcaster.
Note: Musicians, bands, promoters and labels, please submit CDs, press kits and other material for consideration and review on IRC to POB 722, RE, CA 95044.
Labels: Fall Out Boy
eMusic's FREE Daily Download!
Older Posts