best indie rock 2010
So far, 2010 is looking like a great year for indie and alternative rock.
best indie rock 2009
Browse playlist mixes with hundreds of free, legal MP3s.
New Posts and Playlists
End of September 2008 Indie Rock MP3 Round-Up
Major Music Festival in San Francisco Was Far Out,...
Indie Rock End of Summer MP3 Tardy Party
September Indie Rock New Releases
About Indie Rock Cafe; Music Submissions and Contr...
Indie Rock Cafe's PlayThis! MP3 Playlist Series, V...
Free Indie Album Download from Ashtmatic Kitty Rec...
Bands To Watch: The Spinto Band
Featured Indie Rock Artist Offering Free MP3s: The...
Festivals So Far: From London to California
best indie albums 2008
popular indie songs 2008
Against Me! singer Tom Gabel will hit the road for a solo tour at the end of October accompanied by Chuck Ragan (Hot Water Music), Ben Nichols (Lucero), and Tim Barry (Avail) on the Revival Tour.
MP3:
"Thrash Unreal"
by Against Me!
The frontmen will trade off playing solo sets of their own songs as well as collaborating on each others material, according to a press release from Earshot Media. Gabel is launching the tour in support of his upcoming seven-song solo EP, entitled
Heart Burns
(see track listing below), which will be released on CD, digitally and on vinyl by Sire Records on October 28th.
The centerpiece of the EP is "Anna Is A Stool Pigeon," which Gabel wrote after reading about environmental activist Eric McDavid who was convicted in 2007 of conspiring to use explosives to damage corporate and government property after being implicated by an undercover FBI informant who posed as an activist. McDavid's defense has argued that he was the victim of entrapment. He currently faces a sentence of up to 20 years in prison.
"What struck me most about the story was a sense of familiarity," Gabel says. "I know the scene he was a part of, I used to be a part of it myself. I've thought the same thoughts, talked the same talk. I've hung out with the same people, gone to similar protests. If Eric could have become the target of an FBI sting operation, then so could I. This could have been me."
The EP was recorded late August in Los Angeles on a short two week break in between Against Me! tours. Gabel co-produced the EP along with Billy Bush, while Butch Vig executive produced. The EP contains several guest appearances including Chuck Ragan and Matt Skiba (Alkaline Trio).
Gabel's solo tour will begin once Against Me! complete their upcoming U.S. tour with Ted Leo and the Pharmacists, which begins on October 1st. Against Me! have been touring non-stop in support of their current album, the Butch Vig-produced
New Wave
, which was released by Sire Records in July 2007.
Called "the most invigorating, zeitgeist-capturing rock album in years" by Spin Magazine,
New Wave
was named the magazine's "Album of the Year," and also appeared in the Top 10 on Rolling Stone, Blender, and MTV.com's year-end "Best Album" lists.
New Wave
has spawned two singles, "White People for Peace" and "Thrash Unreal," which became the band's first single to chart in the U.S. when it climbed to No. 11 on the Modern Rock chart.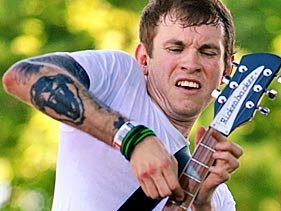 Gabel has announced plans to post every Wednesday on his MySpace page, a video for each song on
Heart Burns
. These videos will not feature the album audio, but rather exclusive live audio of Gabel singing on camera.
The first (for the song "100 Years of War") is already up. View it at
http://vids.myspace.com/index.cfm?fuseaction=vids.individual&videoid=43422974
.
He is also keeping a blog at
http://www.ifeelsicktomystomach.blogspot.com
where fans can check in to get the latest info about the upcoming tour and EP.
Track-listing for
Heart Burns
:
"Random Hearts"
"Conceptual Paths"
"Cowards Sing at Night"
"Amputations"
"Anna Is A Stool Pigeon"
"Harsh Realms"
"100 Years of War"
Tom Gabel's upcoming solo dates on the Revival Tour:
10/31 Pomona, CA, The Glass House
11/01 Hollywood, CA, The Knitting Factory
11/02 San Diego, CA, The Casbah
11/04 Las Vegas, NV, The Beauty Bar
11/05 Tempe, AZ, The Clubhouse
11/07 Lubbock, TX, Tequila Jungle
11/08 Dallas, TX, The Door - Prophet Bar
11/09 Austin, TX, Waterloo Park
11/10 Houston, TX, Walter's on Washington
11/13 Little Rock, AR, Juanita's
11/14 Memphis, TN, Hi Tone Café
11/15 Birmingham, AL, Workplay Theatre
11/16 W. Columbia, SC, New Brookland Tavern
Headlining:
11/20 NYC, NY - The Knitting Factory
Tom Gabel's MySpace: http://www.myspace.com/tomgabelmusic
Labels: Against Me, Going Solo
eMusic's FREE Daily Download!
Older Posts