best indie rock 2010
So far, 2010 is looking like a great year for indie and alternative rock.
best indie rock 2009
Browse playlist mixes with hundreds of free, legal MP3s.
New Posts and Playlists
Bands That Rock! Vol. I: Argentina's Lunaria and P...
'Twas The Night Before Christmas' Set to Music: An...
Indie Cover Songs, VII: Nirvana, Green Day, Paveme...
More Alt Rock Christmas Songs, Vol III: The White ...
More Alt Rock Christmas Songs, Vol. II: John Lenno...
In Dee Mail Special Edition, Vol. II: Dylan in the...
More Alternative-Indie Rock XMas Songs: Julian Cas...
Band of the Week: The Genre-Bending Music of Hosta...
Today's Best New Releases: The French Semester, ST...
More Alternative-Indie Rock XMas Songs, Vol. IV: T...
best indie albums 2008
popular indie songs 2008
In this third installment of the
In Dee Mail Year End Special Edition
series, you will hear music from an
impressive line-up of artists and bands
, including Elephant Stone, Clock Hands Strangle, The Sun, Aeroplane Pageant, Six Simple Songs, Lemonwilde, Cracked Latin and Lugo.
For those of you unfamiliar with the
In Dee Mail
profile series, it
has become a cornerstone
of what sets this blog apart from the rest, and a popular platform to introduce
relatively unknown, and talented,
artists and bands (all who sent their music to us unsolicited) to music lovers worldwide; most of whom probably would otherwise
have never heard
many of the songs
featured in the series anywhere else. Due to the overwhelming number of great songs submitted this year, the In Dee Mail
series for 2009 will spill-over
in to 2010.
First up, it's not another
Stone Roses
tribute act. Instead, the Montreal-India collective
Elephant Stone
is actually ex-
High Dials'
guitarist
Rishi Dhir
's new band. Elephant Stone's debut LP,
The Seven Seas
, delivers
jangly indie pop
infused with a distinctive Eastern influence.
We loved
The Seven Seas
'hindie rock' from the get-go; it's nearly impossible to resist the LP's shimmering guitar riffs, lush harmonies and accomplished vocal work. No wonder Elephant Stone made the
list of nominees
for this year's
Polaris Music Prize
for best album, which was ultimately awarded to Toronto's
F*cked Up
for their 2009 release,
The Chemistry of Common Life.
"I Am Blind"
-
Elephant Stone
from
The Seven Seas
(2009)
Elephant Stone on MySpace
Melbourne, Florida's
Clock Hands Strangle
follow-up their
CMJ Top 50
charting-debut with
Distaccati
; an evolution of their classic rock-influenced indie folk sound.
Distaccati
was mixed by legendary producer
Geza X
(Dead Kennedys, Meredith Brooks) at Satellite Park Studios.
Cognoscenti singer/songwriter,
Todd Portnowitz
, holds a degree in poetry from the
University of Florida
, and is currently attending the
University of Wisconsin
with the goal of receiving a master's in Italian. Throughout
Distaccati
, Portnowtiz and the band take the listener on a
sonic and literal pilgrimage
from an arid desert to the concrete miasma of New York City to an Alabama cotton field, weaving a story of the moon's eternal loneliness and a stone that questions its sculptor.
"Distacci"
-
Clock Hands Strangle
from
Distacci
(2009)
Clock Hands Strangle on MySpace
The second music video from
Distaccati
,
"The Moon Looks Back,"
features a collage of archival footage from
B-movie sci-fi
and
monster flicks
.
Although we already featured
The Sun
's second, and last album,
Don't Let Your Baby Have All the Fun,
as one of the
best overlooked LP's
of the year, it is so good that we have to share
two more tracks
with you all that were not included
the initial review
.
Unfortunately,
Don't Let Your Baby Have All The Fun
represents The Sun's break-up album, and yet, thankfully, the band left us with
a magnificent LP
that we'll cherish years from now. Like
The Format
, we'd love to see this band get back together some day. Fingers crossed. You can hear the influence of
Spoon
's producer
Mike McCarthy
all over this LP, which is, amazingly, available as a
free download from RockProper.com
.
"Alien"
-
The Sun
from
Don't Let Your Baby Have All the Fun
(2009)
"Do The Sucker"
-
The Sun
from
Don't Let Your Baby Have All the Fun
(2009)
The Sun on MySpace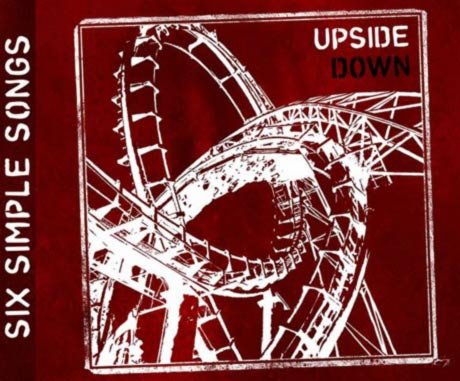 Singer and songwriter
Daniel Bellmann
and bassist
Olaf Borchert
began to collaborate in a meadow near the Elbe River in
Hamburg, Germany
back in 2003. They started with just six simple songs and an old acoustic guitar. Three months later they were recording their material at
Gentle Art Studio
in Hamburg with help studio owner
Karsten Deutschmann
on guitar and session drummer
Florian Brandel
.
Deutschmann and the studio's co-owner and drummer,
Henry Sperling
, were so impressed with the music that they asked Bellman and Borchert to form the band,
Six Simple Songs.
Band members of Six Simple Songs cite The Beatles, The Clash, Social Distortion, The Descendents, Hüsker Dü, Dramarama, The Replacements, Art Brut, U2 and Coldplay among their biggest musical influences.
"You Want It (To Be With Me)"
-
Six Simple Songs
from
Upside Down
(2009)
Six Simple Songs on MySpace
Back in May we featured the
Brooklyn
band
Aeroplane Pageant
. Now we have another single from their latest - and widely acclaimed - LP to share with all of you. The band's first single, "Stars Still Pretty," was one of
AOL's Top 10 tracks
of 2009.
Aeroplane Pageant's 2007 debut LP
Wave to the Moon
paved the way for the band to open for bands like
Vampire Weekend, The Hold Steady, Dr. Dog
and
Tokyo Police Club
.
"Stars Still Pretty"
-
Aeroplane Pageant
from
Even The Kids Don't Believe Me
(2009)
"I Remember I Think"
-
Aeroplane Pageant
from
Even The Kids Don't Believe Me
(2009)
Aeroplane Pageant on MySpace
Lemonwilde
is an unsigned,
Los Angeles
alternative rock band that create
dark, spacious tracks
full of crooning vocals, ambient guitars, and seductive drum and bass that at times are reminiscent of Radiohead, Muse and Franz Ferdinand.
Such bold comparisons pan out on the band's
debut EP
,
Red Room
, released earlier this year. The sprawling and forbidding track, "Danse," has helped make Lemonwilde a
hit in the alternative rock
scene. Another single,
"Just This Ashtray,"
was featured on IRC this past summer. You can also listen to more songs from
Red Room
on
Lemonwilde's official website.
"Danse"
-
Lemonwilde
from
Red Room
EP (2009)
Lemonwilde on MySpace
This next couple of songs are definitely different from most of the music we usually feature on IRC.
Cracked Latin
's (yes, terrible band name) "Caracas Shakedown" is an enthralling and eclectic mix of genre-bending styles, including
tropicana pop
, Havana-New Orleans hybrid jazz with a
Squirrel Nut Zippers
meets
They Might Be Giants
feel throughout.
"Caracas Shakedown"
-
Cracked Latin
from s/t debut (2009)
Nuyorican R&B and Latin Soul
recording artist, and nephew of baseball legend Roberto Clemente,
Lugo
, is back with a new track that he is making available today for all of you called "Subway Songs," a cut from his latest LP,
Oye
. Lugo has traveled as a
USO Armed Forces
performer to Afghanistan, Korea, Spain, Italy, Japan and the UK to
entertain U.S. troops
deployed around the world. Lugo is signed to the independent label
Love Kiss Music
.
"Subway Songs"
-
Lugo
from
Oye
(2009)
Labels: Aeroplane Pageant, Clock Hands Strangle, Elephant Stone, In Dee Mail, Lemonwilde, Six Simple Songs, The Sun
eMusic's FREE Daily Download!
Older Posts