best indie rock 2010
So far, 2010 is looking like a great year for indie and alternative rock.
best indie rock 2009
Browse playlist mixes with hundreds of free, legal MP3s.
New Posts and Playlists
A Note to IRC Subscribers and Visitors
New Tracks Tuesday: Helio Sequence, Georgie James,...
Vampire Weekend Offer Peek at New Album at San Fra...
Beck, Wilco, BSS, Andrew Bird and Devendra Banhart...
Fall Out Boy's Pete Wentz Admits Suicide Attempt, ...
Portishead's New Video MP3 "Machine Gun" To Hype F...
Six-Pack MP3 Stack: New Songs from Band of Horses,...
South by Southwest Favorite 'Other' Performances, ...
Vampire Weekend's Free 40 Minute Studio Session on...
Lollapalooza's 2008 Line-up Rumors, Fakes and Spec...
best indie albums 2008
popular indie songs 2008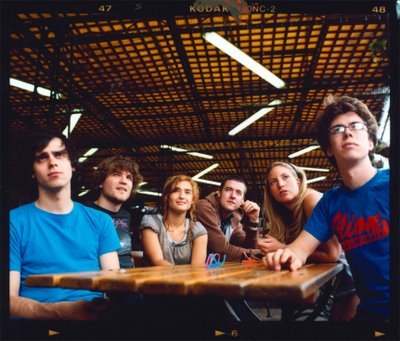 Syracuse, New York indie band Ra Ra Riot, have made impressive traction within the indie rock/pop world during the past year, thanks largely to a widely-acclaimed debut EP, 'blogger buzz' and opening for groups like the Editors, Someone Still Loves You Boris Yeltsin and Bow Wow Wow.
Ra Ra Riot lives up to their name delivering unabashed chamber indie pop performed with exuberance, the fine-tuned mix of guitars and drums with violins and cellos and a frantic, but jubilant, stage performance.
In fact, the band caught the attention of many attendees, other musicians, bloggers and mainstream press at the 2008 South by Southwest Conference in Austin earlier this month.
And what is even more admirable is that Ra Ra Riot was able to continue on after the tragic loss of their drummer, John Pike last year. The band, family, friends and fans were devastated by the sudden loss of Pike. He passed away shortly before the group released their debut EP.
Pike apparently wandered off at a party following a show in Providence, RI, and did not return. Panicked and with no clue what happened to their friend and band mate, an extensive search was conducted, but it wasn't until Pike's body was found in Buzzard's Bay in Cape Cod, Massachusetts that loved ones learned he had accidentally drowned.
Pike's family and friends encouraged the remaining band members to continue on without Pike. And so they did, and with fervid conviction to carry on the music that Pike helped create. (Download and listen to
Each Year
, from the band's debut EP).
In the past year, Ra Ra Riot has built a loyal, and growing, fan base, toured seemingly non-stop and have received more press coverage than many bands get in decades of playing together.
Last September (2007), after seeing Ra Ra Riot open for the Editors at San Francisco's Fillmore, digging their sound very much, watching the reaction of the crowd (SF music fans are tough as nails) and talking to the band members, I knew we'd all hear more from Ra Ra Riot.
Following their Fillmore performance, I talked to band members Wesley Miles (vocals/keyboards) and Mathieu Santos (bassist) outside as they loaded their equipment into a trailer that was hooked up to a van parked in front of the door to the venue itself.
We chatted about their style of music and where the band was going next, what record they were working on and other details. But I sensed something was not right as we were talking, almost as if they were hiding something. It was only later, when I did some research about the band, did I learn of their dear friend's passing.
In memory of John Pike, check out the John Ryan Pike Memorial Foundation website,
sticksman.org
. Other band members include Alexandra Lawn, Cameron Wisch, and Rebecca Zeller. Check out Ra Ra Riot's
official website
and
MySpace page.
Here's a 30 minute
session with Ra Ra Riot
recorded in January 2008 on WOXY Radio (view
set list
).
The following are MP3s featured on the band's website and were recorded during a DayTrotter Session at SxSW in Austin
MP3: Ra Ra Riot -
St. Peter's Day Festival
MP3: Ra Ra Riot -
Suspended in Gaffa
3.12.08: SXSW Day Stage
3.12.08: Todd P Patio Party
3.13.08: The Onion & Canvas Media Party
3.14.08: Soundcheck Magazine Party
3.15.08: Diesel Party
3.15.08: Park The Van/Daytrotter Showcase
In case you missed the previous post, the popular NYC indie band
Vampire Weekend
, who are friends of Ra Ra Riot, put on a great show at the small San Francisco venue Rickshaw Stop on Easter Sunday.
Ra Ra Riot continues their tour from now through May 16 with
The Cribs
and staring next month,
The Little Ones
. See Ra Ra Riot's
full concert schedule
.


Subscribe to our RSS/Atom/iTunes burn, Feed Me Indie.

Musicians, bands, promoters and labels, please submit CDs and music to review to POB 722, RE, CA 95044 and please do not send email attachments as they are automatically deleted by my server. All other contacts via email are welcome but please use Comments section for site discussions.

Labels: John Pike, Ra Ra Riot
eMusic's FREE Daily Download!
Older Posts